Capitol Corridor connects with a number of transit networks to better serve our passengers, making it easy to travel car-free throughout Northern California, with a little planning
Transit Transfers
Capitol Corridor's transfer program allows you to connect to local bus and light rail systems in most of the communities we serve. It's free! See Transit Transfers »
Bus Connections
Together with Amtrak, Capitol Corridor operates several dedicated motorcoach bus routes that connect you from the train to areas throughout California and even to Nevada and Oregon. Visit our bus connections page »
BART Connections
Connect to BART, the San Francisco Bay Area's transit system, at Richmond and Oakland Coliseum. See BART Connections »
San Francisco Bay Ferry Connections
The Capitol Corridor/Amtrak station at Oakland Jack London Square is a short walk to the San Francisco Bay Ferry terminal. From here you can board a ferry for a relaxing and scenic ride to San Francisco (AT&T Park for Giants games, Pier 41, and the Ferry Building), South San Francisco, Alameda, Oakland, and Vallejo. Learn more about San Francisco Bay Ferry fares and tickets »
Joint Ticketing
To offer our Placer County passengers more flexibility, Capitol Corridor has established reciprocal ticketing programs with two local transit agencies. That means your ticket to ride just got better! See Joint Ticketing »
Airport Connections
Capitol Corridor connects to the Oakland International Airport, San Francisco International Airport, Sacramento International Airport and San Jose International Airport via local transit. See Airport Connections »
Hertz Rental Car Services
Seamless Journey From The Rails To The Road. Hertz car rental services are available at San Jose, San Francisco, Oakland, Sacramento and Emeryville stations. Visit hertz.com.
Flexible Car Sharing
If you live in the SF Bay Area, or frequently visit, you may want to consider signing up for a flexible car sharing program, if you must have a car to get to your destination. Checkout Zipcar.com
More Transit Information
For the San Francisco Bay Area, visit 511.org. For Sacramento visit sacregion511.org.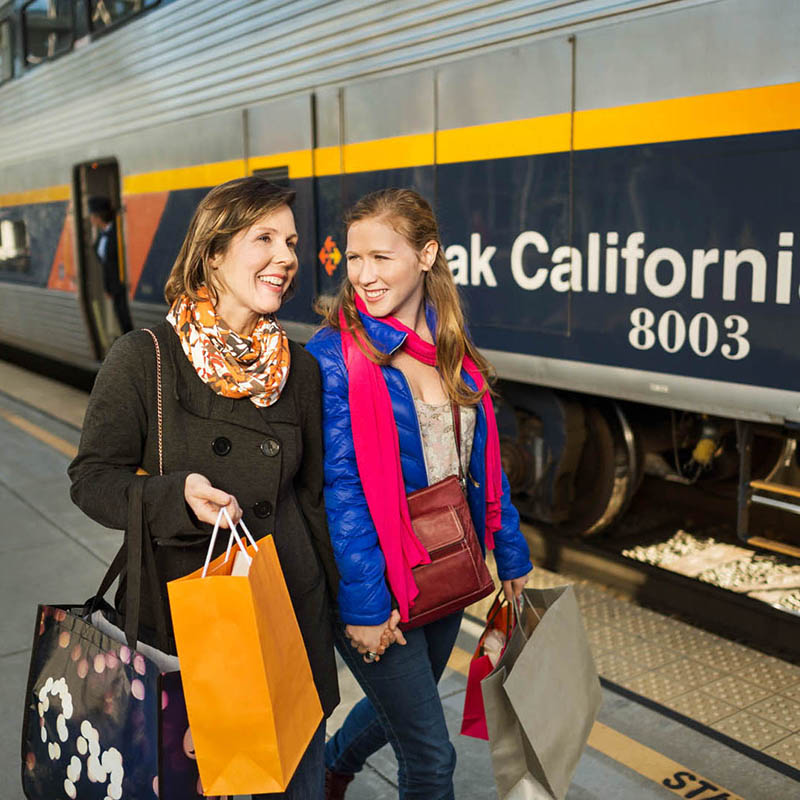 Station Tips
Buy tickets online so you don't have to wait for a station agent or Quik-Trak machine.
Some stations require paid or validated parking so arrive early to allow enough time.
Bike parking is available at all stations, so if you don't need your bike at your destination consider securing it at the station instead of bringing it on board.
Many stations have convenient connections to other transit providers. Be sure to ask the conductor for up to two transit transfers.
While waiting on the platform, be safe and stand behind the yellow line.
Only cross to another platform at designated crossings.