Planning Your Trip
Q: What is the Capitol Corridor?
A: Capitol Corridor is an intercity passenger rail service that operates along a 170-mile track between Silicon Valley/San Jose and the Sacramento region and Sierra foothills. There are 17 stations along the Capitol Corridor route, as well as several bus connections to destinations such as San Francisco, Lake Tahoe, and Santa Barbara.
Q: Do I need to make a reservation?
A: No. Capitol Corridor is an unreserved route, so no reservations are required, and you can buy your tickets at any time and easily hop on board! Some connecting bus routes require reservations, however, so please make sure to purchase those tickets in advance. Certain promotions and discounts may require advance purchase as well.
Q: Where can I find information about fares and schedules?
A: You can find fare and schedule information on our website under Routes and Schedules or Tickets or pick up a schedule at the station or on board the train.
Q: Help! How do I read the schedule?
A: First, determine if you will be travelling on a weekday or weekend, and which direction you will be going – westbound toward San Jose or eastbound toward Sacramento. Locate your departure and arrival stations, listed vertically along the left side of the chart. Once you have located your stations, simply follow the row across to see all the departure and arrival times for the day. If you follow the column up from your departure or arrival time, you'll see the respective train numbers. Times that appear in the green shaded area are for connecting bus service.
If you are unsure if you are reading the schedule correctly, you can go to theTickets page on our website and enter your travel dates and departure and arrival stations to see a list of all the trains for that day. Other Amtrak routes may be listed, so look for Capitol Corridor.
Q: What type of ticket I should buy?
A: There are three ticket options: one-way/round-trip, monthly unlimited, and 10-ride.
One-way or round-trip: Only good for one trip between two stations. This is the best option for a day trip or infrequent visit.
10-ride: Valid for 10 one-way trips within a 45 day period. If your trip includes a bus segment, it will be counted as part of the same ride and won't be subtracted from the rest of your trips. This ticket may only be used by the person whose name appears on the ticket.
Monthly unlimited: Allows for an unlimited number of rides between the two stations listed on the ticket, or anywhere in between. These tickets are valid through the end of the month in which they are issued and are only good for the person whose name appears on the ticket. This type of ticket may be best for commuters and daily riders.
Capitol Corridor also offers several daily discounts for children and seniors, as well as seasonal promotions. Check the Special Offers page for more information about promotions and discounts.
Q: Where can I buy my tickets?
A: You can buy tickets online, from the station agents at staffed stations, from Quik-Trak machines, or on board the train. Buying online is the most convenient option, as it can be done at any time from your computer or on your mobile device and can purchase all ticket types, including roundtrips, 10-rides, and monthly passes. Quik-Trak machines are located at all stations except Oakland Coliseum and Hayward and accept cash, debit, and credit cards. If you purchase tickets on board, you will only be able to buy a one way ticket and a surcharge will be applied unless you are boarding at an unstaffed station. The conductor will accept payment with cash or most major credit cards. Certain promotions and discounts can only be purchased online and require advance purchase.
Q: Can I get a refund on my ticket?
A: In accordance with Amtrak's refund policies, one-way and round-trip tickets along Capitol Corridor will be refunded minus a 10% refund fee. Monthly unlimited tickets will be fully refunded only if returned before the month begins. If returned within the first 10 days of the month, you will get a 50% refund. After the first 10 days, you cannot refund your monthly ticket. A 10-ride ticket is fully refundable only if none of the rides have been used; if one or more rides have been taken, then no refund will be offered. Please note that the 10% refund fee is applied to the total amount refunded on all ticket types.
Q: Part of my trip along Capitol Corridor includes a bus segment. How does that work and where should I go?
A: All Amtrak connecting buses require your trip to include at least one train segment, with the exception of South Lake Tahoe. Most bus routes (excluding Emeryville to San Francisco) require you to purchase your tickets in advance. If your trip starts with a bus segment and you don't have a ticket in hand or on your smart phone, then you will be required to surrender your photo ID to the bus driver temporarily until you arrive at a staffed train station. The buses will be in marked locations at the station, but if you are having trouble locating them, ask a station agent for assistance.
Q: I am planning a trip for a large group traveling along the Capitol Corridor route. How do I buy tickets?
A: Groups of 20 or more passengers traveling together are eligible for a group discount, and we have a program specifically designed for K-12 student and youth groups called Train Treks®. All groups of 20 passengers or more will need to submit a Group Travel Request (PDF) at least 21 days in advance of travel. Please visit the Group Travel section of our website or call 1-877-9-RIDECC (1-877-974-3322) for more information. Groups of less than 20 passengers should check our Special Offers page for any applicable discounts.
Boarding
Q: Will parking be available at the station? Do I have to pay for parking?
A: Parking varies by station and is often run by the local municipality. Some lots are bigger than others, and some are more crowded than others. Many of the staffed stations offer validated parking passes with the purchase of a ticket, so you must ask the station agents for a permit to display in your car. At other stations you may have to pay for parking. For parking information specific to your location, please check the website's Stations page.
Q: What should I do with my luggage?
A: You are allowed to have two carry on items. Carry on items cannot exceed 50 lbs and 28″ x 22″ x 14″. The two-piece limit for carry on bags does not apply to personal items such as briefcases, purses, laptops, and baby paraphernalia such as strollers, diaper bags, and car seats. When on board, leave seats around you free by putting your carry on items either in the overhead bins or under the seat in front of you. Capitol Corridor does not offer checked baggage service. Read more about luggage on Capitol Corridor.
Q: What if my train is delayed?
A: Service disruptions are infrequent, and usually delays are minimal. If your train is delayed, please be patient and listen for conductor or station announcements. If you are waiting at a station, you may be asked to board a later train instead. Delays will be indicated on electronic stations signs on the platform and by on-board announcement. You can also check your train's status by subscribing to our Service Alerts page for more information about delays and cancellations.
Q: I lost my ticket! What do I do?
A: Monthly unlimited, 10-ride, and most one-way and round-trip tickets are issued as eTickets, meaning that they can be reprinted from any computer, Quik-Trak machine, or by a station agent, or can be pulled up on your mobile device. Some tickets, such as those involving most bus connections, are still issued as paper-value tickets, and in the event that you lose one of these tickets, you will be required to purchase a new one in order to travel.
Q: Can I bring my bike on the train?
A: Yes. You must store your bike on the lower level in the bike racks or in the designated bike cars of the train, which are usually located either at the end of the train opposite the locomotive or the second car from the locomotive. Bike cars can be identified by a bike decal on the outside of the car. Bring a U-lock for your bike to keep it secure. Securely locking and storing your bike is important for the safety of fellow passengers and for preventing your bike from being stolen. For more information, read Bikes On Board.
Q: What about on the bus?
A: Most connecting buses can accommodate a limited number of bikes on a first-come, first-serve basis. You must load and unload your own bike, as on the train. Most buses offer storage underneath the motorcoach in the luggage compartment or on front-end racks. For more information, read Bikes On Board.
Q: What should I do if the bike racks are full or if my bike doesn't fit the rack?
A: Bike space is available on a first-come, first-serve basis. If there is not enough space available for your bike in your car, follow the conductor's instructions on where to store your bike. Bring a bungee cord in the event you need to secure your bike to something other than the bike rack. Bikes must be safely secured and clear of aisle ways – if conditions will compromise the safety and mobility of other passengers, you may be asked to leave your bike at the station. Be aware that bike capacity will vary by train, and some may be more crowded than others. If you do not need your bike at your destination, it is recommended that you park it at the station for when you return. For more information, read Bikes On Board.
On Board
Q: Is there Wi-Fi on board?
A: Yes! The Wi-Fi is free and available to all passengers. Look for AmtrakConnect in your device's list of available hot spots. The Wi-Fi does not support high-bandwidth activities such as streaming movies and music or downloading large files. Read more about Wi-Fi and other on-board amenities.
Q: Can I bring food and drinks on board?
A: Yes. You can eat food you bring on board at your seat, but you cannot bring your food into the Café Car. Amtrak does not allow you to drink alcoholic beverages you've brought on board, but you may drink alcoholic beverages purchased in the Café Car. Read more about food and beverage policy on Capitol Corridor.
Q: Can my child ride the train without adult supervision?
A: Children 16 and older can travel unaccompanied without restriction, but must have valid photo identification when purchasing tickets and when on board the train or when riding buses. Children 13, 14, and 15 years old may only ride unaccompanied in accordance with the conditions of Amtrak's Unaccompanied Minor Policy. If your child is 12 years old or younger, they are not permitted to travel alone and must be accompanied by an adult who is at least 18 years old.
Q: Does the train accommodate wheelchairs?
A: Yes. The train can accommodate standard wheelchairs, either manual or battery-powered, that do not exceed 30" wide and 48" long. The combined weight of the passenger and the wheelchair cannot exceed 600 lbs. Wheelchair accessible bathrooms are located on the bottom floors of each car.Read more about accessibility on Capitol Corridor.
Q: Can I bring animals on board?
A: The only animals allowed on board are service animals. Service animals are animals that have been trained to perform a specific task for the benefit of a person with a disability. Animals that are for emotional support, security, or comfort are not considered service animals, and you cannot bring them on board. You must have control over your service animal at all times. If your animal causes disruption or harm to other passengers, the conductor may ask you to remove the animal from the train. Read more about service animals on Capitol Corridor.
Q: What should I do if I lose any of my possessions?
A: The lost and found is located at the Sacramento Station. Please call 916-444-7907 and leave a message with a detailed description of the item you lost, along with the date of travel and the train number you were riding or the station you visited.
Arrival
Q: My final destination is not within walking distance of the train station. What should I do?
A: Capitol Corridor has partnered with local transit agencies in the Sacramento region and Bay Area so that you can easily transfer from the train to a bus or light rail. Ask a station agent or your conductor for up to two free transit transfers, good for one-time use through the dates marked. You can also purchase a $10 BART ticket for $8 at the Café Car. Some stations may offer taxi, car sharing, or bike sharing services to help you get to your destination as well. Visit Connections for more information.
Miscellaneous
Q: Where can I find more information?
A: Take a look at our Ride Guide, which has more details about tickets, safety tips, on board amenities, and transit connections.
Q: Why should I take the train?
A: Taking the train is good for you and for the environment. By taking the train, you are reducing the number of car trips you take, which in turn reduces greenhouse gas emissions. A train along Capitol Corridor can bring much more people in one trip than a household vehicle can, which makes it more efficient. Aside from the environmental benefit, taking the train also reduces stress caused by traffic, which keeps you happier and healthier. Travel time in a car is wasted time; but in a train, you can catch up on work or leisurely activities, or simply enjoy the view!
Q: Are certain items prohibited onboard the train?
A: The following items are prohibited onboard the train: non-service animals, firearms and ammunition, hover boards, corrosive or dangerous chemicals and materials, incendiaries, martial arts and self-defense items, archery equipment, devices containing propellants, sharp objects, and similar items. For a complete and detailed list of prohibited items, visit the Amtrak website.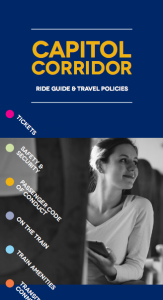 Want to Learn More? Take a look at the Capitol Corridor Ride Guide, which includes additional details about tickets, safety tips, on board amenities, and transit connections.
Click here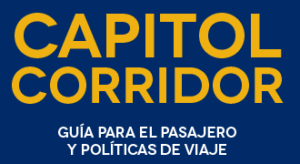 for a Spanish language edition.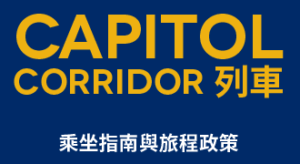 Click here
for a Chinese language edition.