Capitol Corridor's Wi-Fi Program
Please let us know what you think about the free Wi-Fi!
Please let us know about your experiences using the free Wi-Fi onboard our trains. Our staff is working on ways to further improve the user experience, and troubleshooting a few remaining problems. If you have a few moments, we'd appreciate your feedback via our Wi-Fi Survey link below.
Survey: Wi-Fi on Capitol Corridor trains
How to get connected:




1. In your list of wireless networks, look for "AmtrakConnect".
2. Select the network name.
3. Open or refresh your browser; you should see the AmtrakConnect welcome screen.
4. Click "I agree, get connected" to proceed to the Internet. You must complete Step 4 to access the Internet.
Frequently Asked Questions
What kind of Internet speed can I expect?
Our mobile Wi-Fi network relies on bandwidth provided by cellular carriers who have towers along our routes. The bandwidth available from these towers is limited and our speeds may not match what you are used to receiving from stationary Wi-Fi networks. Engaging in web activities that use large amounts of bandwidth will negatively affect the online experience of other passengers. When using our network, please keep this in mind and be respectful of your fellow passengers.
Are there any restrictions?
To maximize the amount of onboard bandwidth available to all passengers, AmtrakConnect blocks access to streaming media and limits file downloads to 10MB. To prepare for this restriction, we recommend passengers download any necessary large files prior to boarding the train.
In addition, Amtrak utilizes a third-party web filtering service in order to restricts access to websites with objectionable content. Content filtering is not a perfect science, and can at times incorrectly block a category. We are proactively asking passengers to contact us if they feel a website has been incorrectly blocked, or have general comments about the service. They can contact us at: amtrak.com/contactus
Will my VPN (Virtual Private Network) be supported?
AmtrakConnect supports VPNs on Capitol Corridor, San Joaquin and Pacific Surfliner trains.
I am having trouble connecting. Who can I call?
AmtrakConnect does not offer technical support for passengers experiencing difficulty with the network. If you feel there has been a network outage, please report this to the onboard staff. While our Conductors are unable to troubleshoot your connectivity issues, they can report the possibility of an onboard outage to an offsite monitoring service.
Which of your trains have Wi-Fi?

AmtrakConnect Wi-Fi is available on the following routes:

Capitol Corridor
San Joaquin
Pacific Surfliner
Why am I getting an error screen when browsing the Internet?
Amtrak will be restricting access to certain websites, whether due to their inappropriate content, or because the website has been deemed to consume high-levels of bandwidth. If a passenger sees the following screen (shown below) it is because Amtrak has either restricted access to the website, or because the host of that website is experiencing technical difficulties. Passenger comments regarding restricted access should be provided via the following link:  amtrak.com/contactus
Wi-Fi Program Background
We began our wireless journey in the latter part 2003; however, securing funding, capturing the right technology and developing project partnerships took time. Finally, on November 28, 2011 we launched our free service as an early holiday gift that will keep on giving. While the Wi-Fi service is free to use, please note it's basic Wi-Fi, which means you'll be able to do internet activities like online shopping, visiting social media sites and even checking your work email—but but it is not quite like having the type of internet service you have at home or at work. This means users won't be able to download large files, like movies, music or live video streams.
Getting internet on a moving train proved to be quite a challenge. Amtrak Connect manages the service to ensure a relatively common experience for all users. We hope you will find it useful, productive, entertaining and rewarding enough to tell your friends, family, and associates. With free Wi-Fi, when you travel by passenger train in California, you've picked the most productive and entertaining travel mode option!
About the Partners
We have to give credit where credit is due as this was truly a successful partnership. The CCJPA along with Caltrans, teamed up with Amtrak for obtaining, installing, and operating the system. The Wi-Fi service on the train is part of the "Amtrak Connect(sm)" brand and available for use subject to agreeing to the terms and conditions on the landing page. The vendor for the system is Nomad Digital, a world leader in providing wireless communication networks for passenger train services. We collectively look forward to maintaining, but also improving and leveraging the system to enhance your journey on the Capitol Corridor.
How the System on the Train Works
This section is for all the techies out there who are just as fascinated about Wi-Fi on the train as we are. The system on the train is provided by access points located in each car ("intermediate cars") that are wirelessly meshed to a central "brain" car which houses a server/router with eight cellular data cards and antennas to communicate with the cellular network along the route. The cellular cards are the limiting factor in the system connecting to the wide area network (WAN—or what many people more casually term, "the internet"). The signals that arrives or leaves the train via those cellular cards is actually sent and managed through a network operating center (NOC) which lives in a secure server farm located in California. The bandwidth provided by each cellular card is aggregated and rebroadcast for uploads and downloads over the on-train wireless network (the local area network or LAN) and delivered using the Wi-Fi ® protocol (802.11n) thus allowing any Wi-Fi equipped device (802.11 b, g, and n) to connect to the network via the afore mentioned access points. The café/diner car in each train consist is the brain car and each coach or cab/coach car is considered the intermediate car.
Regardless of whether there are 214 people or just eight people using the system, they are each sharing the available bandwidth to get to/from the WAN. The upload and download bandwidth is governed by how much each of those eight cellular cards can provide at any point in time and location less a little bit of bandwidth overhead required to manage the overall communications with the NOC. The cellular cards used are a mixture of 3G, 3.5G, and WiMax but can be switched out as 4G networks and hardware/software are developed to enable the communications to/from the hardware in the brain car. This is a good feature for keeping backhaul speeds as high as possible as faster and faster options become available over time. The brain car hardware also allows for access to other backhaul means such as dedicated WiMax or Wi-Fi networks (meaning they would just be installed to support the train wireless network) that are set up along the train route which can supplement the bandwidth already provided by cellular networks available at the time. We have not set up the system to utilize this supplemental backhaul yet but will strategically install these as resources allow.
Managing the Wi-Fi Experience
Since capacity is limited by the "train to shore" portion of the system, we can't permit internet usage like you may enjoy at home. To explain, it is like having a pretty decent internet connection at home and inviting 200 of your closest friends to surf the internet at your house. You can imagine service may slow down and become frustrating especially if just ten of them decided they might want to watch a few streaming videos and few more decided to stream music, and several more wanted to play an online fantasy game. Some of those friends would be unsuccessful in their pursuits, others who were just expecting to check their email, check out a few typed/print media (not streaming), or shopping with an online retailer might also have a disappointing experience. The on-train network is in a similar bind. The exposure to so many potential people with the backhaul solution the CCJPA can afford to present requires that we manage and shape network traffic on the system. For that reason, steaming video sites such as You Tube, Hulu, and Netflix are blocked. Music streaming sites are also blocked. There are also data cap limitations on file downloads at 10 megabytes. And finally for those who might think getting around these filtering techniques is what they need to do (at everybody else's expense), there are traffic queuing techniques to put any potential "bandwidth hogs" at the back of the line.
Regarding content filtering, the only intended sites which are intended to be blocked are pornography. As a public service, the CCJPA supports blocking of this type of publicly objectionable content while seeking to allow the internet to be otherwise open for use (except as explained above for bandwidth management). The filtering mechanism for pornography is essentially a blacklisting service and very similar to a blacklist system used by many employers. There will be instances where legitimate websites may be blocked and there is a process for requesting Amtrak to whitelist such sites.
Based on the experience Amtrak has on their Northeast Corridor and Acela wireless internet services, where the cellular connections are not providing as much aggregated backhaul as in California, we know the service will, at times, be slow. If we had the budget, we could build a system which would permit a faster and more like 'at home' internet experience but cost and marginal utility of that approach isn't feasible. The reality is that Wi-Fi on the train is very challenging to do, and with the numbers of people on a train who may be using the system, we have to shape the experience so a number of riders can enjoy a free, reasonable wireless network experience.
What Took CCJPA So Long to Get a Wi-Fi System on the Train?
CCJPA began looking at a wireless network on the train in late 2003 after we were approached by an interested vendor. Now, in late 2011, we finally have a system in place, so what happened in between? The short answer is especially in the last few years, mostly we were waiting to obtain funding, but throughout, there was a great deal of research to identify various technology options and business models and the interactions among them which would work for Capitol Corridor service.
Starting in 2004 throughout 2010, there were pilot/test projects which were testing everything from technologies and business models and we were involved in three physical tests during that period. By late 2005 we had a good idea of what sort of technology options would work. With a limited amount of funding to help with research in this emerging opportunity, we were able to engage key subject matter experts who brought their wireless communications background and business analysis skills to the table; thus we were able to build a business tool that could analyze both technology and various business models. The "free model" quickly emerged as the most favorable option. The free model is predicated on receiving a public grant for funding, much like we do with any of our more traditional capital projects. The ongoing operational costs for the wireless network can be borne by the free nature of the internet service attracting more trips and ultimately ticket revenue to the Capitol Corridor trains. There are other business models which have been tried around the world but the free model is proving fairly popular given the right conditions.
Most of 2007 through to mid-2008 was occupied with evaluating various backhaul technology options to take advantage of various potential funding sources. This period did include looking in depth at a trackside network which ultimately proved infeasible given the complexities required on a host railroad. In 2008, the American Reinvestment and Recovery Act (ARRA) presented a potentially ideal opportunity to obtain funding. In order to be prepared, the CCJPA issued a groundbreaking Request for Qualifications which laid out our parameters to this emerging industry as to the vision of what a wireless network for a passenger train system should be able to achieve. While this procurement attempt was ultimately unsuccessful due to procedural matters, the vision expressed in that document has guided basis for ultimate success for CCJPA but other rail agencies as well. We did apply for ARRA funds for a wireless network, and while our application was viewed favorably, the limited funding available via the Federal Railroad Administration was not provided for what was now a much anticipated feature by Capitol Corridor riders.
Amtrak, who had been undergoing similar tests on the east coast, and CCJPA began to combine our efforts and share our approach and findings. A successful Amtrak-led procurement on Amtrak's flagship Acela service followed and set the stage for a successful national wireless network procurement process. CCJPA assisted Amtrak with the national procurement process and also was aware that cost savings from another CCJPA capital project could possibly be used to fund a wireless network. This reprogramming of funds from one project to the wireless project required approval of the California Transportation Commission (CTC) and approving the funding swap would only be successful given certain conditions involving the State's cash flow and bond sales was in place. These conditions were only going to be available for the January 2011 CTC meeting. Carl Guardino, CTC Commissioner and President and CEO of the Silicon Valley Leadership Group, was able to lead the effort to get the votes to successfully fund a wireless network system that not only ensured Capitol Corridor but also the San Joaquin Intercity Passenger Rail services would be covered (the rolling stock fleet is shared between the services). Soon after, CCJPA, working with Amtrak, began the process to install and launch a wireless network system and now, if you ride the trains, you can be connected.
Together with our partners in Capitol Corridor service, we look forward to staying out on front of this still emerging amenity and continuing to realize the myriad of opportunities a wireless network can open up for the passenger rail industry.
What Will the Future Hold for the Wireless Network?
The CCJPA intends the wireless network to evolve over time. This is true for the passenger side and also the operational side of the network. To aid in how things develop, the CCJPA is participating in a working group with Amtrak, Caltrans, and other states with passenger rail systems with wireless networks, and possibly, in the future, with other North American based passenger rail operators operating under a similar system.
Keeping up with bandwidth demand is certain to be a major focus. The current mix of cellular cars was selected for current conditions. When 4G becomes more extensive and 4G modems in the appropriate form factor are produced, tested, and available for integration in the mix, we will fund this improvement in bandwidth. Once the network is out and operating, we have reserved capital funding for several installations at stations where Wi-Fi signals beamed along the route in each direction can supplement backhaul for the train for as long as the signal will carry (possibilities are up to three miles depending on line of sight and other interference).
Working with Amtrak we will seek partnerships to provide streaming content available locally on the train and also explore what we can do to respond to the way internet use is changing with cloud computing. These are really two distinct areas of effort which have a common solution of providing content Capitol Corridor customers may want that can steam wirelessly to devices but also not require the use of the limited cellular capacity. Examples of streaming content have the best promise of bringing streaming subscription services such as Netflix or Pandora to the train by storing a limited library of content locally that can be available to subscribers on the train. Cloud computing presents a very big challenge to mobile networks period and that extends to Wi-Fi in any transit service. The iCloud approach promoted by Apple with its synchronization of content (photos, videos, documents, etc.) between each device (running in the background to/from each device) will be a challenge when devices taking a ride on the Capitol Corridor train think it might be an opportune time to download or upload multi-megabytes of data. There may be times, such as at layover locations, when that content could make that cellular (or Wi-Fi at layover locations) backhaul journey but getting the customer's content to the right train consist certainly presents an interface challenge.
The above concepts are customer facing but there are also many options to improve train operations and customer information once a wireless network is in place. A next generation ticket validation device is soon to come to the Capitol Corridor and that can utilize the wireless network to do its job. An on-board passenger information system using video screens and automated audio announcements is planned. Point of sale machines in the café/dining cars are other devices that can connect via the network. Real-time monitoring of any number of on-train systems can also improve train maintenance and performance. All of these applications are minimal users of available bandwidth. The simple fact of connecting the train within a network opens up a host of operational possibilities. Those that make sense and improve the service and operations will rise to the prioritized list and be rolled out over time. As we have heard from a rail agency in the Netherlands, they had already identified 21 different applications across various business units before they had even had built out their own on-train wireless network. This is an impressive consideration of the potential and the CCJPA, along with Amtrak and Caltrans will look to leverage this new tool moving forward when it makes sense.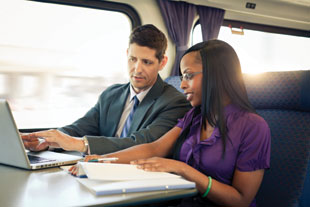 How to get connected:




1. In your list of wireless networks, look for "AmtrakConnect".
2. Select the network name.
3. Open or refresh your browser; you should see the AmtrakConnect welcome screen.
4. Click "I agree, get connected" to proceed to the Internet. You must complete Step 4 to access the Internet.
Download the Capitol Corridor Ride Guide & Travel Policies Brochure >