On Thursday, May 14, bicycle enthusiasts throughout the Sacramento region came together on the steps of the Capitol to celebrate Bike Month at the city's annual BikeFest. Biking intersects transportation, health, and the environment, so BikeFest offered a variety of exhibits – some directly related to biking, and some not, including walking advocacy groups, public transit, and sustainable food and wellness services.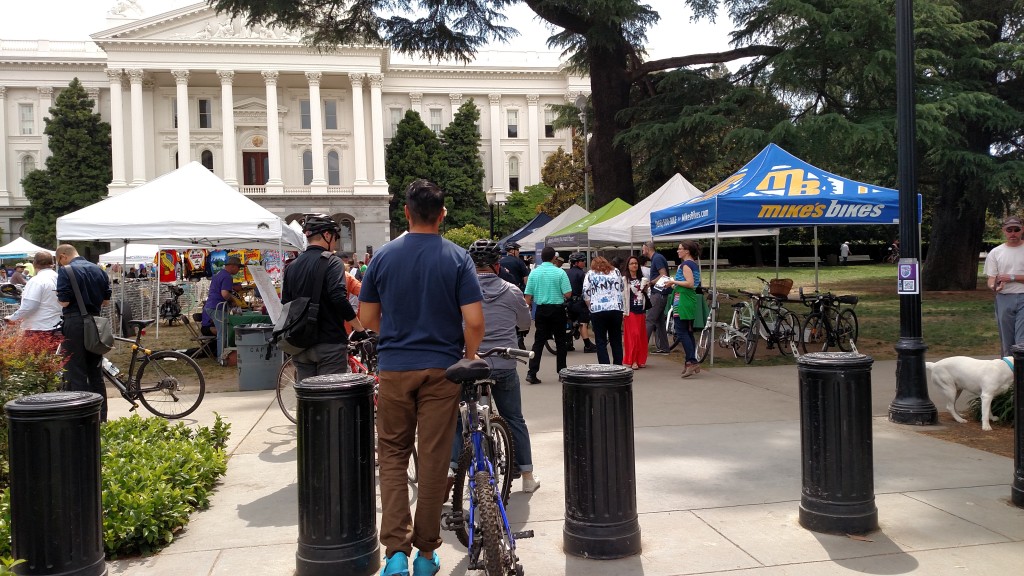 Capitol Corridor regularly participates in BikeFest, and this year's cool weather and chance of rain did not deter us from being part of the celebration again. Staff took the train from Oakland to Sacramento, and even used a cargo bike to transport materials to our table in front of the Capitol building! BikeFest visitors were for the most part seasoned bike enthusiasts interested in specifics about bringing bikes on board: bike space availability, the protocol for large groups of bikers, and rules about what types of bikes passengers can bring on board. Of course, we also had visitors to the table who wanted to know more about the service in general, so we answered questions and gave away route maps, schedules, and information.
With access to urban centers throughout Northern California, as well as unique and scenic trails, it's no wonder bicyclists choose to ride Capitol Corridor. Although Bike Month is coming to a close, the enthusiasm and passion of the BikeFest attendees suggest they will continue biking beyond the end of May.