According to Nancy Sheehan, California's state coordinator for Operation Lifesaver, California is #1 in the country for trespasser casualties along railroad tracks and #2 for fatalities at public grade crossings. Even more worrisome is the fact that trespasser and grade crossing fatalities are on the rise. From 2015 to 2016, according to Operation Lifesaver, trespasser casualties went up by 38%, and grade crossing fatalities, increased by 11% in the state.
Managing one of the state's vital rail services operating along a busy and populated corridor, the Capitol Corridor Joint Powers Authority (CCJPA) is committed to reducing the number of these deadly incidents. Not only is loss of life tragic, but it also disrupts service for our passengers, usually causing extensive delays and often affecting the entire system. With that in mind, the Capitol Corridor teamed up with Amtrak, Union Pacific Railroad (UP), and Operation Lifesaver on Friday, June 2, for a "safety train" between the Suisun and Davis stations. As part of International Level Crossing Awareness Day, the "safety train" exercise is intended to raise awareness of rail safety issues and build working relationships among rail operators, communities, and local law enforcement to address safety issues.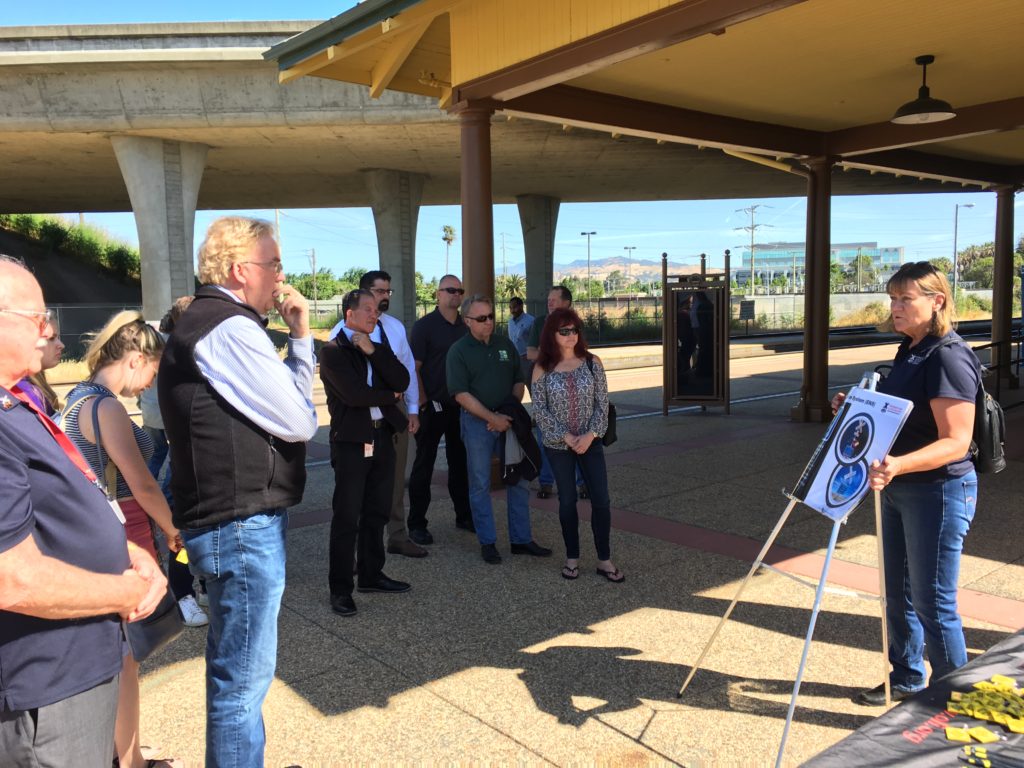 What causes fatalities and injuries?
For trespasser incidents, which happen when people illegally enter the railroad's "right of way" there are a number of causes besides suicide — from homeless encampments that are set up among vegetation by the tracks or people being where they shouldn't be and then getting distracted or being careless, to holes in fencing along the track that need to be fixed. Fatalities at public railroad crossings almost always happen to people who impatiently try to go around crossing bars or who are distracted by headphones or other personal devices. What most people don't realize is that trains can be coming along a section of track at any time and from any direction; that trains are quieter than most people think; and that it takes up to a mile for a train to stop. What this means is that most fatalities and injuries on railroad tracks can be prevented!
Promoting awareness and finding solutions
On the June 2 "safety train", staff from the CCJPA, UP, Amtrak, Operation Lifesaver, the City of Fairfield, and Solano Transportation Authority were on board to observe the "right of way" (area along the tracks that is owned by UP) and identify trouble spots, such as homeless encampments, overgrown vegetation (which invites the homeless to set up encampments), breached fences, and open sections that could benefit from fencing to restrict access. By inviting stakeholders to take part in the "safety train", the CCJPA hopes to increase awareness of problems and build effective partnerships to identify and implement solutions.
The CCJPA intends to hold "safety train" events on a regular basis, with the next being in September to coincide with California's Rail Safety Month.