From the Capitol Corridor, you can always get to downtown San Francisco using our dedicated transbay bus from Emeryville or by connecting to BART at the Richmond Station or Oakland Coliseum Station. There's also another way to cross the Bay, and we think you'll love it!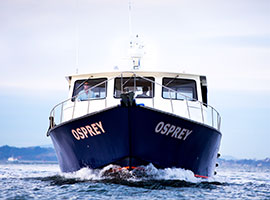 Tideline is a water shuttle that offers weekday, commuter service between the Berkeley Marina and downtown San Francisco. In just 20-30 minutes, you'll zip across the San Francisco Bay while enjoying free Wi-Fi, beverage service, and flat screen TVs. It's the perfect complement to your Capitol Corridor ride!
Want to give Tideline a try? Between October 1 and October 31, 2017, all Capitol Corridor passengers can purchase 25% off tickets for Tideline's weekday commuter service between Berkeley and San Francisco! Tickets must be purchased after September 30 and are good for travel by October 31, 2017. All you have to do is book your Tideline trip online, in advance with Promo Code CAPCOR.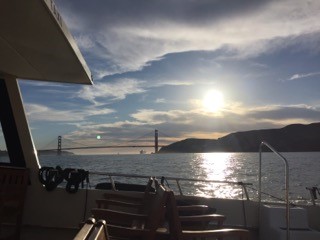 Getting from the Berkeley Capitol Corridor Station to the Berkeley Marina
The distance between the Berkeley Capitol Corridor Station and the Berkeley Marina is about a mile, ideal for connecting via bike or a short bus ride. The AC Transit Line 81 Bus connects the two and runs approximately every half hour. The Line 81 bus stop is located at 1919 4th St. (at University Ave.) in front of Spengers Restaurant, less than 500 feet from the train platform and an easy two-minute walk. What's more, Capitol Corridor passengers can take AC Transit for free with a Transit Transer from the conductor. If you're looking to get a little exercise into your day, you can also walk or ride your bike from the station to the Marina. Like the Capitol Corridor, Tideline allows passengers to bring bikes aboard.
Book your Tideline seat today at 25% off!