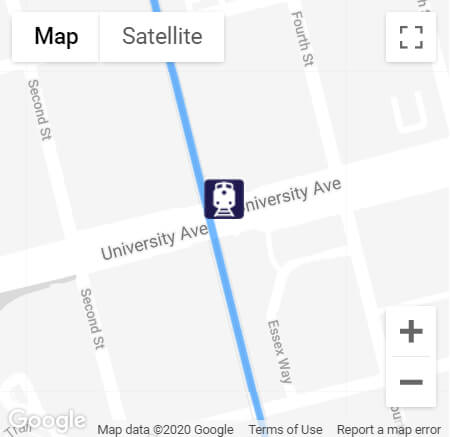 Locate a Station
Enter your zip code to find the three stations nearest to you.


Berkeley (BKY)
Station Location
700 University Avenue, Berkeley, CA 94710
Map and directions
Unstaffed Station
| | |
| --- | --- |
| Tickets: | 2 Ticket Kiosk machines available |
Station Connections
Public transit at or nearby station:
AC Transit (accepts Capitol Corridor Transit Transfers)

51B > West to Shorebird Park, East to UC Berkeley, Downtown Berkeley BART, Rockridge BART

802 > 19th Station BART
Bicycle Access
Bikes are welcome on board, and most stations have spaces to lock or secure your bike if you don't want to bring it on the train. Please note that the number of bike spaces available is subject to change.
| | |
| --- | --- |
| Bike Rack Spaces: | 16 |
| Bike Lockers: | 12 BikeLink eLockers |
Automobile Parking
Parking is owned by the City of Berkeley. Please note that prices, hours, and available spaces are subject to change.
Capitol Corridor Amtrak Lot
| | |
| --- | --- |
| Short Term Spaces: | 3 (30 minute limit), 19 (2 hour limit) |
| Accessible Spaces: | 2 |
| Lot Hours: | Short term parking only. |
| Cost: | No validated parking. $1.50/hour. |
4th Street Public Lot
| | |
| --- | --- |
| Regular Spaces: | 348 |
| Accessible Spaces: | 9 |
| Lot Hours: | No restrictions, attendant available 10am-12am. |
| Cost: | No validated parking. $1.50/hour or $12 all-day; monthly permit available for $100. |
Amenities
Outside seating available
Bottles and cans recycling
Destinations
Attractions and Places of Interest
Fourth Street → 5 min walk, 0.2 mi
Downtown Berkeley → 15 min bus, 1.9 mi
UC Berkeley → 20 min bus, 2.4 mi
Lawrence Hall of Science → 20 min drive, 4.2 mi
Trails and Recreation
Bay Trail → 5 min walk, 0.2 mi
Berkeley Marina → 15 min walk, 0.9 mi
Tilden Regional Park → 20 min drive, 4.5 mi