Looking back over the past 12 months, all of us would agree that throughout the challenging year that 2020 shaped up to be, it forced us to make the best of a situation. This may have meant more time reading, binge-watching series, gaming, or even picking up a new hobby. For the Capitol Corridor staff the experience was no different, and we wanted to share how our team members made the best of 2020! 
What's in A Word? So M
uch!
Our team proved themselves to be voracious readers, dusting off the bookshelves and powering up Kindles for just about every genre of literature available. Here's our 2020 reading list: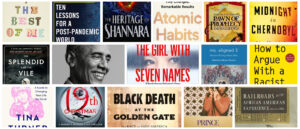 19th Christmas, James Patterson; A Promised Land, Barack Obama; Atomic Habits, James Clear; Black Death at the Golden Gate: The Race to Save America from the Bubonic Plague, David K. Randall; Happiness Becomes You, Tina Turner; How to Argue with a Racist: History, Science, Race and Reality, Adam Rutherford; Liar Liar, James Patterson; Midnight in Chernobyl, Adam Higginbotham; Ms. Aligned 3: Women Writing About Men, Rebecca Thomas; Pawn of Prophecy, David Eddings; Railroads in the African American Experience, Theodore Kornweibel Jr.; Ten Lessons for a Post-Pandemic World, Fareed Zakaria; The Beautiful Ones, Prince; The Best of Me David Sedaris; The Girl with Seven Names: A North Korean Defector, David John and Lee Hyeon-seo; The Heritage of Shannara, Terry Brooks; The Splendid and the Vile: A Saga of Churchill, Family, and Defiance During the Blitz, Erik Larson; The Sword of  Shannara Trilogy, Terry Brooks; and Too Much and Never Enough, Mary Trump 
Streaming Along, Together
2020 offered a year's worth of time scouring the internet for the best shows to binge-watch, subscribing to new streaming services, and becoming addicted to new guilty pleasures. Check out how we ranked a variety of platforms, as well as what we were watching and listening to, in order to pass the time.
Online Services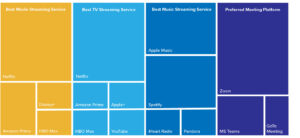 Best Movies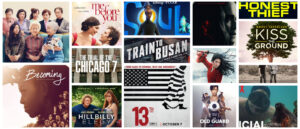 13th, Becoming, Borat Subsequent Moviefilm, Fellowship of the Ring, Hillbilly Elegy, Honest Thief, Kiss the Ground, Me Before You, Minimalism: A Documentary About the Important Things, Mulan (live action), My Octopus Teacher, Never Rarely Sometimes Always, Old Guard, Run, Soul, The Farewell, The Trial of the Chicago Seven, and Train to Busan. 
Best TV Series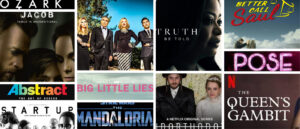 Abstract: The Art of Design, Better Call Saul, Big Little Lies, Defending Jacob, Ozark, Pose, Queens Gambit, Schitt's Creek, Startup, The Crown, The Kingdom, The Mandalorian, Truth Be Told, and Unorthodox. 
Most Binge-Worthy Shows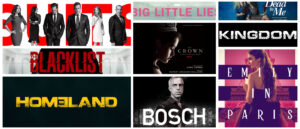 Below Deck, Big Little Lies, Bosch, Dead to Me, Emily in Paris, Homeland, Kingdom, Suits, The Blacklist, and The Crown.
Guilty-Pleasure
s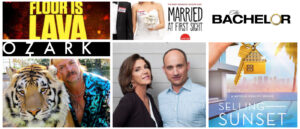 Love Island, Love It or List It, Married at First Sight, Ozark, Selling Sunset, The Bachelor, The Floor is Lava, and Tiger King.
Music Playlist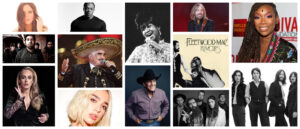 Adele, Antonio Aguilar, Aretha Franklin, Brandy, Ciara, Deftones, Disney Descendants soundtrack, Dr. Dre, Dua Lipa, Fleetwood Mac, George Strait, Johnny Cash, Jose Alfredo Jimenez, King Gizzard & the Lizard Wizard, Merle Haggard, Porridge Radio, Rainbow Kitten Surprise, Sara Evans, Snoop, Tame Impala, The Beatles, Tom Petty, and Vicente Fernandez.
Podcasts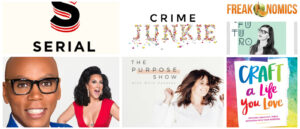 Aura-Alfuturo, Craft a Life You Love, Crime Junkie, Freakonomics, RuPaul: What's the Tee?, Serial, and The Purpose Show 
Games
Board games leapt from the shelves, video game screens burned late into the night, and decks of cards were shuffled over and over amidst a sea of "house rules" to keep us entertained for hours on end. Some of our favorites included: The Hip Hop Experience, Googly Eyes, Guess Who, Jenga, Pokeno, Rummy, and Scrabble.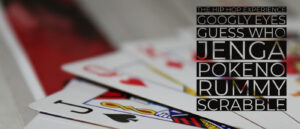 Skills-Sharing and Hobbies
Whether exploring newfound hobbies and skills or simply resuming favorite past-times, the team found time to engage in a variety activities. The indoor hobbies included trying out new recipes, finishing up embroidery projects, blogging, doing yoga, and training new puppies that were added to the family. For the outdoor adventures, the team tuned up their bikes, grew vegetable gardens, hiked through regional parks, and even participated in a virtual marathon!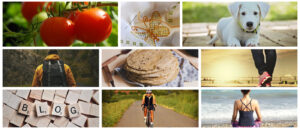 Parenting Through the Pandemic
Homeschooling took on a whole new meaning for parents who had to juggle their kids' Zoom meetings in addition to their own. And as teachers signed out of the virtual classrooms, that brought on the reality of finding ways to keep kids occupied until the workday was finally done. Here's some of the ways our parents have been getting their kids through the pandemic: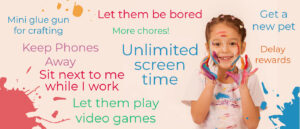 What This Year Taught Us
2020 is surely to be an unforgettable year for us all. We will remember the long lines, the moments of solitude, and of course the loss of so many. In addition to this, we hope that we all remember what this year has taught us about life, and ourselves, along the way.