To say that the COVID-19 pandemic has caused major disruption is an understatement. As people all over abide by the shelter-in-place order, we've seen Capitol Corridor ridership decline by 90 to 95%. This has forced us to drastically cut back service. Our reduced schedule of five daily round trips is primarily serving essential workers who rely on us and other transit providers to get where they need to go.
If there is any silver lining to this crisis, it's that running less service has allowed us to focus on some housekeeping and make headway on longer-term capital projects that are not funded by fare revenue.
On a normal day we run nine sets of trains utilizing up to 45 railcars. Today, with just four sets of trains running, we only need 20 cars to run our modified schedule.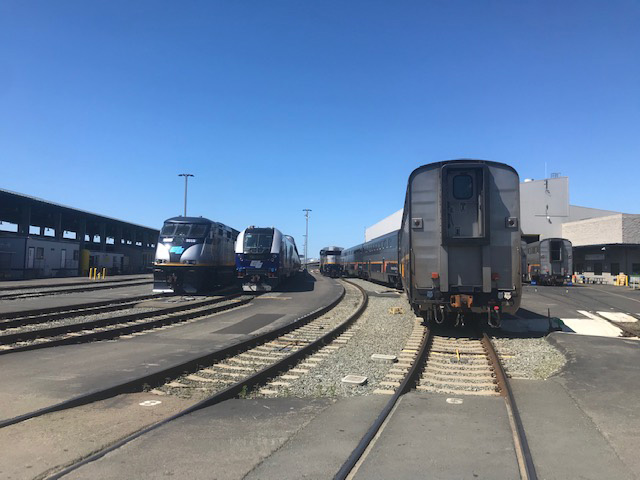 With more trains in the maintenance yard for longer periods of time, staff have more opportunity to work on regular cleaning and maintenance projects. For those of you sheltering in your homes all day, this might sound a little familiar!
Here are some of the projects we're working hard on during our temporary service contraction:
Extra Deep Cleaning: Greater access to the trains means we're able to spend extra time doing a more robust cleaning. Our cleaning protocol has always been stringent, but now we have an opportunity to be even more thorough.
Upgrading Door Operators: Continuing a project already in the works, we are replacing the motors that open and close the doors on about a quarter of our fleet. Originally slated to take 10 months, we now hope to complete the overhaul by the end of May 2020.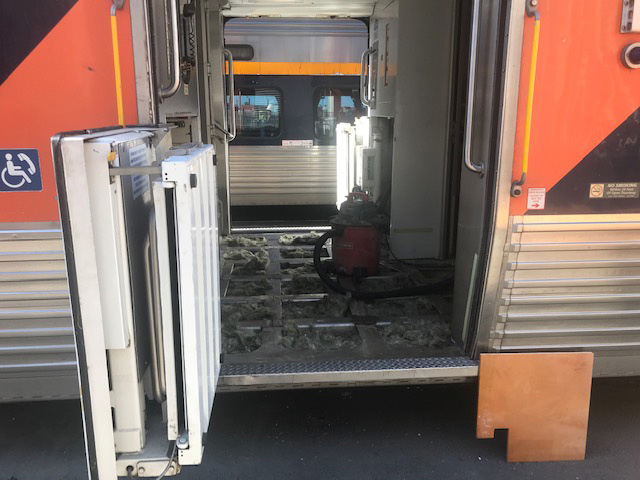 Planning for a More Comfortable Ride: By changing out couplers, which connect train cars to one another, as well as the train cars' shocks and suspensions, we're completing maintenance that will allow trains to operate more smoothly along the tracks.
New Destination Signs on Trains: Using inventory already in stock and leveraging the extra time trains are sitting idle, we're replacing old destination signs, currently on 66 of our train cars, with clearer, brighter ones.
Miscellaneous Fixes: We all know what it's like to have that pesky punch list of tasks you can never find enough time to complete. It's no different in the maintenance yard. With more trains available, we're checking items off our to-do list faster – fixing non-safety-related things like broken latches, wobbly doors, and burned out lights; cleaning and replacing upholstery as needed; and trouble-shooting issues with the PA system. These fixes will make your ride more enjoyable once you're back on the train.
Thank you
None of the items mentioned above could be completed without the individuals who continue to come to work in the maintenance yards for the Capitol Corridor and for our partners at Amtrak and Drummac. To them, and to everyone who continues to use our service for essential travel, we are profoundly grateful. To those who are staying at home, we also thank you for doing your part. We look forward to welcoming everyone back on board our squeaky-clean trains!