CALLING ALL STUDENTS! Let us take care of your travels this Spring Break! Enjoy a car-free trip by taking the Capitol Corridor to your mini getaway or home. We offer FREE Wi-Fi, outlets, drinks and snacks from the Café Car, clean restrooms, and plenty of leg room onboard!
Be sure to take advantage of our Stride on Board student and current promotions:
25% with 6-ride ticket good for one year
15% off any trip any time with California Everyday Discounts (Use Promo Code V353)
Take 5 for $5! Buy 1 full-fare ticket, take up to 5 more friends for only $5 per person, each way! (Friday- Monday)
Car-Free Destinations:
Enjoy car-free and walkable trips within Northern California and the Bay Area. Whether you're looking for a mini getaway to the city or want to connect with nature, the Capitol Corridor can take you there.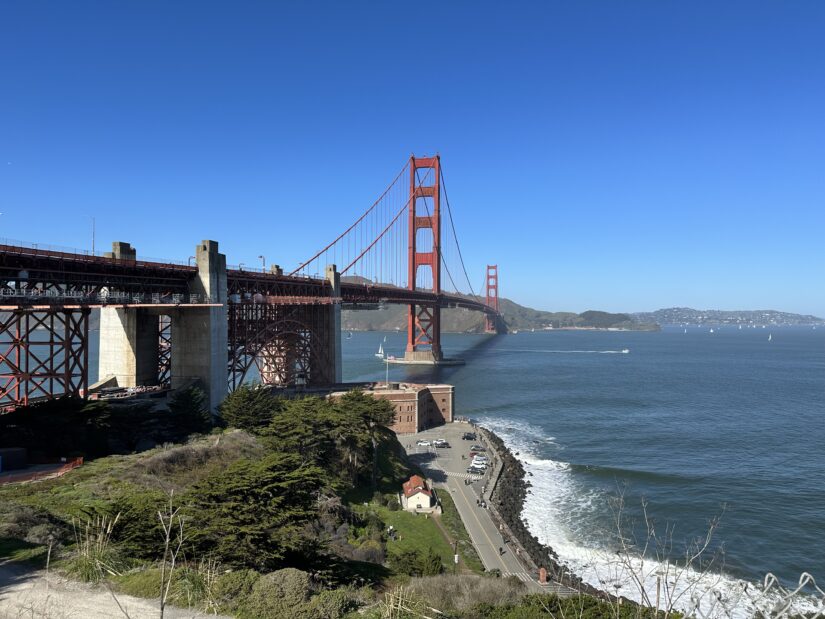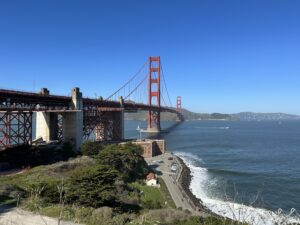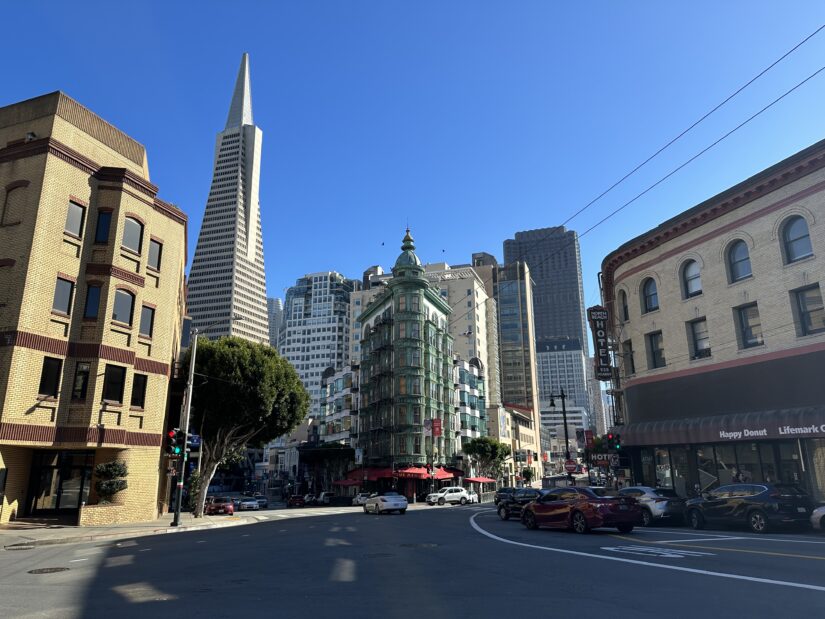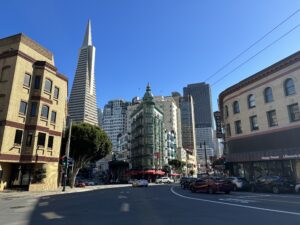 San Francisco (Emeryville Station OR Richmond Station):
Take a trip to the city by the bay! Get off at Richmond Station and transfer to BART OR get off at Emeryville Station and transfer to our connecting bus that takes you directly to Downtown (near Salesforce). San Francisco is a transit-oriented city, so be sure to get yourself a Clipper Card (San Francisco/Bay Area metro card) and let Muni take care of you!
Golden Gate Bridge and Presidio Tunnel Top Park: Take the 28 directly to the Golden Gate Bridge! Then walk to the Presidio Tunnel Tops for a picnic with friends! Bike or take the 30 to Marina District (Chestnut Street) for shopping, restaurants, and trendy bars.
Visit the iconic Chinatown and Little Italy (North Beach): Take the 30, 45, 8, or T (NEW Central Subway) directly to Chinatown. Enjoy dim sum, egg tarts, boba, and Asian snacks all in one place! Visit the fortune cookie factory and the Chinese Historical Society of America Museum (Bruce Lee Exhibit) and learn more about the history and achievements of Chinese immigrants. Little Italy offers the best deli sandwiches and gelatos. Walk along Grant Avenue for thrift shops and affordable souvenirs.
Thrifting at Haight-Ashbury: Take the 6,7, or 43 directly to Haight. 4 blocks of quirky shops and thrift shops. Enjoy vegan burgers and local coffee shops.
Golden Gate Park: Take the 5, 6,7, or N to Golden Gate Park. Enjoy the scenery, food trucks, and museums along the park. Grab a Lyft bike (Locate bike racks and unlock from the Lyft App) and ride along the car-free JFK Promenade.
Japantown: Take the 38/38R to Japantown! Enjoy authentic Japanese ramen/udon, desserts, and gift shops.
San Francisco Giants Games: Take the 30, 45, T, or N to Oracle Park! Enjoy the pre-season game against the Oakland A's or walk around the park and Mission Bay.
Ride the Cable Car: Take the Cable Car directly to the FREE Cable Car Museum and Powerhouse! Learn more about the history and impact of public transportation in San Francisco.
(Please note: Muni Numbers= bus, Muni Letter= Light Rail)
South Lake Tahoe- Stateline (Sacramento Station):

Plan a trip to the Sierras! Take the Capitol Corridor to Sacramento Station and transfer directly to the El Dorado Transit bus connection. The trip between Sacramento to South Lake Tahoe (Stateline) only takes 2 hours and 30 minutes. The last stop is located in Heavenly Village, surrounded by hotels, restaurants, grocery stores, shops, ski rentals and less than 2 miles from the ski resort.
(PLEASE PLAN ACCORDLY AND CHECK ROAD CONDITIONS/WEATHER BEFORE BOOKING)
Download the Lake Link App (FREE on-demand shuttle within South Lake Tahoe, this will be your main mode of transportation)
Ski/ Snowboard at Heavenly Ski Resort: Highly recommend rentals from Sport LTD or other shops around the village
Snowmobile and Tubing at Tahoe Snowmobiles: 15-minute walk from the village. Please make reservations online and sign waiver.
Check out Casinos: Feeling lucky? Walk to the nearest Casino and experience the rush!
Are you a history junkie or enjoy old architecture? Old Sacramento is perfect for you! The historic town is only a 7-minute walk from the Sacramento Station.
Must-See Museums: Sacramento History Museum, California State Railroad Museum
Railroad Fish & Chips: Family-owned restaurant that serves fresh seafood, burgers, clam chowder, and mimosas.
Fanny Ann's Saloon: Old-school bar with an arcade! One of the most unique and well-decorated bars in Sacramento.
Cerealism: Go down memory lane and customize your favorite cereal in this new cereal-themed dessert bar!
Downtown Sacramento and the Capitol: Take the light rail/bus OR walk (0.8 miles) to downtown and visit the Capitol.