This post was originally published on April 2, 2017, and was updated on July 11, 2018 for accuracy.
Baseball season is in full swing, and whether you're a fan who keeps track of every stat, or you just enjoy singing "Take Me Out to the Ballgame" with a bag of peanuts and Cracker Jacks, you've got plenty of options for baseball fun in Northern California. No matter which team you're rooting for — the A's in Oakland, the Giants in San Francisco, or the River Cats in Sacramento — Capitol Corridor can make your trip to the ballpark relaxing and fun. With spacious seating and tables for four, a Café Car serving food and beverages, and free wi-fi, you'll be able to start the tailgate early or check the starting lineup on board. So get ready to play ball! Here's Capitol Corridor's guide to baseball parks in Northern California.
Oakland A's, O.co Coliseum
The Easy and Direct Connection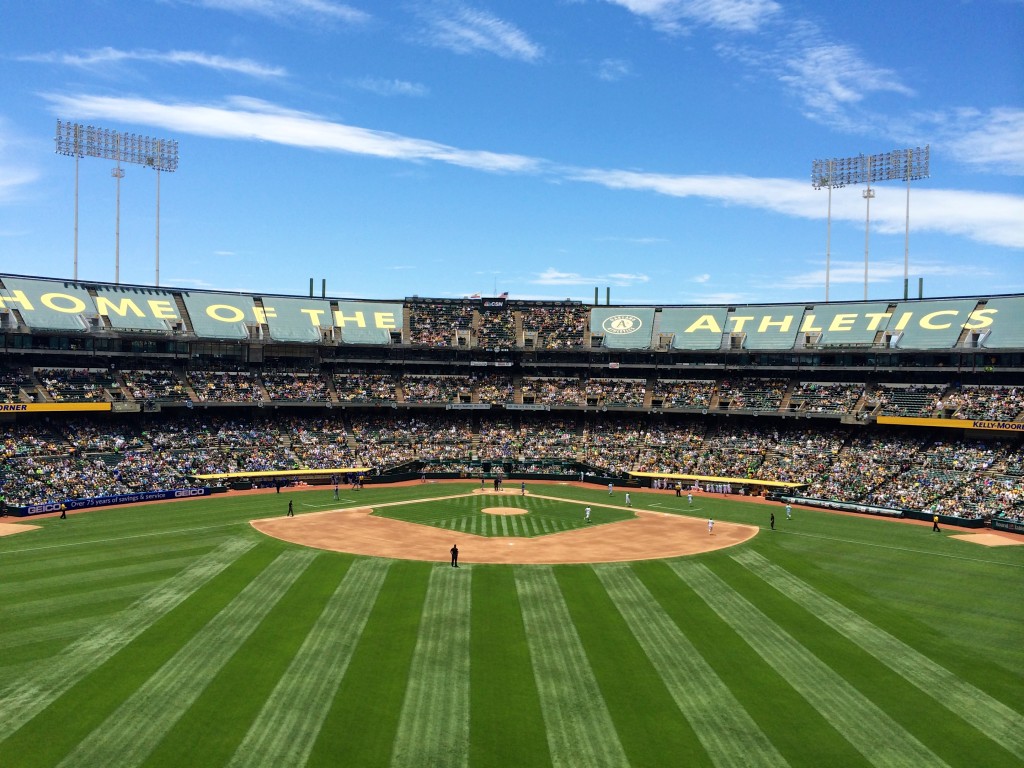 Your easiest and most direct home plate connection is without a doubt the Oakland-Alameda County Coliseum to see the Oakland A's, winner of four World Series championships while in Oakland. The Capitol Corridor train stops right at the Oakland Coliseum Station, and is about a five-minute walk to the stadium gates. Over a dozen trains serve the Coliseum every day, with convenient schedules to get you to and from all the day games whenever you want. And, as in past years, Capitol Corridor offers a 25% discount on travel to the Coliseum for regular-season home games, leaving you more to spend on hot dogs and fan gear!
San Francisco Giants, AT&T Park
The Perfect San Francisco Day Trip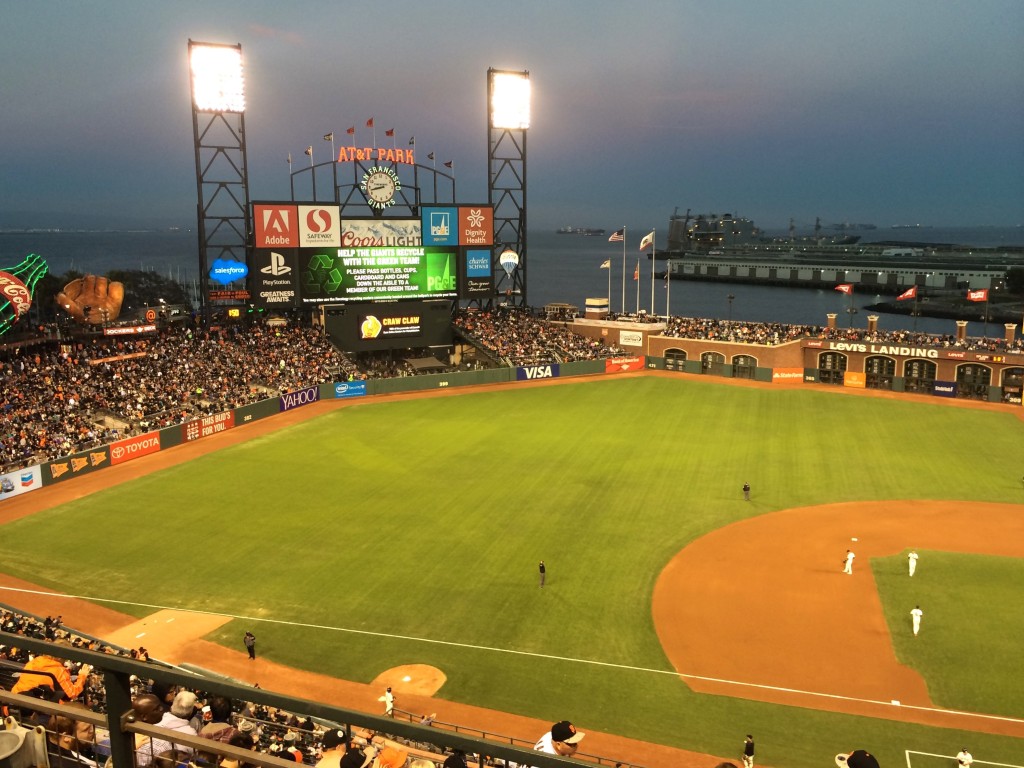 While the Capitol Corridor train does not go directly to AT&T Park, we've got a sweet travel secret to let you in on. If you take the Capitol Corridor train to the Oakland Jack London Square Station you can connect to the San Francisco Bay Ferry. The ferry terminal is about a 10-to15-minute walk from the station and provides direct service to AT&T Park, home of the World Champion San Francisco Giants. After a relaxing train ride and pleasant walk through Jack London Square, you'll board the special gameday ferry for a scenic ride to AT&T Park. Like the Capitol Corridor, the ferry has food and beverages for sale, plus spectacular views as you cruise the Bay in style. NOTE: Because the Capitol Corridor and the San Francisco Bay Ferry are separate services, you'll want to plan your trip carefully to ensure you make your scheduled connections. The ferry only runs one trip to and from the park for each game.
If boats aren't your thing, you can always take the Capitol Corridor to the Emeryville Station and take our dedicated bus to one of our San Francisco stops. Or, you can ride the train to the Richmond Station or Coliseum Station and take BART into downtown San Francisco. From any of the San Francisco bus stops or BART stations, you can walk, hop on Muni, or take a cab, Uber or Lyft to the park.
Sacramento River Cats, Raley Field
The Minor League Choice for Major League Fun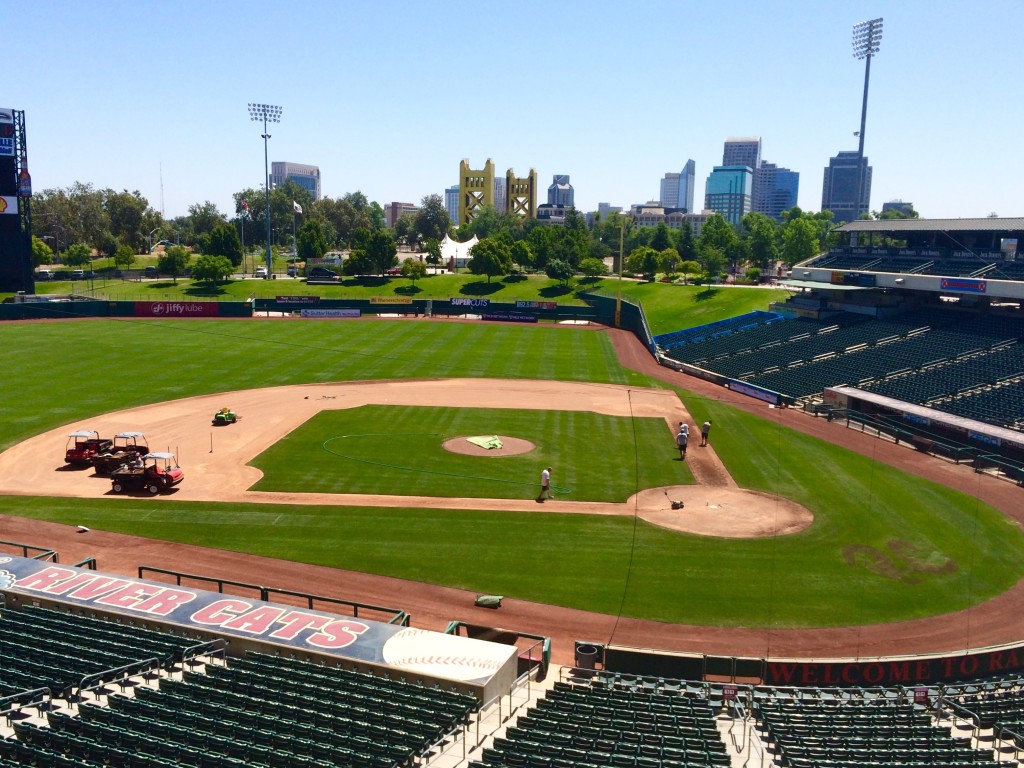 True baseball fans don't just watch the major league teams, but they also follow their minor league counterparts. For Giants fans, that means an easy, traffic-free train ride from the San Francisco Bay Area to cheer on the minor league Sacramento River Cats. Small and intimate, Raley Field evokes the spirit of baseball as it used to be and makes for a fun, family outing in California's state capital. The field is about a mile from the Sacramento Station. This takes about 20 minutes to walk, or 5 minutes by cab, Uber, or Lyft. Capitol Corridor has over 30 trains a day serving the Sacramento Station. Most night games may run too late to catch the train back to the Bay Area, but for day games, the Capitol Corridor is the way to go!