Consolidated Rail Infrastructure and Safety Improvements. Grant will support Sacramento to Roseville Third Track Project (SR3T)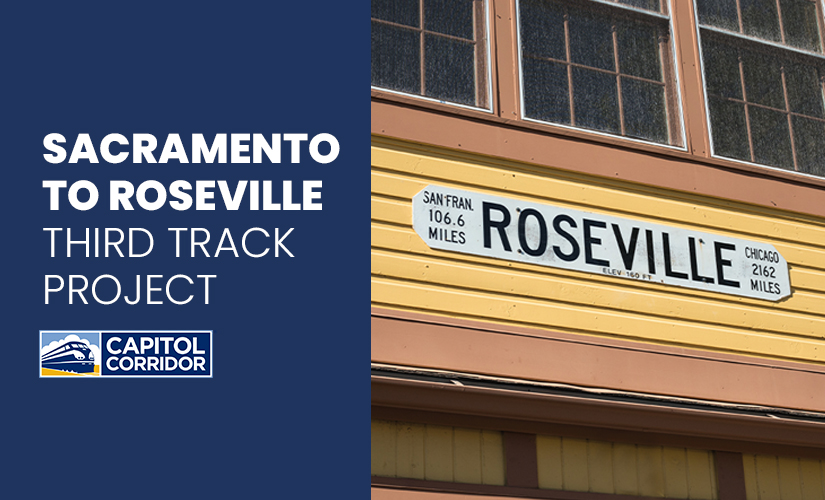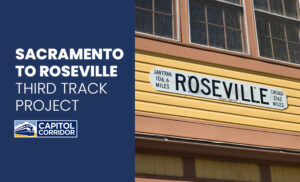 Oakland, CA, September 25, 2023 – The Federal Railroad Administration (FRA) announced it has awarded $42.51 million to the Capitol Corridor Joint Powers Authority (CCJPA) through the Consolidated Rail Infrastructure and Safety Improvements (CRISI) Program, to complete Phase 1 of its Sacramento to Roseville Third Track Project (SR3T). Once completed, two additional roundtrips will be added between Sacramento and Roseville.  
"This is a significant grant. It's the first federal funding awarded to CCJPA under the new Infrastructure Investment and Jobs Act and the first federal investment in our service since 2009," said Capitol Corridor Managing Director Robert Padgette. "These investments will provide better connections, reliability, and safety for more people throughout the region." 
CCJPA is actively pursuing other state and federal support for rail enhancement projects along the Capitol Corridor's 170-mile corridor from Auburn to San Jose. The CRISI award will close the remaining funding gap, enabling the completion of the Phase 1 project. The state of California will provide a 71.9 percent non-federal match. This is one of the twelve Northern California Megaregional projects supported by the Metropolitan Planning Organization of Sacramento Area Council of Governments (SACOG), Metropolitan Transportation Commission (MTC), and San Joaquin Council of Governments (SJCOG). 
"The Capitol Corridor is a vital artery for our community, providing folks with access throughout the Sacramento region and beyond. That's why I have been such a strong, long-time advocate for bold federal investments in our passenger rail infrastructure," said Congresswoman Matsui. "Thanks to the transformative Bipartisan Infrastructure Law, projects like CCJPA's Sacramento to Roseville Third Track are becoming a reality and will improve the economy and lives of communities throughout the region. I was proud to advocate for this funding and ensure CCJPA can continue expanding their services."  
CCJPA Board Chair Robert Raburn added, "We are grateful to receive this CRISI grant. This award is a testament to CCJPA's fearless approach to the evolution of rail in Northern California for future generations."   
"CCJPA's Sacramento to Roseville Third Track project will provide Placer County residents with more options to travel on the Capitol Corridor service," said Congressman Kevin Kiley. "I am glad to support this project that will reduce traffic congestion and increase safety in the Capitol region."  
The heavily traveled rail corridor owned by Union Pacific Railroad (UP) serves Capitol Corridor, Amtrak Long Distance service and UP freight traffic. In 2008, CCJPA and UP identified the third track project was needed for development in two phases: 
The first phase of the project will allow two additional round trips over the current one round trip for a total of three round trips.  
The second phase would add an additional seven round trips for a total of ten round trips to/from Roseville. Additional improvements include new railroad signals; existing track rehabilitation of a detour track to facilitate the project construction phasing; utility relocation; retaining walls, crash walls, a new railroad bridge over Dry Creek; a new CCJPA Layover facility, safety enhancements to two public and three private at-grade crossings along the alignment, and additional right-of-way security fencing to deter trespassers. CCJPA is nearing the 90 percent design completion and is working to secure additional right-of-way in preparation of entering the construction phase of the project in late 2024. 
"This is great news for the City of Roseville and Placer County," said Mayor of Roseville, CCJPA Board Vice Chair, and PCTPA Board Director Bruce Houdesheldt. "Once both phases are completed, this project will expand the Capitol Corridor service to a total of 10 daily round trips to and from Roseville." 
The CRISI Program, which is administered by the Federal Railroad Administration, advances projects that modernize America's freight and passenger rail infrastructure, allowing people and goods to move more safely and efficiently and helping make goods more affordable for American families. – FRA 
About CCJPA and the Capitol Corridor®
Managed by the Capitol Corridor Joint Powers Authority (CCJPA), the Capitol Corridor is an intercity rail service connecting the most economically vibrant urban centers in Northern California – from Sacramento to Silicon Valley, and including San Francisco, Oakland, and Berkeley. With free Wi-Fi on board, Capitol Corridor trains provide a convenient, reliable, and comfortable alternative to the congested I-80, I-680, and I-880 freeways for more than 700,000 passengers a year. For more information, visit www.capitolcorridor.org 
Contact: Vernaé Graham, Capitol Corridor