You probably know all of the great places the Capitol Corridor can take you, but do you know about our sister routes in California that serve other top destinations across the state? Consider adding a train ride to your itinerary the next time you're visiting Southern California, the Central Coast, or the Central Valley
The Golden State has a robust rail system, and there are train services similar to the Capitol Corridor in other areas that can add a lot to your trip. Both the San Joaquins and Pacific Surfliner routes travel through diverse and beautiful sections of the state, with stations that are centrally located to popular destinations like San Diego, Santa Barbara, and even Yosemite!
Like the Capitol Corridor, the San Joaquins and the Pacific Surfliner offer amenities such as a Café Car, free Wi-Fi, bike racks, and spacious seating for a comfortable ride while you relax and take in the stunning scenery. Try getting all of that while driving! And then there's the money you'll save on gas and automobile wear and tear, as well as the good you'll be doing for the environment.
Read on to learn more about all the places you can go and how you can save using California's three intercity passenger rail services, including the Capitol Corridor.
San Joaquins
The San Joaquins service runs through scenic agricultural landscapes along California's spine and is bordered by coastal mountain ranges and some of the state's top national parks, including Yosemite.
Serving 18 stations, trains operate daily between Sacramento, the San Francisco Bay Area, and Bakersfield. Other stops along the way include Stockton, Modesto, Merced, and Fresno.
With numerous thruway bus connections as well, the San Joaquins can take you to Palm Springs or all the way to the coast, including a connection in Bakersfield for a seamless transfer to LA Union Station. At Union Station, you can transfer to the Pacific Surfliner to enjoy all that Southern California's coast has to offer!
The San Joaquins also shares a number of train stations with the Capitol Corridor, including Oakland Jack London Square, Emeryville, Martinez, and Sacramento.
Info: amtraksanjoaquins.com
Pacific Surfliner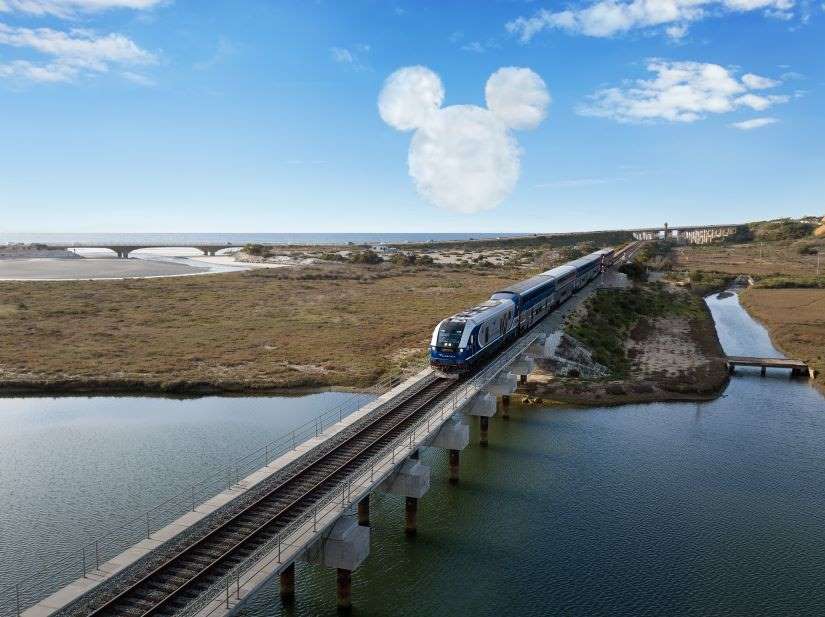 Take the Pacific Surfliner to top destinations in Southern California, including San Diego, Los Angeles, Santa Barbara, and others. Cruise by sparkling beaches and rolling hills on the way to beloved surf cities, vibrant downtowns, and renowned wine regions.
On the Pacific Surfliner, you can visit world famous attractions like the Disneyland® Resort and the San Diego Zoo, or travel off the beaten path and discover a hidden gem.
Enjoy many of the same amenities onboard Pacific Surfliner trains, including free Wi-Fi, large picture windows, a Café car, reclining seats, and more. Passengers can also upgrade to Business Class to enjoy more perks.
Info: pacificsurfliner.com
Capitol Corridor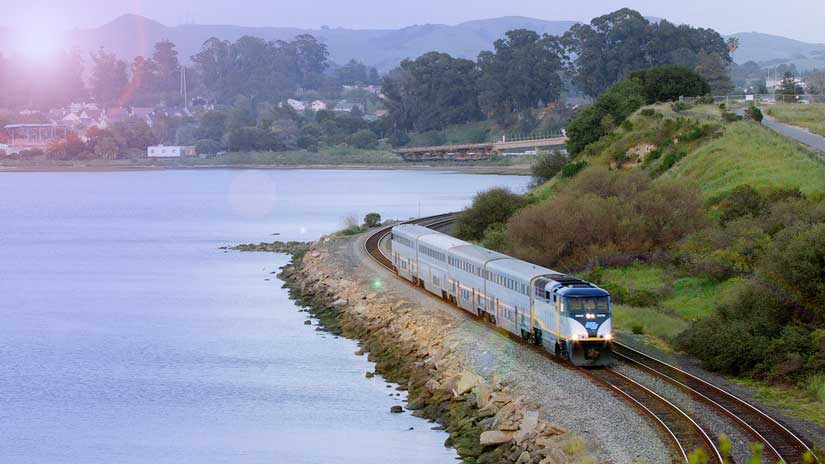 Connecting Northern California's most culturally and economically vibrant areas, the Capitol Corridor route spans 170 miles between the greater Sacramento region and the San Francisco Bay Area.
Stations along the Capitol Corridor, including Auburn, Davis, Oakland, Santa Clara, and others, connect riders to professional sporting events, concerts, school, work, and much more. Many attractions, such as Levi's® Stadium, Great America theme park, Old Sacramento, and Jack London Square, are within easy walking distance of a station. And with plenty of secure storage on board for bikes, the Capitol Corridor is the perfect way to start or finish a Northern California bicycle adventure.
Like the other services, the Capitol Corridor has dedicated Thruway bus connections to destinations further afield, like Monterey, Santa Cruz, and Lake Tahoe. And getting to San Francisco from the train is also easy by either taking a bus connection in Emeryville or transferring to Bay Area Rapid Transit (BART) at the Richmond Station. 
Info: capitolcorridor.org
Save on Travel Throughout the Golden State
In addition to route-specific promotions, all three services offer California Everyday Discounts, which provide year-round savings on trips for seniors, students, children, military personnel, veterans, and others. Save 15% or more on Pacific Surfliner, Capitol Corridor, and San Joaquins trips.
You can learn more about (and book) California Everyday Discounts, as well as current route-specific offers at each of the route websites: Capitol Corridor, San Joaquins, and Pacific Surfliner.