Capitol Corridor has introduced a new feature, available on its website, that uses recent ridership numbers to provide information on how crowded a specific Capitol Corridor train might be.
The occupancy checking tool allows riders to see the typical level of ridership on the train they are planning to take so they can make an informed decision about their travel. While all Capitol Corridor trains continue to have plenty of room for social distancing, this tool gives riders full access to ridership data for individual trains. Based on that information, customers might choose to travel at a different time on a less crowded train, or have confidence they will be able to ride comfortably on a preferred train.
The occupancy checking tool also provides data for connecting bus trips between Emeryville and San Francisco.
"At the moment ridership continues to be low enough to allow for ample social distancing on all of our trains and buses," said Rob Padgette, Managing Director of the Capitol Corridor. "Based on passenger surveys we conducted earlier in the summer, and assuming businesses continue to open back up, we expect more people to start using our service again in the coming months. This tool gives our customers the information they need to plan their travel with confidence."
How the Occupancy Checking Tool Works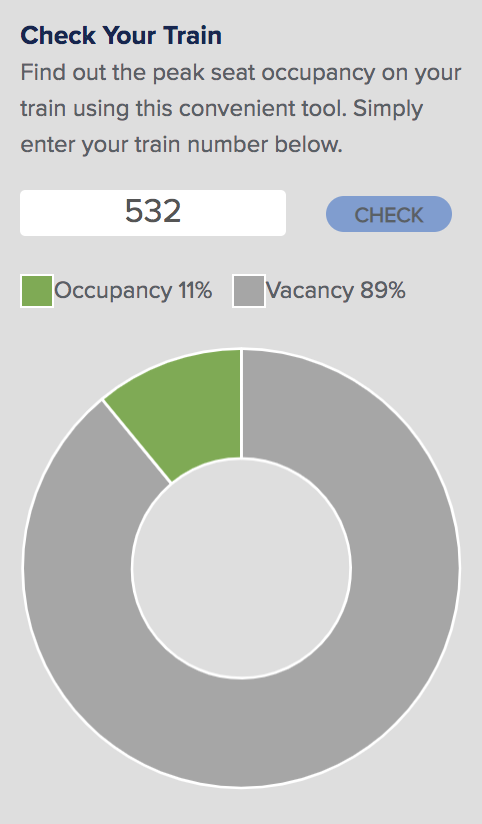 The information presented on the Performance page of the Capitol Corridor website is updated on a weekly basis and shows the average peak daily ridership over the previous two-week period as a percentage of full capacity. Average occupancy percentages are available for all weekday and weekend trains, as well as for each of the Emeryville-San Francisco connecting buses.
On the same page, travelers can also type in a specific train number to see what that train's peak occupancy and vacancy rates are on average.
Read more about how the Capitol Corridor is ensuring that passengers can travel safely on Capitol Corridor trains and buses here.