The forecast is full of sunny days ahead, and what better time than now to get out and experience one of the scenic destinations along the Capitol Corridor route? If you're looking for a weekend getaway that includes biking, beautiful nature views, delicious dining options, and thrilling adventures, we have designed a trip just for you! Here's all that you'll need to know to plan a fun-filled weekend in Placer County.  
 Getting to Placer County

The Capitol Corridor train offers daily service to Roseville, Rocklin, and Auburn; and with the convenience of complimentary onboard Wi-Fi, restrooms, and a Café Car, you'll be able to slip into relaxation mode as soon you board the train. To make this weekend adventure completely car-free, bring your bike onto the train at no extra cost.  
 Where to Stay 
The Park Victorian is a short bike ride (about a mile) from the Auburn train station. The restored inn sits on 6.5 acres near Old Town Auburn and is picturesque inside and out, boasting several elegant suites to choose from.  
 Things to Do 
While you might be inclined to spend the weekend lounging about, there's plenty of outdoor activities to make the most of the trip. Spend the day taking in the views of the American River along the 3.5 mile Confluence Trail. The difficulty is moderate, making it accessible for many visitors. To get there, hop on the Auburn Transit Shuttle at the Historic Firehouse in Old Town Auburn to be taken straight to the American River Confluence for an all-day mountain biking or hiking experience. 
 To keep the adrenaline pumping, we recommend visiting Quarry Park Adventures in Rocklin. This is one place not to be missed during your trip, as it will dispel any notion of what you thought it might be like to visit a rock quarry. Activities include zip lining, a climbing wall, paddle boats, and even a free fall for the not so faint of heart. There's adventure for visitors of all ages, the Kidz Kove features climbing nets, balance beams, Miner's Maze and more. What may surprise you to know is that the onsite Amphitheater is also a concert venue. Check out the Quarry Park Amphitheater for upcoming events. To get to the park, bike over to the Auburn train station and catch the Route 10 Auburn to Light Rail bus to the Sierra College Campus. From there, it's just a 9-minute bike ride (1.4 miles) to Quarry Park Adventures.  
 The trip would not be complete without taking a stroll through Old Town Auburn, which also happens to be the location of the first gold discovery in Placer County. Its historic charm remains intact and is exactly where you will want to spend time making even more memories while shopping and dining.  
 Where to Eat 
While you won't be able to help but run into quite a few restaurants and dining options in Old Town Auburn, a few well-known favorites are Tap and Vine, Edelweiss Restaurant 2, The Pour Choice, and Auburn Alehouse. 
 Save on Travel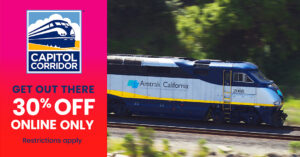 Now that you've have an itinerary that's loaded with outdoor excursions and satisfying food options, the next step is booking your car-free excursion. Take advantage of current discounts on train travel by booking Capitol Corridor's 30th Anniversary deal, which offers 30% off full adult fares through June.