Stay productive. Stay connected. Capitol Corridor trains offer complimentary wi-fi so you can connect to the internet while you are on the train.
How to get connected:
In your list of wireless networks, look for "AmtrakConnect".
Select the network name.
Open or refresh your browser; you should see the AmtrakConnect welcome screen.
Click "I agree, get connected" to proceed to the Internet. You must complete Step 4 to access the Internet.
Learn More
For More information about on-board wi-fi, please view our Frequently Asked Questions.
Managing the Wi-Fi Experience
Since capacity is limited by the "train to shore" portion of the system, we can't permit internet usage like you may enjoy at home. To explain, it is like having a pretty decent internet connection at home and inviting 200 of your closest friends to surf the internet at your house. You can imagine service may slow down and become frustrating especially if just ten of them decided they might want to watch a few streaming videos and few more decided to stream music, and several more wanted to play an online fantasy game. Some of those friends would be unsuccessful in their pursuits, others who were just expecting to check their email, check out a few typed/print media (not streaming), or shopping with an online retailer might also have a disappointing experience. The on-train network is in a similar bind. The exposure to so many potential people with the backhaul solution the CCJPA can afford to present requires that we manage and shape network traffic on the system. For that reason, steaming video sites such as You Tube, Hulu, and Netflix are blocked. Music streaming sites are also blocked. There are also data cap limitations on file downloads at 10 megabytes. And finally for those who might think getting around these filtering techniques is what they need to do (at everybody else's expense), there are traffic queuing techniques to put any potential "bandwidth hogs" at the back of the line.
Regarding content filtering, the only intended sites which are intended to be blocked are pornography. As a public service, the CCJPA supports blocking of this type of publicly objectionable content while seeking to allow the internet to be otherwise open for use (except as explained above for bandwidth management). The filtering mechanism for pornography is essentially a blacklisting service and very similar to a blacklist system used by many employers. There will be instances where legitimate websites may be blocked and there is a process for requesting Amtrak to whitelist such sites.
Based on the experience Amtrak has on their Northeast Corridor and Acela wireless internet services, where the cellular connections are not providing as much aggregated backhaul as in California, we know the service will, at times, be slow. If we had the budget, we could build a system which would permit a faster and more like 'at home' internet experience but cost and marginal utility of that approach isn't feasible. The reality is that Wi-Fi on the train is very challenging to do, and with the numbers of people on a train who may be using the system, we have to shape the experience so a number of riders can enjoy a free, reasonable wireless network experience.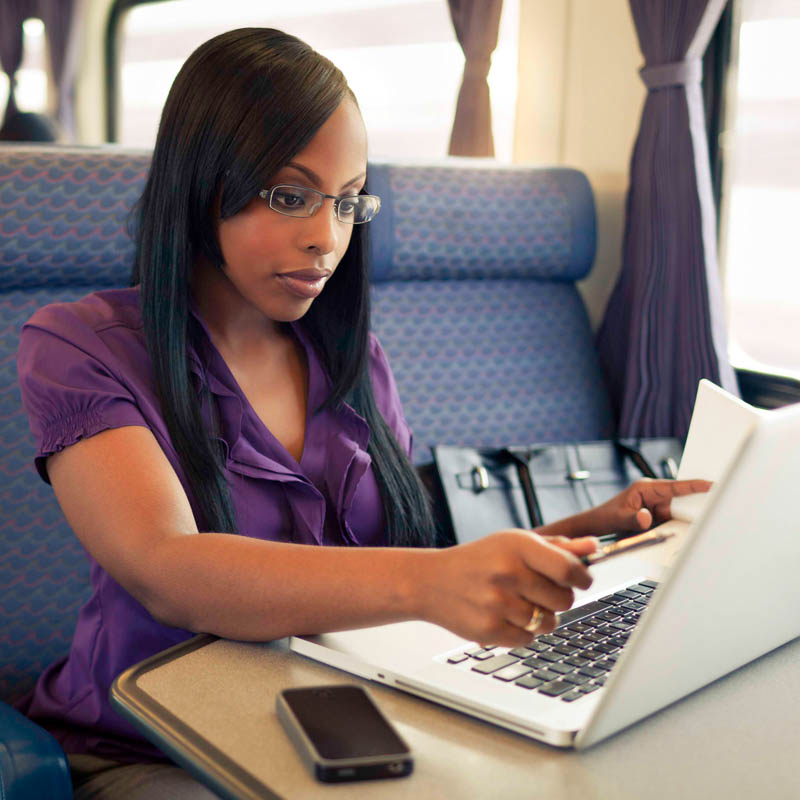 Station Tips
Buy tickets online so you don't have to wait for a station agent or Quik-Trak machine.
Some stations require paid or validated parking so arrive early to allow enough time.
Bike parking is available at all stations, so if you don't need your bike at your destination consider securing it at the station instead of bringing it on board.
Many stations have convenient connections to other transit providers. Be sure to ask the conductor for up to two transit transfers.
While waiting on the platform, be safe and stand behind the yellow line.
Only cross to another platform at designated crossings.