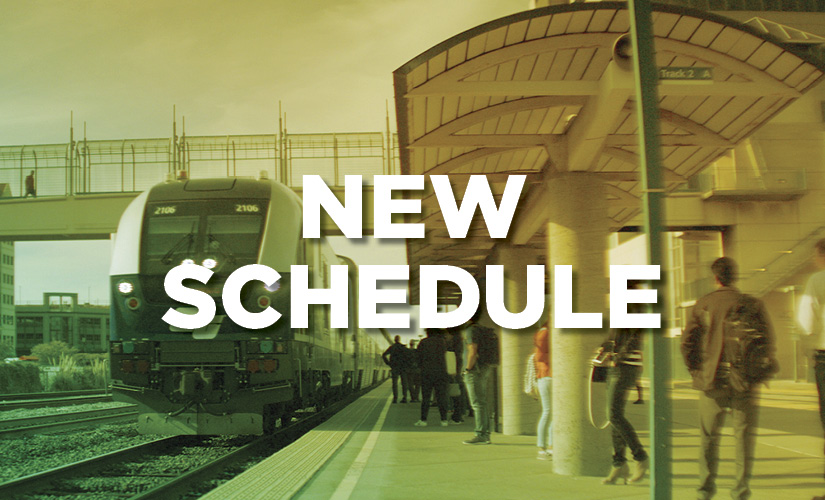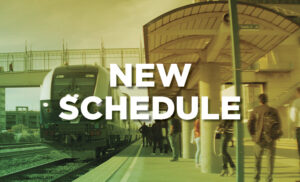 Schedule Adjustments Effective Monday, April 3, 2023
New Schedule: Effective Monday, April 3rd, the Capitol Corridor will implement a schedule adjustment as follows:
Train 522 will now depart 30 minutes earlier (5:42am from Oakland Jack London)

Frequency adjustments for bus connections between Emeryville and San Francisco

Departure time adjustments for bus connections between San Jose and Santa Cruz
For passengers who are affected by the San Francisco bus schedule changes, we recommend connecting to Capitol Corridor via BART at the Richmond Station.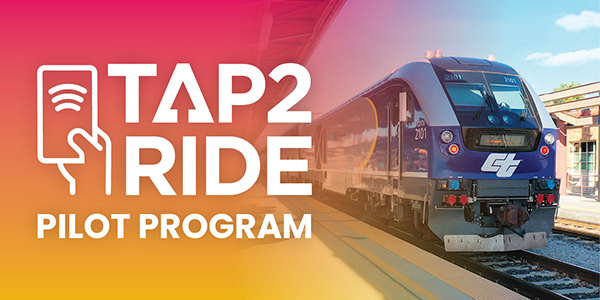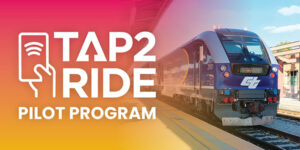 Become a Tapper.
You're invited to experience Capitol Corridor's Tap2Ride program, our new contactless payment system.
Tap2Ride lets you conveniently tap your contactless credit card or debit card onboard your train to pay as you go.
We will be selecting approximately 200 frequent riders from those registering on our website to be part of our pilot program to try out Tap2Ride and to give us their feedback.

For participating in the pilot, you will receive exclusive discounts:

$1 off the one-way 10-ride pass pricing between the same origin and destination stations

Free rides after completing 6 one-way trips between the same origin and destination stations within any given week (Monday to Sunday)

If you'd like to join the pilot, please visit our capitolcorridor.org/tap2ride 

website to:

Learn more about the contactless payment program and pilot

Review your eligibility for the pilot

Register to participate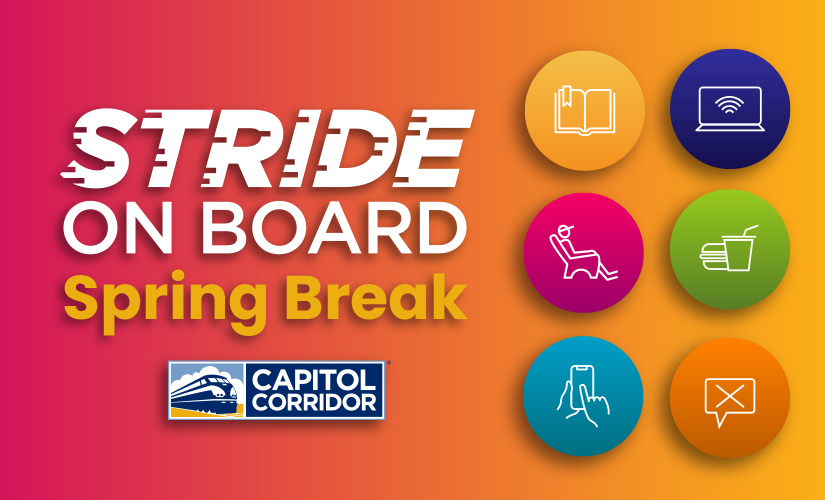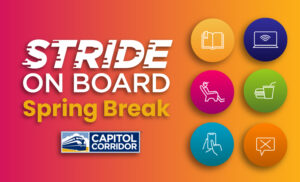 Spring Break: Student Discounts and Car-Free Destinations
CALLING ALL STUDENTS! Let us take care of your travels this Spring Break! Enjoy a car-free trip by taking the Capitol Corridor to your mini getaway or home. We offer FREE Wi-Fi, outlets, drinks and snacks from the Café Car, clean restrooms, and plenty of leg room onboard!
Be sure to take advantage of our Stride on Board student and current promotions:
25% with 6-ride ticket good for one year

15% off any trip any time with California Everyday Discounts (Use Promo Code V353)

Take 5 for $5! Buy 1 full-fare ticket, take up to 5 more friends for only $5 per person, each way! (Friday- Monday, one day advance purchase)
Looking for car-free destinations in Northern California and the Bay Area? Take the Capitol Corridor to San Francisco, South Lake Tahoe, or Sacramento this Spring Break. Read more here!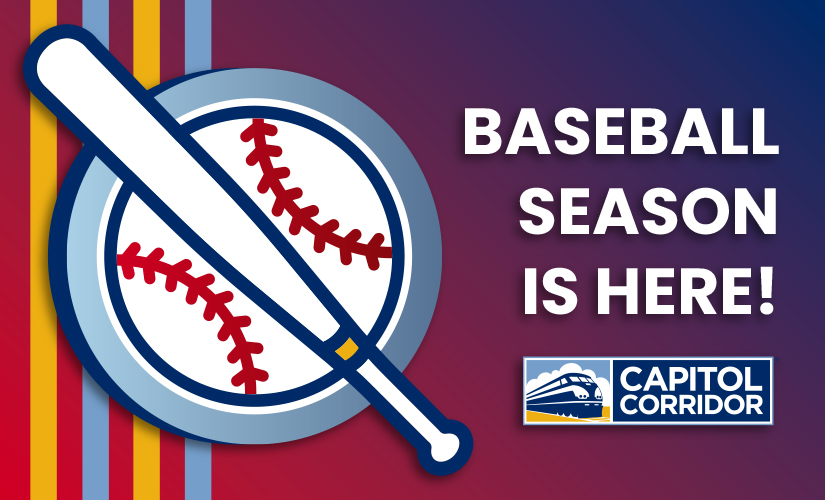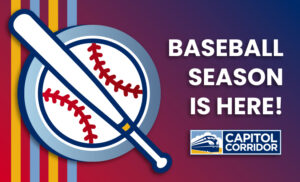 Let Us Take You Out to The Ballgame!
Batter up! We are thrilled to offer fans an easy way to get to and from the action at San Francisco's Oracle Park and Oakland Coliseum for all this season's home games!
In addition to avoiding the stress of traffic and parking, fans who take the train will be able to get an early start by enjoying drinks and snacks available in our Café Car. We also offer FREE Wi-Fi and 10 movies you can stream right from your phone. Sit back, relax, and let us be your designated driver!
Enjoy games with your friends and family and take advantage of our Take 5 for $5 deal. Visit the Deals & Promotions page for booking details. Book travel to Oracle Park or Oakland Coliseum at www.capitolcorridor.org.
View game schedule and read more here!