As an added safety measure, the Capitol Corridor will be requiring reservations for ALL train and bus passengers during Thanksgiving week, Monday, November 23 through Monday, November 30, 2020.
During Thanksgiving week, we will be maintaining five-car train lengths and capping our total number of bookings at 50% on trains and buses to ensure there is plenty of room for social distancing. Please note that reservations do not include seat assignments.
How Do You Reserve Your Ticket?
For one-way/round-trip travel:
If you are traveling one-way or round-trip, book your ticket as you normally do. For safe contact-free payment, we strongly encourage you to make your reservation online at CapitolCorridor.org or via the Amtrak app. The main difference is that for travel during Thanksgiving week, you must use your ticket on both the date and train/bus indicated on your ticket. Before traveling, check to confirm that your itinerary matches your intended travel date and train/bus number.
For travel with a multi-ride ticket:
Travelers using a previously purchased multi-ride, 10-ride, or student 6-ride ticket are asked to confirm their intended trip(s) prior to boarding through Amtrak's RideReserve system to help us monitor ridership and facilitate social distancing on board.
This can only be done within 14 days of your intended departure date through Amtrak.com, via the Amtrak app, or with a station ticket agent prior to boarding. RideReserve is available and required for Capitol Corridor multi-ride ticket holders only during Thanksgiving week.
Through Amtrak.com, follow these steps:
Click on MODIFY TRIP at the top right of your screen.
Enter your ticket reservation number and your email address, phone number, or last name.
Under TICKET TOOLS, click on FIND TRAINS.
Select your intended DIRECTION and DATE of travel to view your trip options. (Note: Your confirmed trip must include the same origin and destination stations indicated on your multi-ride ticket.)
Click CONFIRM next to your intended train. Your trip is now confirmed!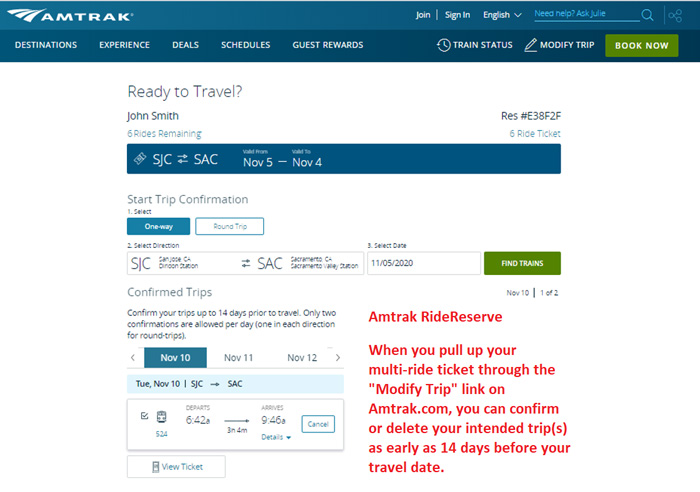 Through the Amtrak mobile app, follow these steps: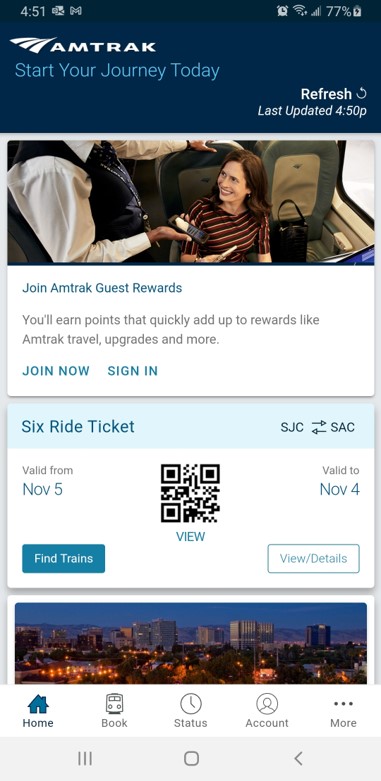 1. Click FIND TRAINS from multi-ride card on the home screen.
2. Select your trip details.
3. Click CONFIRM.
What If You Need to Change or Cancel Your Reservation?
For one-way/round-trip tickets:
If your plans change and you need to travel on a different day or train/bus, please modify your reservation on Amtrak.com or via the Amtrak app to help us monitor ridership and facilitate social distancing.
Go to MODIFY TRIP on Amtrak.com, or find your reservation from your account on the home screen of the Amtrak app.
While change fees are waived for reservations made by December 31, 2020, a fare difference may apply to your new itinerary.

If you need to cancel your ticket, call Amtrak at 1-800-USA-RAIL and speak with an agent. (Do not hang up and call the Capitol Corridor as instructed in the voice message, as we are not able to process booking cancellations; just stay on the line to speak to an Amtrak customer service representative.) Cancellations cannot be done via CapitolCorridor.org, Amtrak.com, or the Amtrak app. Cancellation fees will apply for all reservations made after October 31, 2020.
For multi-ride tickets that were confirmed with RideReserve:
If you have confirmed one or more trips on your multi-ride ticket (monthly, 10-ride, or student 6-ride) and need to cancel it, pull up your confirmed trips via Amtrak.com or the Amtrak app and cancel desired trip(s). There is no fee for cancelling a confirmed trip, and if you want to book travel on another date and train, you can simply add another confirmed trip using RideReserve.
Why Are We Requiring Reservations This Year?
While current ridership levels on the Capitol Corridor lead us to believe that Thanksgiving week ridership will be lower than in past years, we do not know for sure. Requiring reservations allows us to monitor how many passengers are booked on specific trains, which makes it easier to facilitate social distancing and ensure that every rider has the safest and most comfortable trip possible.
Requiring reservations also improves our ability to communicate important service updates with you before and during your travel. In addition to receiving Capitol Corridor news and service alerts – available via email or text subscription and Twitter – you may opt in to receive email, text, and push notifications from Amtrak regarding your specific reservation. Learn more about Amtrak push notifications here.
Other Information and Tips for Thanksgiving Travel
Capitol Corridor service will run according to the Weekend/Holiday Schedule on Thanksgiving Day, Thursday, November 26, as well as the day after Thanksgiving, Friday, November 27.
As in past years, we encourage customers to plan and book their travel as far in advance as possible, especially if bus travel is part of your itinerary. Bookings on both Capitol Corridor trains and buses are capped at 50%. We will be monitoring Thanksgiving reservations closely to ensure we have sufficient equipment and capacity for social distancing.
For contact-free travel, we strongly encourage riders to purchase their tickets online at CapitolCorridor.org or via the Amtrak app, so they can simply show the conductor their electronic ticket from their smart phone.
Do not forget your face covering! Masks are required at all Capitol Corridor stations and on board all trains and buses. You may remove your face covering only while eating at your seat.
Visit CapitolCorridor.org/health to learn about all the initiatives we have taken to ensure safe travel with the Capitol Corridor.
Bikes and Baggage: If you have a bike, secure it in the bike car storage area, or one of the lower level bike racks. Make sure your bike is not blocking an aisle, and that it is locked (ideally with a U-Lock for maximum security). For more information, visit CapitolCorridor.org/bicycles.
Familiarize yourself with Amtrak's Baggage Policy. You may bring two pieces of luggage and two carry-on personal items, totaling up to 150 pounds, for free. Excess baggage will cost $20. The Capitol Corridor does not have checked baggage service. Put larger bags in the baggage storage areas near the train's entrance doors. Keep aisles and other seats clear by putting smaller items either under your seat or in the overhead compartment, even if there are empty seats around you.
Travel Discounts & Amenities
Capitol Corridor trains feature comfortable seating and offer a wide variety of amenities, including free Wi-Fi, electrical outlets in each row, and bike racks. Please note that our Café Car service is currently suspended due to COVID; however, you may bring your own food on board.
Route and fare information, ticketing and reservations are available at CapitolCorridor.org or via the Amtrak app.
For travel discounts, such as Friends & Family and California Everyday Discounts, visit CapitolCorridor.org/deals.