This article was updated on 6/7/2018
Mike Sullivan hates traffic. Especially after a long international flight, the thought of sitting on a congested Bay Area freeway is as nightmarish as it can get for this well-seasoned traveler.
And he is not alone.
According to a study by Auto Insurance Center, the San Francisco Bay Area ranks #2 in the nation for worst traffic. This makes travel planning a challenge when figuring out how much time to allot for parking, shuttling to the airport, and going through security.
But this is no longer a concern for Sullivan. This summer, he and 11 travel companions organized a three-week European vacation, and made it stress-free by taking the Capitol Corridor train/BART connection to San Francisco International Airport [SFO] starting in Sacramento. They not only avoided traffic on the way and made their flight on time, but also thoroughly enjoyed the journey.
It all started when Sullivan and his neighbors decided to embark on the European excursion together. Once they agreed on the itinerary of Paris, Provence, Cinque Terra, Tuscany, and Florence, they held regular meetings to discuss trip details. They designated specific organizers, assigned tasks, and even took French lessons to prepare. And since Sullivan regularly flies out of SFO himself, he volunteered to arrange the travel to and from the airport.
While detailing his plans, Sullivan recalled the nightmare scenario from the last time he drove to and parked at the airport. His 15-hour flight had landed at SFO at 4pm on a Tuesday. Knowing it was rush hour, he tried his best to determine the fastest route home. He first attempted to cross the Bay Bridge in San Francisco, but due to heavy traffic, he re-routed and headed towards the San Mateo Bridge. Then, there was an accident near Livermore, adding an additional two hours to the ride. From this experience, Sullivan learned that the more reliable option is to take the Capitol Corridor train, transfer to BART at the Richmond Station, and then head directly to SFO — "a completely stress-free way to go," he said.
Knowing it might be difficult for everyone to reach consensus on the airport transportation plan, he offered his travel companions two options — renting a large shuttle van or taking the Capitol Corridor train/BART connection. Without hesitation, the group unanimously agreed on the latter.
With consensus reached, Sullivan went online to buy Capitol Corridor train tickets for the group. On July 5, 2016, their journey began at the downtown Sacramento train station. They loaded their luggage into the train's baggage car and settled into comfortable seats for the scenic, hour-and-half ride to Richmond.
At the Richmond Station, they got off to make the easy transfer to the Bay Area Rapid Transit (BART) system, which provides regional transportation for the San Francisco Bay Area, including service to SFO. Since BART is not part of the Capitol Corridor, passengers must purchase their BART fare separately. For added convenience, the Capitol Corridor sells discounted Clipper Cards in the Cafe Car. Not only did Sullivan's party save money by purchasing the discounted fares on board, but they also avoided having to buy their BART tickets at the Richmond BART Station with all their luggage in tow.
From Richmond BART, which runs every seven to 20 minutes depending on the time of day, it takes a little over an hour, with a timed transfer at the MacArthur Station, to get to the airport. And since the Sullivan group was taking an international flight, and BART's SFO stop is at the International Terminal, "it couldn't [have been] any easier," explained Sullivan.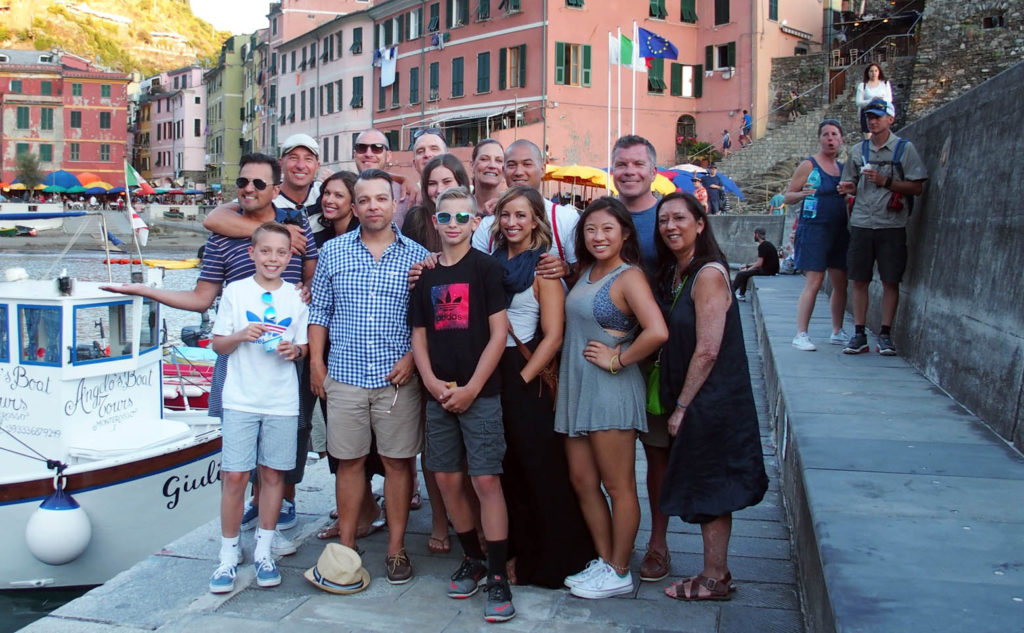 After three fabulous weeks in Europe, the return trip to Sacramento was equally seamless, with an extra bonus. During their time in Europe, Sullivan and his companions had really missed Mexican-American food, so they planned a quick stop at the taco truck right by the Richmond Station and bought burritos to eat on the train. Sullivan said they were so well fed, they slept the rest of the way to Sacramento. Now that's something you can't do if you're driving a car!
The Consequences of Not Taking the Capitol Corridor
For three neighbors, who had left at a later date and joined the rest of the group already in Italy, the trip from the airport did not go quite as smoothly. They had driven to the airport and therefore, couldn't join their friends on the restful train journey home. Because of heavy freeway congestion, they stopped in Burlingame to have dinner, but were unable to avoid traffic along the way.
"The great thing about riding the Capitol Corridor is that the service has few delays, and BART trains run frequently wherever you're going," Sullivan explained. "It was perfect because from both directions, we didn't have to worry about anything. You can walk around on the train, get a bite to eat, and look at the sights. A lot of people in our group had never ridden on a train before, so they were all very impressed because the ride is beautiful all the way to Richmond."
Sullivan described the overall experience of taking the train/BART connection to the airport as not only "relaxing and enjoyable," but also memorable. By the end of the trip, everyone was sold on it, even those who have never taken trains before said "this is how I am going to San Francisco from now on. I am never traveling any other way!"
Written by Sylvia Sheehan
Photos courtesy of Mike Sullivan