While best associated with Halloween, corn mazes, and pumpkin spice, October also brings some of the best outdoor festivals and celebrations. All along the Capitol Corridor, you'll find family-friendly festivals like Dia de los Muertos; Halloween-inspired fun; and celebrations of art, wine, music, and beer.

Spookamotive: Every October Weekend, Sacramento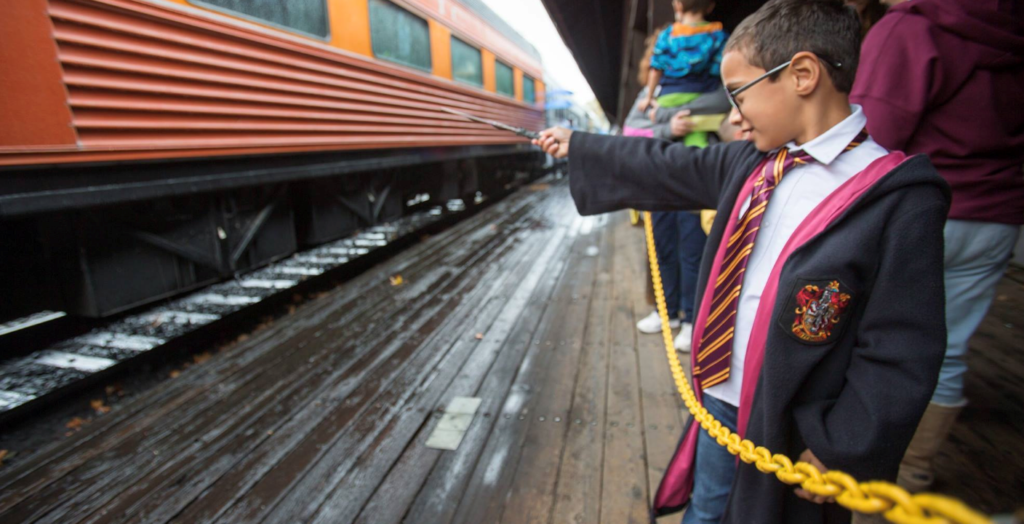 Happening: 11:00 am – 4:00 pm every operating weekend (see below)
Hop aboard the California State Railroad Museum's wildly popular Spookamotive this October. Although the name may sound frightening, this train is the perfect mix of family fun and Halloween spirit. The diesel-powered train is decorated for the season with cornstalks, scarecrows, skeletons, bats, and spiders. Each weekend, the Spookamotive will feature a special theme, exciting on-board entertainment and a tasty Halloween treat. Following are dates and themes:
October 5 & 6: Superheroes and Villains
October 12 & 13: Pirates & Princesses
October 19 & 20: Witches & Wizards
October 26 & 27: Superheroes and Villains
Check the Spookamotive website for times and details.
Getting there: Take the Capitol Corridor to the Sacramento Station and walk 10 minutes to the Central Pacific Passenger Station which is just a couple of minutes away from the Railroad Museum.
---
Hardly Strictly Bluegrass Festival: Friday, 10/4/ – Sunday, 10/6, San Francisco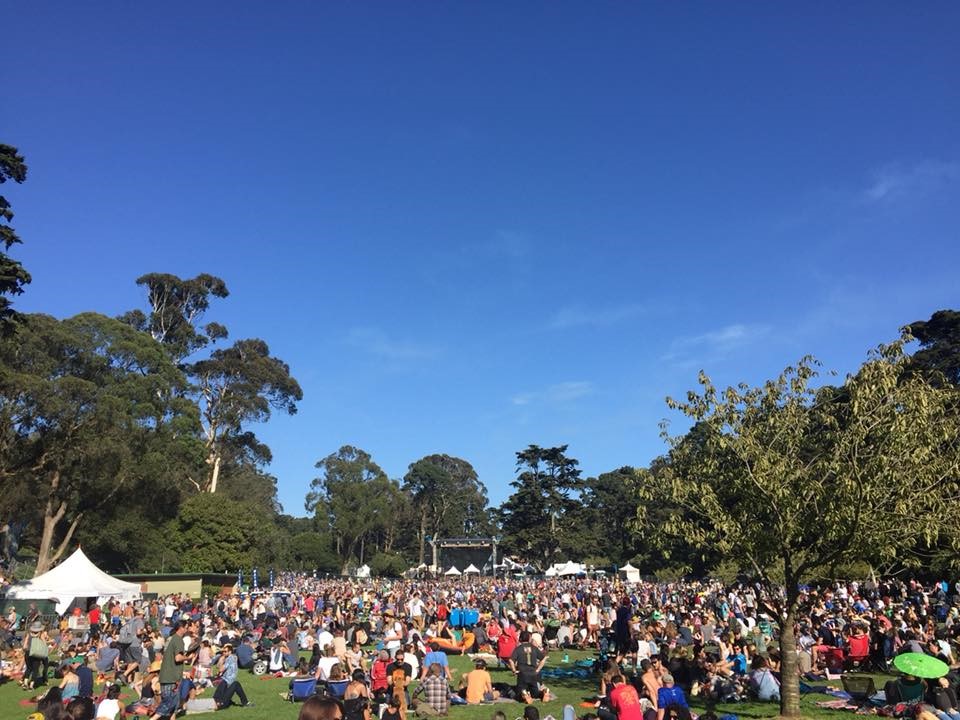 Happening: 12:00 pm – 7:00 pm on Friday & 11:00 am – 7:00 pm on Saturday and Sunday
Don't miss one of the largest and most-anticipated free music festivals in the country, Hardly Strictly Bluegrass! In its 19th year, the festival is held at Golden Gate Park and features some of the biggest names in Bluegrass and other genres. This year's lineup includes Steve Earle & the Dukes, Fantastic Negrito, Jackie Greene, Betty LaVette, and more!
While you're tapping your feet to the bluegrass beats, try some of the best eats in the Bay from more than 35 food and drink stands. While alcohol will not be sold, concert-goers are welcome to bring their own beer and wine in non-glass containers. More than 750,000 attendees are expected over the three-day musical extravaganza, so get there early. Find more information here!
Getting there: Depending on your station of origin, take the train to the Richmond Station or Oakland Coliseum Station. There you can connect to BART for service into downtown San Francisco. From downtown San Francisco, take Muni to Golden Gate Park or catch a cab, Uber, or Lyft.
---
Suisun Waterfront Festival Featuring Art & Wine: Saturday, 10/5, Suisun City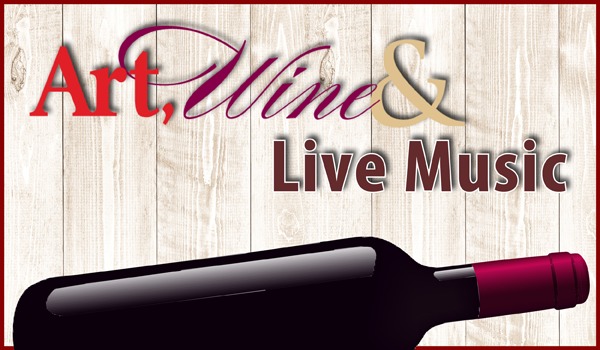 Happening: 11:00 am – 5:00 pm
Gather with friends and family for a delightful day of art, wine, and music at the 5th Annual Waterfront Festival. Enjoy the laid-back ambiance of the Suisun Waterfront while sampling the best local wines, chowing down on gourmet foods, and dancing to live music. The festival boasts more than 80+ booths dedicated to the hand-crafted work of local artists and artisans.
This year's concert lineup features two top-notch artists. Jam out to the pop, blues, and rock fusion sounds of Outta Kontrol; then dance to the festive party music of Project 4 Band. The festival is sponsored by the Suisun City Historic Waterfront Business Improvement District and entry is free.
Getting there: Take the train to the Suisun-Fairfield Station and enjoy a short stroll to the Waterfront District.
---
Brews on the Bay,: Saturday 10/19, San Francisco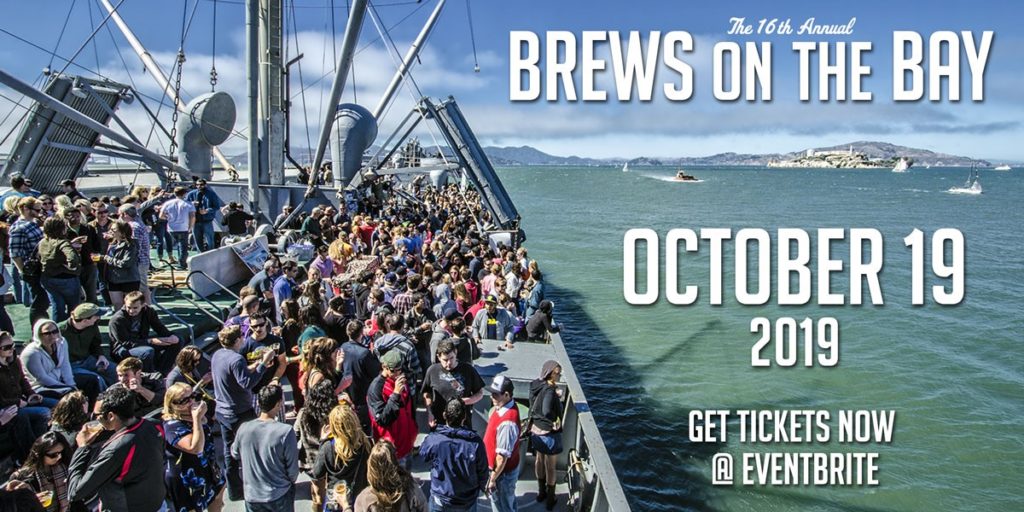 Happening: 1:00 pm – 5:00 pm
All aboard the S.S. Jeremiah O'Brien! Join the San Francisco Brewers Guild for an event that combines the historical significance of voyaging on a WWII-era marine ship with the refreshing Bay Area air and famous views of the Golden Gate Bridge, Alcatraz, and San Francisco. Most importantly, you can do this all while enjoying local craft beer on board.
Brews on the Bay will serve unlimited pours of their best IPAs, ales, sours, and more. The event will be happening out at sea, and guests will board the boat at its Pier 45 dock.
Getting there: Travel by train to the Emeryville Station and take the connecting San Francisco Bus to the Pier 39/Fisherman's Wharf stop. Then, walk 10 minutes or take Muni to Pier 39. You can also transfer to BART from the Richmond Station or Oakland Coliseum Station for fast travel to the Embarcadero BART station where you'll connect to the SF Muni F line.
---
Día de los Muertos Festival: Saturday, 10/19, San Jose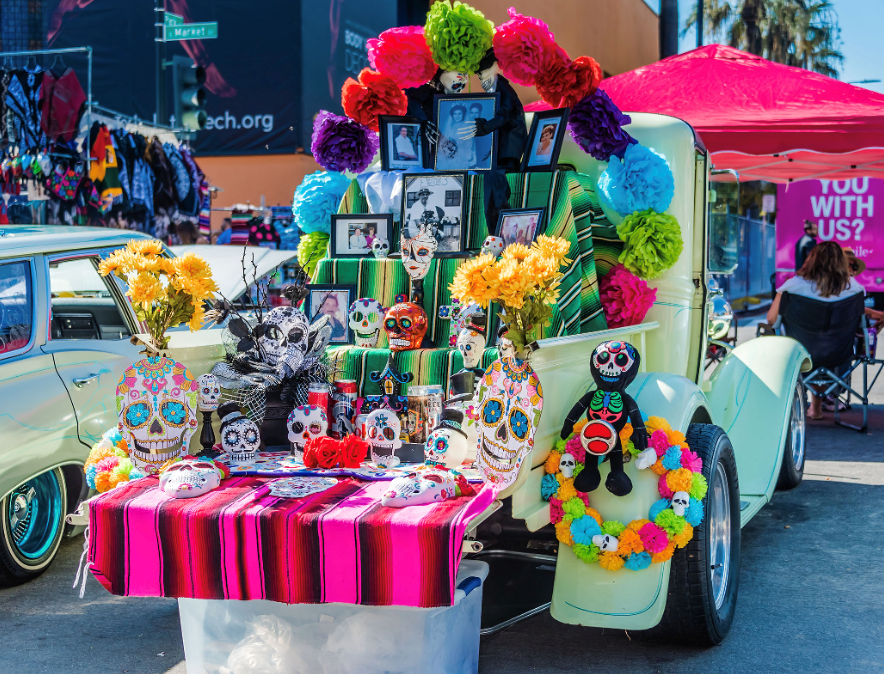 Happening: Sunday 11:00 am – 8:00 pm
Head to downtown San Jose for the 10th Annual Día de Los Muertos Festival, the South Bay's biggest Día De Los Muertos Celebration. This centuries-old "celebration of life" will be held at Plaza de Cesar Chavez Park, with more than 100 vendors catering to an expected audience of over 4,000.
On the main stage, watch live mural paintings by local Latinx youth artists, or cheer on the Lucha Libre match. Don't miss the beautiful signature altars created on the back of low rider car trunks, and relax in the beer garden while delighting in home-cooked comida Mexicana. Meanwhile, kids will have a blast at KQED's "Calavera Camp", where the first 200 will receive a free shirt to color and decorate.
Getting there: Take the train to the San Jose-Diridon Station and use a Free Transit Transfer to ride VTA to Plaza De Cesar Chavez. You can also take a short cab, Lyft, or Uber ride to the event.