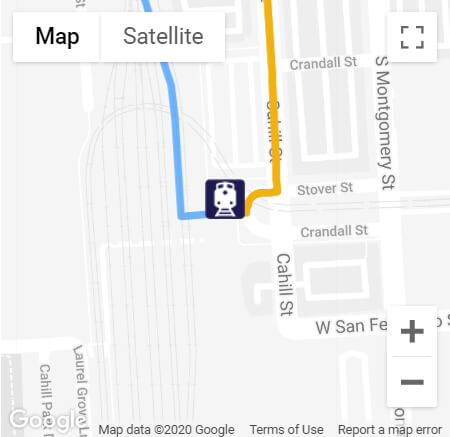 Locate a Station
Enter your zip code to find the three stations nearest to you.


San Jose-Diridon (SJC)
Station Location
65 Cahill Street, San Jose, CA 95110
Map and directions
Staffed Station
| | |
| --- | --- |
| Hours: | 9:15 a.m. – 8:45 p.m. (Mon-Fri) |
| Tickets: | Station agent available, 2 Ticket Kiosk machines |
Station Connections
Capitol Corridor/Amtrak Thruway Bus Connections:
Public transit at or nearby station:
Other transportation services:
Taxis are available in the loading zone by the bus stops at the front of the station
Bicycle Access
Bikes are welcome on board, and most stations have spaces to lock or secure your bike if you don't want to bring it on the train. Please note that the number of bike spaces available is subject to change.
Bike Rack Spaces:
26
Bike Lockers:
24 owned by VTA, call for more info: 408-321-7520
Bikeshare:

27 owned by Bay Area Bike Share;

32 BikeLink e-lockers
Automobile Parking
Parking is owned by Caltrain. For more information, visit Caltrain's site or VTA's Park and Ride site. Please note that prices, hours, and available spaces are subject to change.
Capitol Corridor Amtrak Lot
| | |
| --- | --- |
| Regular Spaces: | 55 |
| Short Term Spaces: | 5 (30 minute limit) |
| Accessible Spaces: | 12 |
| Lot Hours: | No restrictions. |
| Cost: | Free validated parking permit for monthly pass and 10-ride ticket holders only. Show your Capitol Corridor ticket to the station agent for a free permit to put in your car. Arrive early to allow time for parking and getting the permit. |
Caltrain Lot
| | |
| --- | --- |
| Regular Spaces: | 581 |
| Lot Hours: | No restrictions. |
| Cost: | No validated parking. $5 all day. Remember your number and pay at the Caltrain paystations. |
Public Lot (off S. Montgomery St. & W. San Fernando St.)
| | |
| --- | --- |
| Regular Spaces: | 130 |
| Accessible Spaces: | 5 |
| Lot Hours: | No restrictions. |
| Cost: | No validated parking. $5 all day. |
Amenities
Bathrooms
Plenty of seating inside and outside
Bottles and cans recycling
Snacks and sundries
Destinations
Attractions and Places of Interest
SAP Center → 5 min walk, 0.1 mi
McEnery Convention Center → 10 min light rail, 0.8 mi
Tech Museum of Innovation → 10 min light rail, 0.8 mi
Children's Discovery Museum → 15 min walk, 0.7 mi
San Jose State University → 25 min light rail, 1.2 mi
Westfield Valley Fair → 10 min drive or 30 min bus, 2.9 mi
Santana Row → 15 min drive or 35 min bus, 5.3 mi
Trails and Recreation
Guadalupe River Trail → 10 min walk, 0.5 mi
Plaza De Cesar Chavez → 10 min light rail, 0.8 mi