The kids may be back in school and summer is winding down, but the fun is not over quite yet. Grab a friend and head outdoors while the weather is still nice for great events throughout September along the Capitol Corridor!
Solano Avenue Stroll: Sunday, 9/9, Berkeley
Happening: 10am – 6pm
The East Bay will host it's largest street festival, the 44th Annual Solano Avenue Stroll, in the twin cities of Albany and Berkeley. Featuring over 500 vendors including entertainers, food booths, government/non-profit agencies, juried hand-crafters, mechanical rides, and a parade, the event will span over one mile. With more than 230,000 participants and guests visiting from all over the West Coast, the family event will promote the unique "personality" of Solano Avenue and help independently-owned businesses, artists, and community organizations thrive through exposure and fundraising.
Getting there: Take the train to Richmond or Oakland Coliseum Station and connect to BART headed to North Berkeley where you can board a free shuttle to the festival. You can also walk about 15 minutes from the El Cerrito BART station or take AC Transit from our Berkeley Station with a free Transit Transfer available on the Capitol Corridor.
---
Eat Real Festival: Friday, 9/14 – Sunday, 9/16, Oakland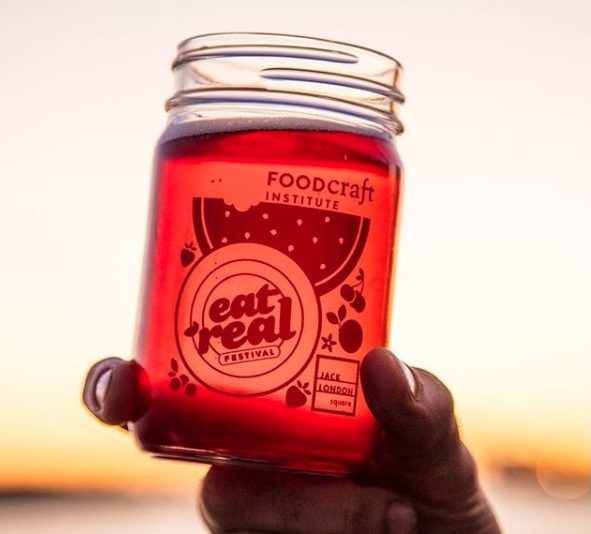 Happening: Friday 3:00pm – 10:00pm; Saturday 11:00am – 10:00pm; Sunday 11:00am – 6:00pm
Don't miss the East Bay's biggest foodie event, Eat Real Festival, on the beautiful and historic waterfront at Jack London Square. A combination of street-food festival and block party, this free family-friendly event will celebrate good food by focusing on artisan and street fare, craft beers, local wines, and delicious cocktails. Enjoy rich, regionally-sourced, and sustainably-produced ingredients  combined to create delicious tacos, BBQ, falafel, salads, sandwiches, curry, grilled meats and vegetables, noodles, fruit, ice cream, and much more, all costing $10 or less. There will be live music, films, workshops, and cooking demonstrations, as well as a space devoted to local food crafters (cheese, charcuterie, pickles, jams, and more), so you can learn how to make these delicacies at home and get in touch with your inner farmer, forager, brewer, or baker!
Getting there: Take the train to the Oakland Jack London Square Station, which is just steps from the event.
---
Autumn Moon Festival: Saturday, 9/15 – Sunday, 9/16, San Francisco
Happening: 11am – 6pm
Join the autumnal equinox celebration on the streets of San Francisco's famous Chinatown at the Annual Autumn Moon Festival. Celebrated in Asia for over 1,000 years, the free two-day festival will be held in Chinatown and packed with entertainment, cultural exhibits, children's activities, and of course, food. Festivities will open with a grand parade on California Street and Grant Avenue led by civic officials, beauty queens, cultural performers and the Yau Kung Moon lion dancers (The famous White Crane Dragon will appear on Sunday as the event's grand finale.) The Chinese Youth Center will be performing, and a variety of Chinese-American contemporary pop-music bands will take the stage all afternoon to energize the crowds. For shoppers, booths encompassing several city blocks will provide thousands of Asian arts and crafts, housewares, plants, jewelry, and beauty products for sale at special festival prices.
Getting there Take the Capitol Corridor to the Emeryville Station and ride the dedicated bus to the Financial District (SFF) stop. Or, take the train to Richmond or Oakland Coliseum Station and connect to BART headed for downtown San Francisco. From any of these San Francisco bus or BART stops, you can walk or take public transit using Google Maps.
Martinez Blues Festival: Saturday, 9/22 – Sunday, 9/23, Martinez
~~~~~~~~~ this event has been cancelled ~~~~~~~~~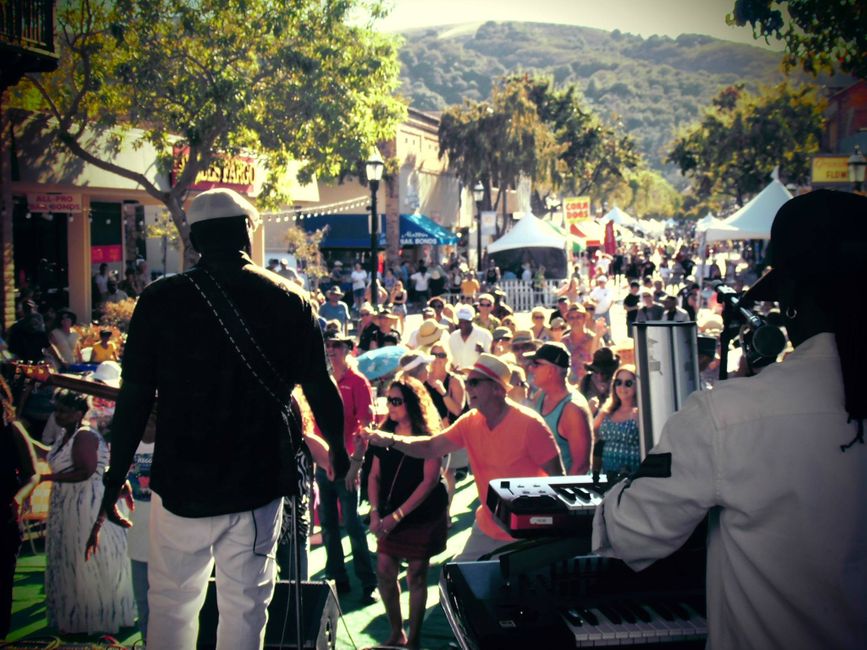 Happening: 10am – 6pm
Summer days may be fading, but attending the Martinez Blues Festival and enjoying two days of live music, on two separate stages in the charming, historic downtown Martinez is sure to cheer you up. The free event will highlight a range of local and talented blues artists performing, while arts and craft booths featuring their one-of-a-kind handcrafted pieces will entice even the most wary shopper. Don't forget to stop by the Main Street Plaza to view chalk artists creating blues inspired art.
Getting there: Take the train to the Martinez Station, which is just a short stroll from downtown.
---
Antique Autos in History Park: Saturday, 9/23, San Jose
Happening: 11am – 4pm
Bring the whole family as you step back to the days when the Model T Ford ruled the roads at the 18th Annual Antique Autos in History Park. Presented by the Santa Clara Valley Model T Ford Club and History San José, this event will present original and restored pre-1946 vehicles, fire equipment, bicycles, and motorcycles. Visitors will have the chance to see antique collectible displays, a Dixieland band "Toot Sweet Jazz", a barbershop quartet, and blacksmith demonstrations. The whole family will love the planned kids activities, trolley rides, food by Peggy Sue's Restaurant, Ice Cream by O'Briens, door prize drawings, and the open house showcasing historic buildings by History San José (HSJ). General Admission is $5 for anyone 3 years and older and is free for HSJ members.
Getting there: Take the train to the San Jose-Diridon Station. History Park is accessible by the VTA, with a free Transit Transfer from the Capitol Corridor conductor. Public transit options can be found on Google Maps.
---
Farm-to-Fork Festival: Friday, 9/28 – Saturday, 9/29, Sacramento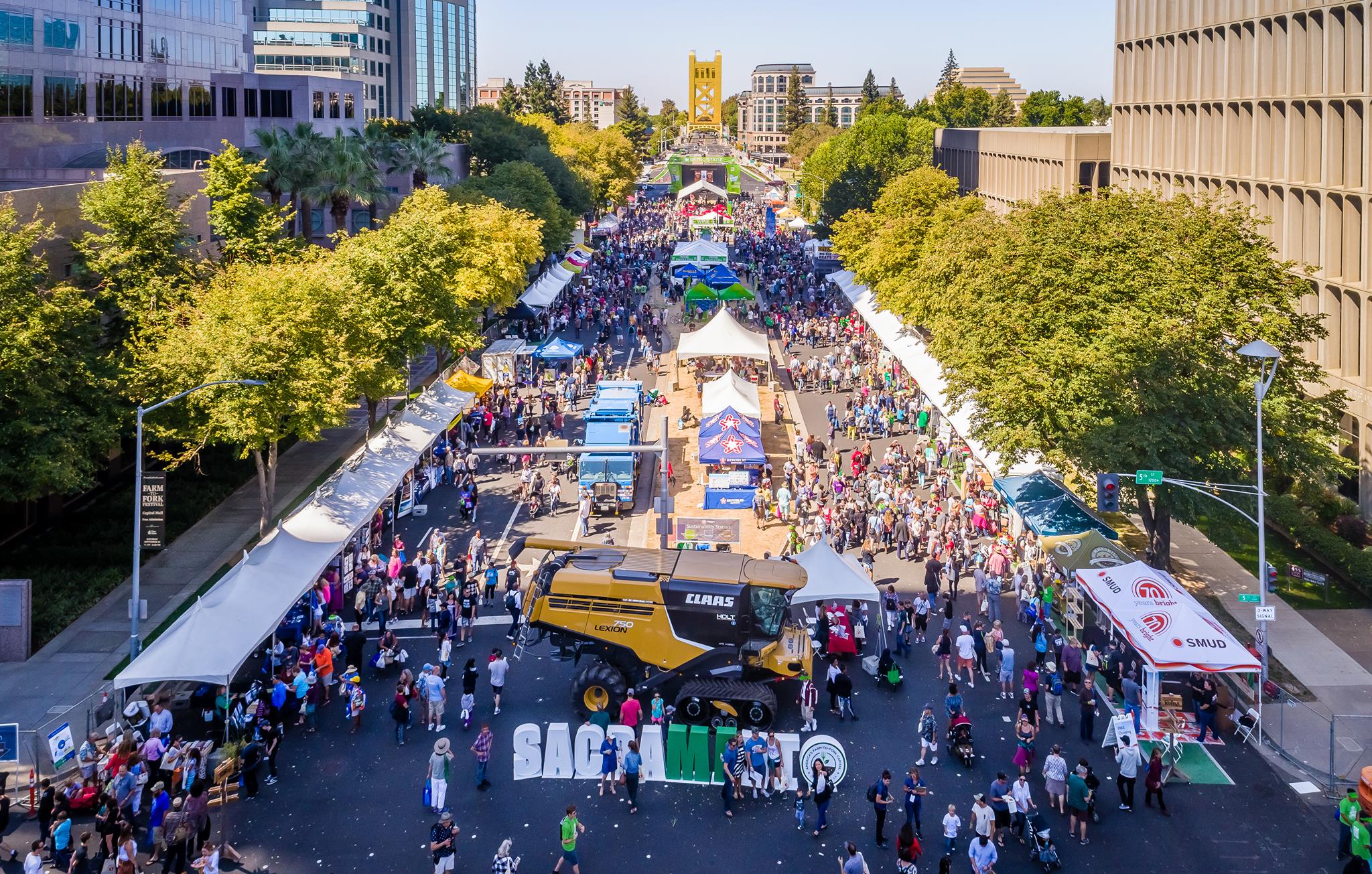 Happening: Friday, 4pm – 9pm; Saturday, 11am – 6pm
Calling all foodies! Head to Sacramento's Capitol Mall for the special Farm-to-Fork Festival,  a two-day food lovers celebration. Festivities will kick off on Friday night with the Wood Brothers headlining the Bank of America Music Stage, joined by Logan Brill and the Idea Team. The free event will feature food from SaveMart, Raley's, and in the spirit of farm-to-fork, local food trucks alongside exclusive wine selections and pours from regional breweries. Los Angeles-based Dawes will headline Saturday's lineup of live music that will include Sunny War, California Repercussions, and more. Visitors will also have the opportunity to enjoy multiple cooking demonstration stages, family activities, interactive exhibits, and of course food, wine, and beer selections that embody the flavors of Northern California.
Getting there: Take the train to the Sacramento Station, which is just a half mile walk from the Capitol Mall. You can also jump on SacRT with a free Ticket Transfer.
Written by Sylvia Sheehan
Featured image courtesy of Visit Sacramento