Thanksgiving is the busiest time of year on the Capitol Corridor. And, with people starting to travel more as 2021 comes to an end, we've prepared tips to help you plan for a comfortable, low-stress holiday journey.
TICKETING
Book tickets online in advance to avoid waiting in line at the station. Also, many connecting buses require reservations, and they sell out fast.

Note: Capitol Corridor trains are unreserved, which means when you buy a ticket for a particular date and train, you can use that ticket to travel on another train and/or on a different date up to a year after purchase. (Some discounts and promotions may require advance purchase.)

If possible, plan your travel for days other than the day before Thanksgiving (and the Sunday after) to avoid the rush.

Insider tip: If possible, travel on Thanksgiving Day, as ridership tends to be lower on the actual holiday.
Keep in mind that the Capitol Corridor operates on its Weekend/Holiday schedule on Thanksgiving Day  and the day after.

If you've booked your ticket online, have the QR code pulled upon your phone or print out the ticket in advance to show the conductor.
Have your ticket confirmation with you when you board a bus. Unreserved travelers may not be accommodated on their first choice bus connection.
Carry a valid, government-issued photo I.D. with you.
---
BIKES & BAGS


If you have a bike, secure it in the bike car storage area or in one of the lower level bike racks. Make sure your bike is not blocking an aisle, and that it is locked (ideally with a U-Lock for maximum security). For more information, check out Bikes on Board.
Familiarize yourself with Amtrak's Baggage Policy. You may bring two pieces of luggage and two carry-on personal items, totaling up to 150 pounds, for free. Excess baggage will cost $20.

If you are traveling with infants under the age of two, your baby items (strollers and diaper bags) will not count towards your carry-on limit.

 

Keep aisles and other seats clear by putting smaller items either under your seat or in the overhead compartment.
The Capitol Corridor does not have checked baggage service. Place larger bags in the baggage storage areas near the train's entrance doors.
---
STATION/ BOARDING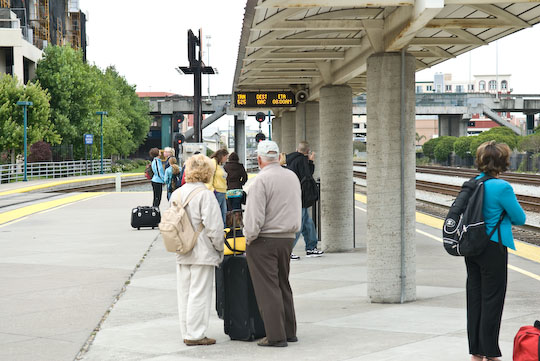 Remember to wear a mask at all times except when eating or drinking. Face coverings are required on all trains, buses, and at stations. Learn more about our COVID safety measures here.
Get to the station early. During the busy Thanksgiving travel period, it can take longer to find parking and stand in line for tickets (if you didn't book in advance.) You don't want to miss your train!
When waiting for the train, stay behind the yellow line. While others board the train and bus, be patient and don't crowd the doors.
If you move to a different seat on the train, bring the seat check that the conductor placed above your seat with you— that way, the conductors know you've already been checked in.
Sit back & enjoy the ride! Take advantage of our spacious seating with scenic views, free Wi-Fi, and Café Car with snacks and beverages.
Taking the Capitol Corridor for the first time? Check out our First-Time Rider Guide for information. Thanks for riding and happy holidays!