Capitol Corridor trains generally do not require an advance reservation, so it's easy to just buy a ticket and ride.
Types of Tickets
Single Ride/Multi-City Ticket
One-way tickets enable you to ride one-way from departure station to destination. Round-trip tickets allow you to ride from departure station to your destination and back. Tickets are valid on board any Capitol Corridor train/bus at any time between the stops noted on the ticket. There is a multi-city booking option as well if your plans include more than one destination.
BUY NOW

---
10-Ride Ticket
A 10-Ride (90-Day) ticket is good for 10 discounted one-way trips, valid for a 90-day period between the stations listed on the ticket, or any station in between. Any trips not used within the 90-day period are forfeited. Ten-ride tickets are non-transferable and are only good for the person whose name appears on the ticket.
BUY NOW

---
Monthly Ticket
Designed for regular riders, a monthly ticket is good for unlimited rides during the calendar month for which it is issued between the stations named on the ticket or any station in between. Monthly tickets are non-transferable and are only good for the person whose name appears on the ticket.
BUY NOW

---
Connecting Bus Tickets

Capitol Corridor's service area is extended greatly through a number of dedicated, connecting bus routes to destinations such as San Francisco, Lake Tahoe, and Monterey. If your trip involves a bus connection, your ticket will include the route's designated bus segment, as well as the rail segment. If you are beginning your trip on a bus without a ticket, you will be required to temporarily surrender your photo ID to the bus driver.
Please note that unless you are traveling between Emeryville and San Francisco, most connecting bus trips require an advance reservation.
---
Ways to Purchase Tickets
Capitol Corridor tickets can be purchased in the following ways:
Online from the Capitol Corridor or Amtrak websites,
from the Amtrak mobile app,
from a station ticket agent,
from a station self-service kiosk (Ticket Kiosk), or
from a conductor on board the train (one-way only; surcharge added unless boarding station is unstaffed.)
Tickets purchased online, from a station ticket agent or at a self-service Ticket Kiosk machine, are issued as electronic tickets, or eTickets. If you book your ticket online, you will receive an email receipt with your eTicket attached as a PDF that can then be printed out or pulled up on your mobile device. If you purchase your ticket from a station agent or Ticket Kiosk machine, you will receive the ticket at the end of your transaction as a paper ticket; it will not be emailed to you. You can also buy your ticket and access it from the Amtrak mobile app. You must show your ticket (paper copy or pulled up on your mobile device) to the train conductor once seated or bus driver upon boarding. You may be asked to present a valid photo ID. Read more about ticket policies.
The only types of tickets that are not issued as eTickets are the following:
Group tickets
Tickets purchased on board the train
Tickets purchased through a travel agency or corporate travel office
Fares
Capitol Corridor fares vary by origin-departure stations. You can view station-to-station train fares on Capitol Corridor's Fare Chart for One-Way/Round-Trip, 10-Ride, and Monthly tickets. You can also check fares (including fares for trips with a bus segment) by typing in your origin and destination on the Capitol Corridor homepage, or by calling 1-877-9-RIDECC (1-877-974-3322).
Please note that the San Francisco Bay Area Clipper fare payment card is not available on the Capitol Corridor.
Everyday Discounts
Capitol Corridor offers a variety of discounts for seniors, children, disabled persons, and members of select organizations. See applicable discounts.
Special Offers
Capitol Corridor often has seasonal discounts and offers from regional partners. View our current offers.
Group Travel
Groups of 20 or more passengers traveling together are eligible for a group discount. View the Group Travel page for details.
Train Treks
Our Train Treks program, especially designed for school groups, also offers discounted travel. Learn more about Train Treks.
Transit Connections
Capitol Corridor offers Transit Transfers that allow you to ride connecting buses and light rail free of charge.  Read more about transit connections and transfers.
Pre-Tax Transit Benefits
Federal law allows workers receive up to $255* a month in employer-paid tax-free transit costs, or take up to $255 a month in tax-sheltered payroll deductions for transit costs. See Pre-Tax Tickets for details.
Refunds
Please visit Amtrak for more information regarding the latest ticket and refund cancellation policy.  For single ride tickets, you may easily modify and request a refund online at Amtrak.com.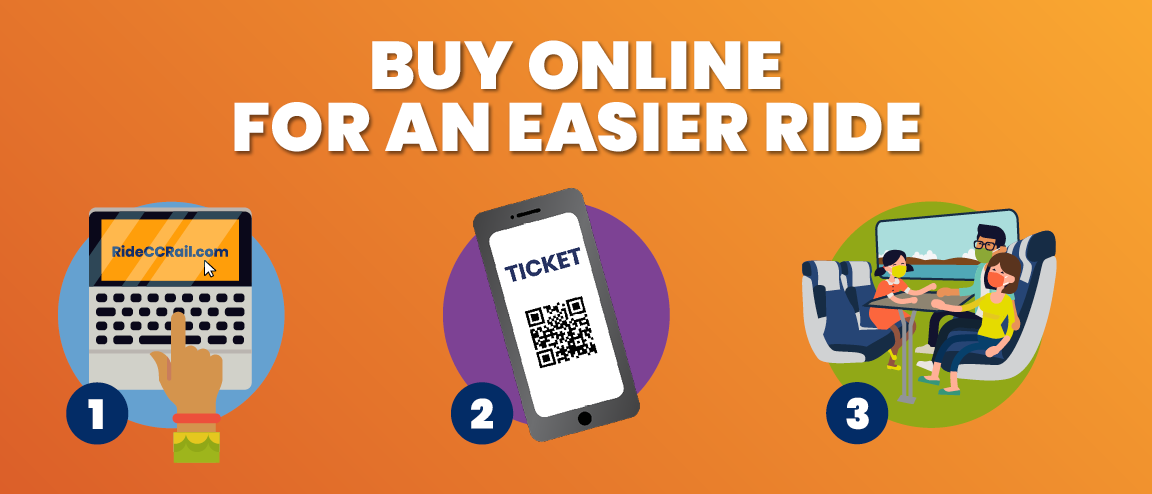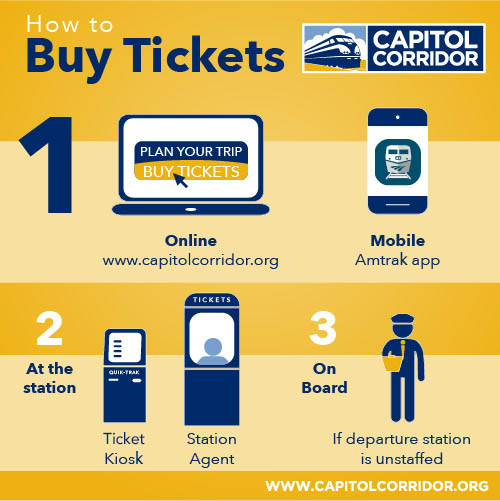 Ticket Kiosks
Buy one-way and round-trip tickets at staffed stations, online or at Ticket Kiosks.  If you've booked your reservation online, you can pick up and print out your tickets at a Ticket Kiosk. Reservations are not required for travel on Capitol Corridor, so you can walk up to a Ticket Kiosk and purchase your ticket right before you hop on board the train.
| Station | Staffed | Ticket Kiosk | Buy Onboard |
| --- | --- | --- | --- |
| Auburn | | ● | ● |
| Berkeley | | ● | ● |
| Colfax | | | ● |
| Davis | ● | ● | $ |
| Emeryville | ● | ● | $ |
| Fairfield-Vacaville | | ● | ● |
| Fremont-Centerville | | ● | ● |
| Hayward | | | ● |
| Martinez | ● | ● | $ |
| Oakland Coliseum | | | ● |
| Oakland-Jack London | ● | ● | $ |
| Richmond | | ● | ● |
| Rocklin | | ● | ● |
| Roseville | | ● | ● |
| Sacramento | ● | ● | $ |
| San Jose | ● | ● | $ |
| Santa Clara – University | | | ● |
| Santa Clara-Great America | | ● | ● |
| Suisun-Fairfield | | ● | ● |
| Colfax (Coach) | | ● | ● |
| San Francisco (Coach) | ● | ● | ● |
● = Available at this station
$ = Additional fee charged for purchasing a ticket on board the train when boarding at a staffed station. To avoid fees, purchase your ticket online, from the station agent or at a Ticket Kiosk, if available.