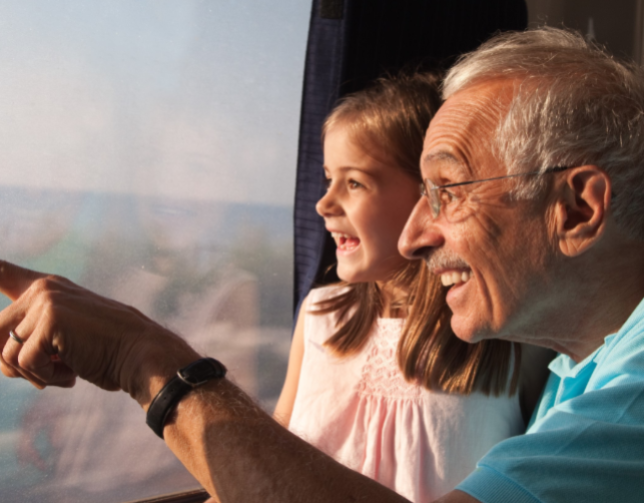 Photo Courtesy of IStock
National Grandparents Day is Sunday, September 8, and what better way to celebrate than with a fun train journey to visit some of Northern California's most family-friendly destinations! During the ride, you'll have time to relax and some Grandparents Day fun with the grandkids.

Along the way, everyone will enjoy the Capitol Corridor's beautiful scenery, free Wi-Fi, electric charging outlets, and of course snacks and drinks available in the Cafe Car. Unlike being in a car with the grandkids, restless little ones will be able to walk about and stretch their legs, and on-board bathrooms mean there's no need for emergency potty breaks at the random roadside gas station. Table seating for four is the perfect spot for enjoying board games, cards, coloring, and storytelling together. The Café Car even sells decks of cards if you forget to bring along the entertainment!
Check out our suggestions of favorite family destinations along the Capitol Corridor and book your trip today using one of our California Everyday Discounts or seasonal promotions.
Photo Courtesy of Jeff Chiu AP
Oakland-Alameda County Coliseum
Batter up to a day of baseball, hot dogs, and peanuts (and for the foodies, there are many trendy eats now offered at the Oakland Coliseum!). Don your green and gold to support the Oakland A's and enjoy one of the most classic American family pastimes. Luckily, this year's National Grandparents Day 2019 weekend has the A's hosting two home games against the Detroit Tigers. On Saturday, September 7, the 6:05pm evening match up includes a fireworks show, while first pitch for Sunday's day game is at 1:05pm. Be sure to book online to save 25% on train tickets to A's games at the Coliseum!

Getting there: Take the Capitol Corridor to the Oakland Coliseum Station and walk 5 minutes to the stadium.
Photo Courtesy of Michael Halberstadt
Children's Discovery Museum of San Jose
A longtime San Jose must-visit for school groups, local families, and tourists alike, the Children's Discovery Museum never disappoints with its changing and insightful rotation of exhibits. Whether you are 8 or 80 – you'll enjoy the creative and awe-inspiring science experiments, art projects, and outdoor nature exhibits that keep guests hungry to learn more. Want more? The museum is across the street from The Tech Interactive Museum, where you can further explore contemporary science and technology.
Getting There: Take the Capitol Corridor train to the San Jose Diridon Station and walk 6 minutes to the museum.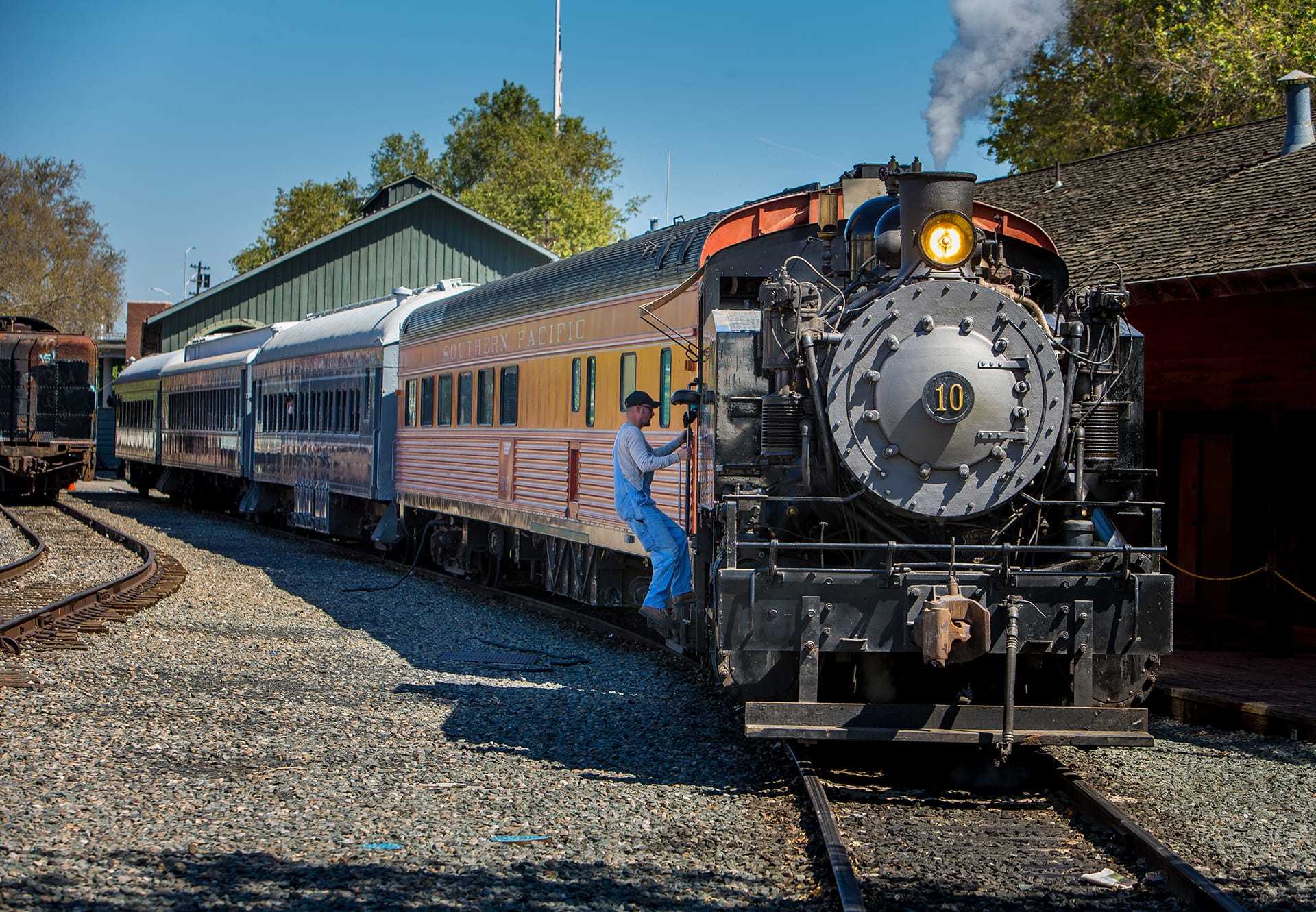 Photo Courtesy of California State Railroad Museum
California State Railroad Museum in Old Sacramento
Bring the grandparents day fun to one of the world's most renowned railroad museums located in the state capital of Sacramento. At the California State Railroad Museum, you'll step back in time to the early days of American train travel and learn about its history, from the building of the Transcontinental Railroad, to current day plans for high speed service. The little ones will be awestruck by the giant steam engines and locomotives on display, and the adults will love stepping inside an old-time dining car complete with table settings of ornate china. After visiting this capital city highlight, be sure to check out Old Sacramento with its Gold Rush experiences, unique gift stores, and old-time candy shops that will delight (and re-energize!) the kiddos.
Getting there: Take the Capitol Corridor to the Sacramento Station and walk 5 minutes to the museum.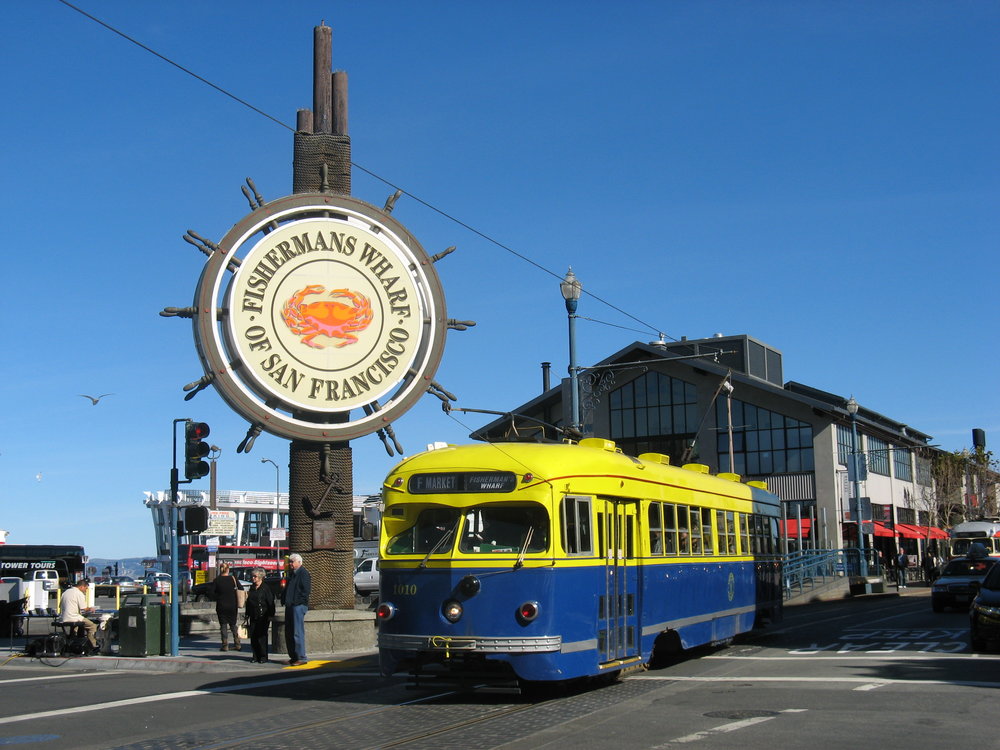 Photo Courtesy of Fisherman's Wharf
San Francisco's Fisherman's Wharf
Clam chowder in a sourdough bread bowl, arts 'n' crafts-lined streets, waterfront bay views, and of course the celebrity sea lions of Pier 39 make up the world-class walk along San Francisco's Fisherman's Wharf. Take in postcard-perfect scenes of San Francisco's Golden Gate Bridge and Alcatraz, while street performers and souvenir shops try to lure your attention their way. After your Capitol Corridor ride and connection to SF, hop on one of the vintage streetcars that run along the Embarcadero to complete your family outing in the City by the Bay.
Getting There: Take the Capitol Corridor train to the Emeryville Station and connect to the Capitol Corridor's dedicated bus, which has multiple stops in downtown San Francisco, including Pier 39/Fisherman's Wharf. Another option is to connect with BART at the Richmond Station or Oakland Coliseum Station. BART provides fast and frequent service to Downtown San Francisco's Market Street, where you can hop on SF Muni's F-line light rail to Fisherman's Wharf or enjoy a lovely walk of about a mile along the Embarcadero.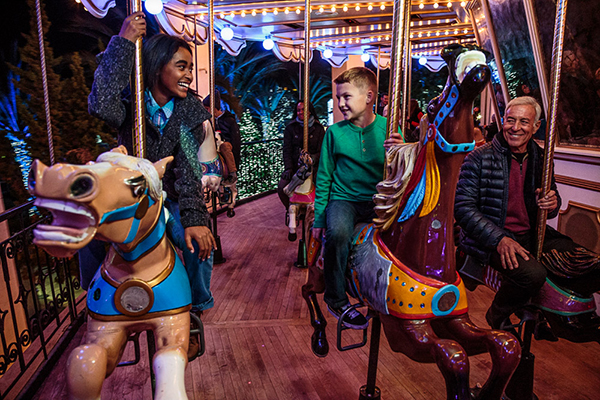 Photo Courtesy of Sean Teegarden Photography
California's Great America in Santa Clara
Always a natural choice for the young at heart, California's Great America is the Northern California epicenter for roller coaster rides and steep water slides. When you want a thrilling adrenaline rush, high-flying picks like the Tiki Twirl or Drop Tower will get your head spinning. If a calmer experience is what you're after, hop on one of of kiddie rides, including the Character Carousel or Snoopie's Space Race.
Getting There: Take the Capitol Corridor to the Santa Clara-Great America Station and walk approximately 15 minutes or take a 5-minute rideshare to the park entrance.
Learn more about how to use the Capitol Corridor to travel to San Francisco in our blog.