If you like jazz, flashy new cars, Russian culture, the Irish tradition of St. Paddy's, or supporting good causes, this month's events won't disappoint— especially when the convenient, relaxing Capitol Corridor can get you there!
Russian Festival: 3/1 – 3/3, San Francisco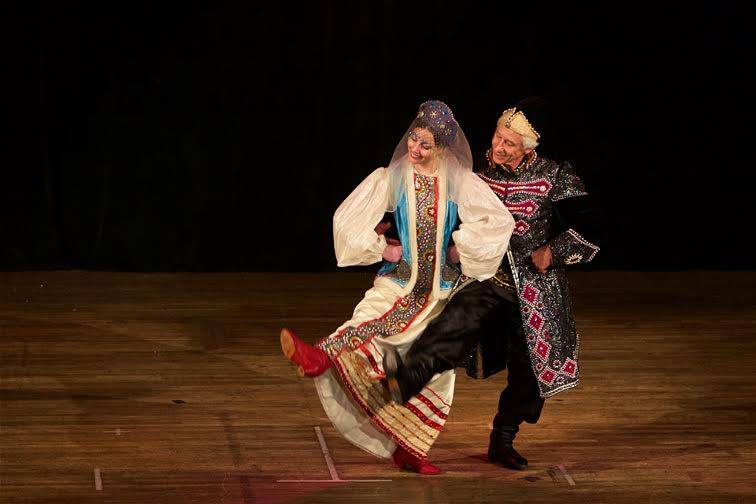 Happening: Saturday, 11am – 10pm; Sunday, 11am to 7:15pm
Come enjoy all the flavor and fun of the Russian-American experience in one wild weekend at the 31st Annual Russian Festival. Watch traditional Russian dancers, including the Firebird Dance Ensemble, and listen to world-renowned bass player Nikolai Massenkoff, along with the Konevets quartet from St. Petersburg. You'll marvel at the historic treasures in the Museum of Russian Culture, and have the opportunity to peruse local Russian artists' originals, as well as plenty of unique souvenirs, like Baltic amber, lacquer boxes, and matryoshka dolls. After trying some borsch, piroshki, pelmeni, and other traditional Russian dishes, you won't want to miss the Vodka Tasting Bar. You'll have your choice of the largest variety of flavored vodkas, made from family recipes passed down through the generations. Entry is $12 for adults; $8 for seniors or students (25 & under); and free for kids 12 and under. With face painting and crafts for all to enjoy, the Russian Festival is a family-friendly event.
Getting there: Depending on your station of origin, take the Capitol Corridor's dedicated connecting bus from the Emeryville Station to one of our San Francisco stops, or connect to BART at Richmond or Oakland Coliseum Station and get off in downtown San Francisco. From there you can walk, jump on Muni, or hail a rideshare.
---
Silicon Valley Auto Show: 3/7–3/10, San Jose
Happening: 10am – 10pm
The future of drive pulls into the Bay Area for the 2019 Silicon Valley Auto Show, giving you the chance to experience hundreds of the latest cars, crossovers, SUV's, trucks and more. For four days, the San Jose McEnery Convention Center will be filled with the latest automotive innovations, from driver assistance and connectivity to safety technology and alternative fuel options. Licensed drivers, you're invited to get behind the wheel of dozens of new models, including hybrids, family vehicles, and luxury rides. Product specialists from leading auto manufacturers will be there to answer your questions. Admission is $12 for adults, and $8 for seniors, military, students (25 and younger, with ID), and children 7-12. Children 6 and younger are free. On Sunday, March 10, all children 12 and younger are admitted free with a paying adult.
Getting there: Ride the Capitol Corridor to the San Jose/Diridon Station. From there, you can walk, ride the VTA's Mountain View line with a free Transit Transfer from the Capitol Corridor, or ride VTA's free Downtown Area Shuttle (DASH).
---
St. Patrick's Parade and Festival: Saturday, 3/16, San Francisco
Happening: 10am – 5pm
Get your green on and head over to Civic Center Plaza for the West Coast's largest celebration of Irish culture and heritage. Hosted by the United Irish Societies of San Francisco, the St. Patrick's Day Parade and Festival attract more than 100,000 attendees every year, with awesome live performances and entertainment, arts and crafts exhibitors, plenty of food and beverage concessions, a kid's zone, and non-profit booths representing the Irish community. The popular Festival happens before, during and after the Parade, giving the attendees ample opportunity to learn more about Irish history and culture. For 168 years, the San Franciscan Irish and their many friends in the Bay Area and beyond have celebrated St. Patrick's Day with a parade, featuring Irish dance troupes, marching bands, and dozens of colorful floats. Last year, over 130 groups participated. The theme of this year's parade is "Women Breaking Barriers", and London Breed, the first Black woman elected as Mayor of San Francisco, will be leading the way as Grand Marshal.  
Getting there: Depending on your station of origin, you can take the Capitol Corridor's dedicated connecting bus from Emeryville to the Transbay Temporary Terminal. Another option is to ride the Capitol Corridor to the Richmond Station or Oakland Coliseum Station, connect to BART, and get off at BART's Civic Center Station, a short stroll to Civic Center Plaza.
---
St. Patrick's Day Parade: Saturday, 3/16, Sacramento
Happening: 11:30am – 3pm
Ring in the luck of the Irish at the 24th Annual St. Patrick's Day Parade in Old Sacramento. You'll be in the jolly company of nearly 1,000 colorful marchers, plus historic re-enactors, kilted bagpipers, and traditional Celtic dancers and drum bands. With over 50 units, the parade will start promptly at 1 pm from Neasham and Front Streets in Old Sacramento, proceeding throughout the national historic landmark district. The parade draws people from all over Northern California to this 28-acre historic site. Last year, more than 35,000 people turned out to enjoy the festivities, so be sure to get there early!
Getting there: Ride the Capitol Corridor to the Sacramento Station, which is a short five-minute walk to Old Sacramento.
---
St. Baldrick's Shave-a-

thon

: Sunday, 3/17, Martinez
Photo courtesy of Alitza Garcia
Happening: 11am – 2pm
Show your support for childhood cancer research by joining the St. Paddy's Day festivities in downtown Martinez. At the 8th Annual St. Baldrick's Shave-a-thon, volunteer "shavees" take collections from friends and families, and in return, have their heads shaved, in solidarity with kids fighting cancer. This year's event will feature live music from "The Martinez Music Mafia", and even the Mayor of Martinez will be getting his head shaved. Last year, the community raised over $27,000 for life-saving cancer research and organizers are hoping 2019 will be even more impactful. In the US, more children die of childhood cancer than any other disease (more than AIDS, asthma, cystic fibrosis, congenital anomalies, and diabetes combined). And yet, all types of childhood cancers combined receive only four percent of US federal funding for cancer research. The St. Baldrick's Foundation is a volunteer-driven charity committed to funding the most promising research to find cures for childhood cancers and give survivors long, healthy lives.
Getting there: Ride the Capitol Corridor to the Martinez Station, which is just a short stroll from Main Street Martinez.
---
Jazz
Search West: Tuesday, 3/26, Berkeley
Happening: 2pm – 5pm
Don't miss out on hearing some of the San Francisco Bay Area's top musical talents compete at Jazz Search West 2019. Contestants (instrumentalists and vocalists ages 15 and up) perform with a professional rhythm section for a live audience and receive valuable feedback from a panel of prestigious judges. Five preliminaries are held February through April, with three finalists chosen by audience vote each week, culminating in a Semi-Final at the Freight & Salvage Coffeehouse (on March 26), and a Grand Finale at the renowned jazz club, Yoshi's Oakland. Winners will be awarded prizes to enhance their musical careers, such as full tuition to Jazz Camp West, a scholarship to the California Jazz Conservatory, a demo CD, recording studio time, and additional performance opportunities. Tickets are $10 and can be purchased in advance online. Jazz Search West typically sells out all competitions, so get your tickets ASAP!
Getting there: Ride the Capitol Corridor to the Berkeley Station, and connect to downtown Berkeley on AC Transit with a free Transit Transfer. Or, ride to the Richmond Station or Oakland Coliseum Station, connect to BART, and get off at the Downtown Berkeley stop, which is just a short walk from the venue.
---
Written by Sylvia Sheehan