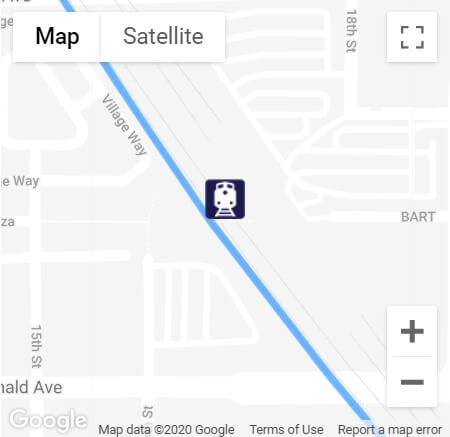 Locate a Station
Enter your zip code to find the three stations nearest to you.


Richmond (RIC)
Station Location
1700 Nevin Avenue, Richmond, CA 94801
(Access parking from MacDonald Ave. at 16th St.)
Map and directions
Unstaffed Station
| | |
| --- | --- |
| Transit Info Center Hours: | 8:30 a.m. – 5 p.m. M-F |
| Tickets: | 2 Ticket Kiosk machines available |
Station Connections
Public transit at or nearby station:
Other transportation services:
Taxis are available on the west side of 15th St. between MacDonald Ave. and Village Ln.
San Francisco International Airport
» Walk to the adjacent BART platform and take BART toward San Francisco/Millbrae.
Bicycle Access
Bikes are welcome on board, and most stations have spaces to lock or secure your bike if you don't want to bring it on the train. Please note that the number of bike spaces available is subject to change.
| | |
| --- | --- |
| Bike Rack Spaces: | 36 |
| Bike Lockers: | 24 BikeLink eLockers |
Automobile Parking
Parking is owned by BART. Please note that prices, hours, and available spaces are subject to change.
BART Lot
Parking spaces:
768 total including 678 "Fee" spaces (first-come first served) and 63 Reserved spaces.
Lot Hours:
24-hour limit when using Daily Fee or Monthly parking; no limit on weekends. To leave a vehicle longer than 24 hours, use multi-day parking.
Cost:
$3/day for first come, first-served "Fee" parking; $6/day for "Reserved" parking. Check BART's Richmond Station page to confirm the latest pricing.
How to pay:
Use the BART Official app or the EZ Rider program and park in the Daily Fee area (first-come, first-served parking). Use the BART Official app and park in the Reserved area for advanced-reserved single/multi-day, or monthly parking. Visit BART's Parking Page for more detailed instructions.

No validated parking. $3 each weekday; free on weekends. Capitol Corridor passengers may pay for parking in one of two ways:

With a Clipper card that is registered with an EZ-Rider parking account. Customers tag the Clipper card on the Parking Validation Machine (PVM) located inside the free area of the BART station prior to going up the steps to the Capitol Corridor platform. Once a customer registers for an EZ Rider parking account, they will be mailed a parking hangtag that must be displayed in the car window.
By reserving a single-day parking spot in advance using BART's Select-a-Spot parking reservation system. Long-term Airport Parking is also available for $5.50 each weekday using this system.
Amenities
Transit Info Center
Plenty seating available outside
Elevator access
Destinations
Attractions and Places of Interest
Craneway Pavilion → 20 min bus, 2.2 mi
Rosie the Riveter WWII Home Front → 25 min bus, 1.9 mi
Pacific East Mall → 25 min BART, 4.2 mi
SS Red Oak Victory → 30 min bus, 4.7 mi
Hilltop Mall → 45 min bus, 5.3 mi
Trails and Recreation
Point Pinole Regional Shoreline → 30 min bus, 4.4 mi
Marina Bay Trail → 35 min bus, 2.1 mi
Point Isabel Regional Shoreline → 35 min BART, 4.4 mi