Thanksgiving is the busiest time of year on the Capitol Corridor. Here are some travel tips to help you prepare, and make your ride as stress-free and comfortable as possible:
TICKETING
Book tickets online in advance to avoid waiting in line at the station.

Many connecting buses require reservations, and they sell out fast. See our news article for details about additional bus trips scheduled to and from Cal Poly San Luis Obispo, Chico State, and Humboldt State.

If possible, plan your travel for days other than the day before Thanksgiving (and the Sunday after) to avoid the rush.

Insider tip: If possible, travel on Thanksgiving Day, as ridership tends to be significantly lower on the actual holiday.
Keep in mind that Capitol Corridor will operate on its Weekend/Holiday schedule on Thanksgiving Day (Thursday, November 22), and on Friday, November 23.

If you've booked your ticket online, either print it out or have it ready on your phone to show the conductor when they come to your seat.
Have your ticket confirmation with you when you board a bus. Unreserved travelers may not be accommodated on their first choice bus connection.
Carry a valid, government-issued photo I.D. with you.
---
BIKES & BAGS
If you have a bike, secure it in the bike car storage area, or one of the lower level bike racks. Make sure your bike is not blocking the aisle, and that it is locked (ideally with a U-Lock for). For more information, check out Bikes on Board.
Familiarize yourself with Amtrak's Baggage Policy. You may bring two pieces of luggage and two carry-on personal items, totaling up to 150 pounds, for free. Excess baggage will cost $20.
Capitol Corridor does not have checked baggage service.

Put larger bags in the baggage storage areas near the train's entrance doors.
Keep aisles and other seats clear by putting smaller items either under your seat or in the overhead compartment.  Trains are particularly crowded during Thanksgiving week, so adhering to our One Ticket, One Seat policy, helps ensure that everyone has a place to sit.
---
STATION/ BOARDING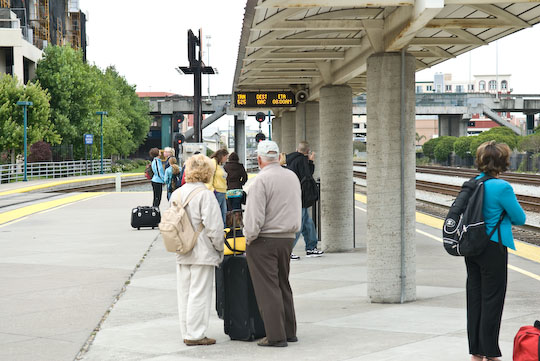 During the busy Thanksgiving travel period, it can take longer to find parking and stand in line for tickets (if you didn't book in advance!). Get to the station early— you don't want to miss your train!
When waiting for the train, stay behind the yellow line. While others board the train and bus, be patient and don't crowd the doors.
If you move to a different seat on the train, bring the seat check (that the conductor placed above your seat) with you— that way, they're reminded that you've already been checked in.
Sit back & enjoy the ride! Take advantage of our free Wi-Fi and fully-stocked Café Car, featuring new fall flavors and updated menu items!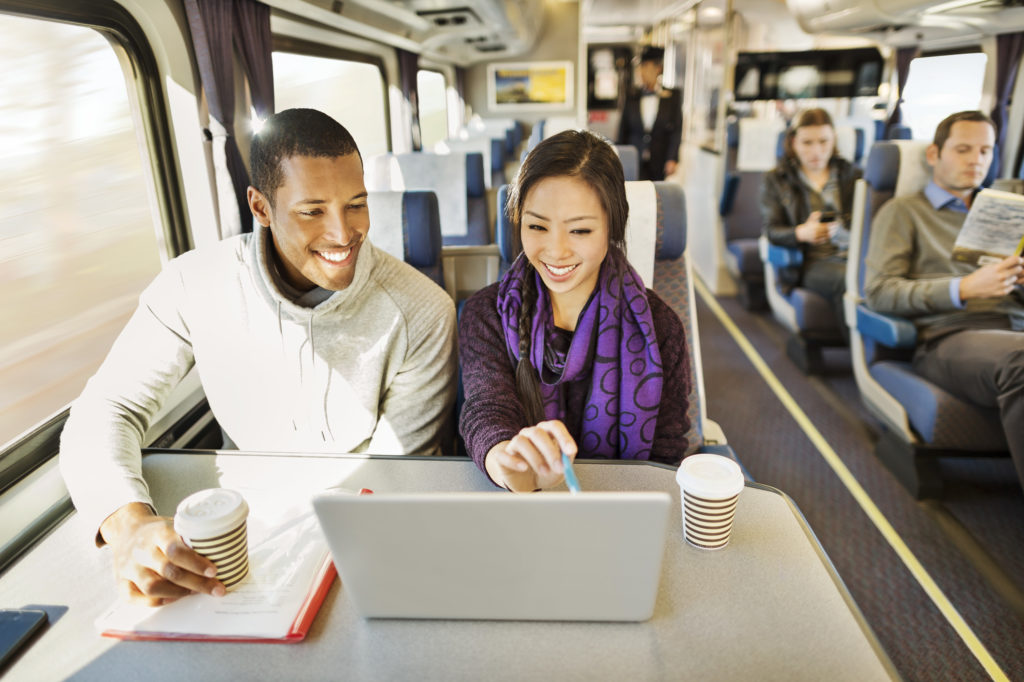 For more information, check out our Ride Guide & Travel Policies.  Thanks for riding the Capitol Corridor! Happy Holidays!