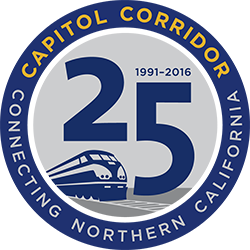 In 2016 Capitol Corridor celebrated its Silver Anniversary. For 25 years we have been connecting Northern California and providing reliable, safe, and convenient rail travel. Here are some milestones in the history of our service. Thank you to our riders and sponsors: 
December 1991

Capitol Corridor
intercity rail service
is founded.

July 1998

Interagency Transfer Agreement transfers management of the Capitol Corridor train service to the CCJPA.

October 1998

CCJPA begins managing the operations of the Capitol Corridor service with 8 trains between Sacramento and San Jose.

February 2000

CCJPA institutes service increase to 14 daily trains.

May 2001

Service level increases to 18 trains per day between Sacramento and Oakland.

June 2001

Capitol Corridor welcomes its One Millionth Passenger, Angela Smart, on board Train #523 to San Jose.

July 2001

Remodeled Richmond Intermodal Station opens; today it is the fourth busiest station along the Capitol Corridor route.

September 2001

New Martinez Station opens.



September 2002


Capitol Corridor carries 1,080,000 annual passengers. Construction kickoff for track/station improvements between Oakland and San Jose.

November 2002

Oakland Maintenance Facility Groundbreaking and CCJPA increases service increase to 20 daily trains.

May 2003

Service levels increase to 24 weekday trains between Sacramento and Oakland.

June 2003

Electronic Passenger Information Display Signs (PIDS) electronic signage installed at all Capitol Corridor stations.

March 2004

CCJPA initiates its first wireless Internet (Wi-Fi) trial.

October 2004

Yolo Causeway construction project underway, enabling a 10-minute reduction in travel time.

February 2005

Capitol Corridor holds its first award-winning Stitch 'n Ride™ promotion to encourage knitters to take the train to the annual Stitches West convention in Santa Clara.

May 2005

Oakland Coliseum Intermodal Station opens.

March 2006

Capitol Corridor welcomes its Ten Millionth Passenger, Kirk Swenson, on board Train #527 at Davis Station.

August 2006

CCJPA announces its largest service expansion ever with an increase to 32 weekday trains between Sacramento to Oakland and 14 trains from Oakland to San Jose.

November 2006

Proposition 1B bond measure passes, authorizing new construction funds for intercity rail.

May 2008

Capitol Corridor participates in the first National Train Day and honors Doras Briggs with the State Advocate of Rail (STAR) Award.

June 2008

Capitol Corridor
participates in its first Spare the Air campaign to promote transit usage on anticipated high-pollution days.

Passenger revenue now funds 50% of the cost to operate the service (system operating ratio), exceeding Capitol Corridor's budget goals.

July 2008

Bahia Crossover groundbreaking event in Benicia; this event kicks off the next phase of service and infrastructure improvements.

2009

Achieved On Time Performance of 93 percent - an all-time high.

June 2010

Fight Hunger One Stop at a Time, a two-week food drive that provided more than 700 pounds of groceries to feed 139 families.

November 2011

Launched Amtrak
Connect Wi-Fi service on
all trains.

April 2012

eTicketing formally launched. Capitol Corridor test and pilot programs contributed to eTicketing system development.

June 2012

Capitol Corridor welcomes 20 Millionth Passenger as Ridership reaches 1.75 million riders.

2013

Reduced fuel consumption by 111,000 gallons due to installation of wayside power cabinets and engine upgrades.

February 2013

A comprehensive Bicycle Access Plan adopted by the CCJPA board.

October 2014

"Cappy Hour" launched onboard and features discounted drinks on select weekdays.

November 2014

Reached 1st place in Amtrak system for On Time Performance, with a 95% OTP rating — the fifth consecutive year that Capitol Corridor was the most reliable service in the system.

Vision Plan Update vol. 1 adopted.

2015

Revenue reaches $30 million annually.

Interactive Real-Time train status launched to riders.

February 2016

Capitol Corridor carries over 1,000 excited football fans to Super Bowl 50 at the newly-opened Levi's® Stadium in Santa Clara.

August 2016

Launched Weekend Optimization schedule, biggest schedule change since 2006. New schedule aligns trains with many events at newly-opened Golden 1 Center, and offers additional peak hour service to business travelers in Oakland and San Jose.

September 2016

Vision Plan
Update Volume 2
adopted.

December 2016

Capitol Corridor celebrates its Silver Anniversary.