It's easy being green when you ride Capitol Corridor. Take a look at a few of the things that make Capitol Corridor the environmentally friendly choice – including energy efficiency, reduced emissions, and a sustainable approach to all aspects of the train.
Next Stop: The Great Outdoors
Part of the lure of train travel is the scenery. If you've taken Capitol Corridor, you know what we're talking about. Traveling through protected wetlands, rolling hills, and magnificent coastline, the Capitol Corridor route is a window to some of Northern California's most beautiful and memorable landscapes.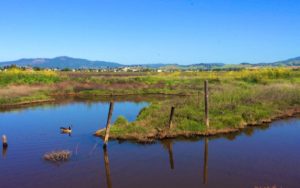 But why limit the enjoyment to the train? Capitol Corridor has 18 stations along the route between San Jose and Sacramento, and many of those stops have access to trails that will connect you to the great outdoors.
In honor of Earth Day and upcoming Bike Month, here's the first of several excursions you can take on the Capitol Corridor with your bike that will bring you closer to nature.
Recycling/Trash
Both Capitol Corridor and Amtrak are committed to helping achieve greater environmental sustainability for a healthier planet. We believe in getting more cars off the highways and more people onto the train. Recycling bins are located in both the Café Car and in most cars, at the top of each stairwell, next to the luggage compartments. Recycling bins are marked with a blue recycling symbol. Next time you're on board, please drop your cans, bottles and papers in the bins. Thank you!
How Green is Your Train Trip? Use this Calculator to Find Out!
Where do you go?
How many days per week do you travel?
What type of car do you drive?
Average fuel consumption:
Oak Ridge National Laboratory Transportation Energy Data Book, edition 33. (2014). Table 2.12 "Passenger Travel and Energy Use."
Federal Highway Administration, 2009 National Household Travel Survey (NHTS)
U.S. Environmental Protection Agency, Draft Inventory of U.S. Greenhouse Gas Emissions and Sinks: 1990-2012. (2014). Table 3.12 "CO2 Emissions from Fossil Fuel Combustion in Transportation End-Use Sector (Tg CO2 Equivalent)."
The "monthly average CO2 footprint" is based on carbon emissions (per passenger mile) of Rail .21 kg and Car .35 kg for your selected trip. Emissions factors are based on calculations from the World Resource Institute (WRI) and Carbonfund.org. Calculations assume single-occupant car. Please note this is a comparative tool and your actual results may vary.