Heading to Levi's Stadium?
Ditch the traffic and parking hassles and hop aboard the Capitol Corridor for a comfortable and convenient ride to the stadium. You can grab a snack or drink in the Cafe Car, or just sit back and enjoy the view.
The Santa Clara/Great America station is an easy 5-minute walk to the stadium entrance. What could be more convenient? And, with over a dozen trains a day between the Sacramento area and Silicon Valley (plus one from Auburn!), it's easy to find one that fits your schedule — whether that means arriving early for a tail gate or sliding into your seat just in time for kick off.
Levi's Stadium Event Schedule
You can find the Levi's Stadium event schedule online. Please visit the Levi's Stadium website, www.levisstadium.com, to learn more about the stadium, upcoming events, and ticketing. Keep up-to-date with news by following the stadium on Twitter @LevisStadium or like their Facebook page.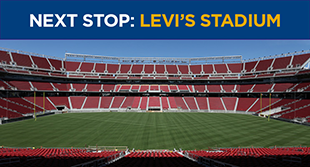 For more information, visit the Levi's Stadium website at www.levisstadium.com.
For a complete train schedule, including times to/from the stadium, visit Capitol Corridor's schedule page.