Sacramento to Roseville Third Track Project: A project to increase Capitol Corridor train service to and from Roseville
Expansion Overview
The Capitol Corridor passenger rail service is managed by the Capitol Corridor Joint Powers Authority (CCJPA) and provides a critical link between the Sacramento mega region and the San Francisco Bay Area. Since service began in 1991, ridership has grown to make the Capitol Corridor one of the busiest passenger rail services in the United States. Expansion of service on the east end of the corridor between Roseville and Sacramento has been a part of the overall Business Plan since the late 90's.
The Capitol Corridor provides one daily round trip train between Auburn and Sacramento in conjunction with connecting buses between Auburn-Sacramento and Roseville-Sacramento. Over the past few years, the Northern California Megaregion has experienced an accelerated shift in economic and housing conditions with more people moving to the Sacramento Valley. In 2012, the CCJPA , in partnership with Union Pacific Railroad Company (UPRR), the cities of Roseville and Sacramento and Placer County Transportation Planning Agency (PCTPA) began working collaboratively to design and environmentally clear a third main track. On November 18, 2015, after extensive public engagement through the environmental analysis process, the CCJPA Board of Directors certified the state required Final Environmental Impact Report (EIR) and approved the project.
The additional third track will allow Capitol Corridor to offer riders 10 daily round trips versus the one round trip currently offered. It will also preserve current Union Pacific Railroad freight operations and reliability for the benefit of goods movement through the region. This will be accomplished in two phases through the Sacramento to Roseville Third Track Project (SR3T).
Third Track Facts
New Third track is primarily within UPRR's right-of-way
17.8 miles of track will be constructed
11 new railroad bridges and overcrossings
New rail/ties/switches/turnouts and crossovers
Signals
Retaining/crash walls
Utility relocation
Enhanced Roseville station (new platform and station track)
New layover facility in Roseville
Project Benefits: More track = More…
Mobility within the region
Environmental benefits
Job access and economic boost
Project Funding
The current estimated cost to construct the Third Track Project is $275 million, but it excludes Final Design, Mitigation and Right-of-Way costs. CCJPA will utilize a combination of different sources to fund the project including local and regional sources, cap-and-trade, Statewide Transportation Improvement Program (STIP) and California High-Speed Rail (feeder service funds) bonds. Completion of SR3T Phase One is estimated at $214M, of which $171.48M has been awarded through state funding sources, including STIP-IIP, SRA, TIRCP, Prop 1A, Prop 1B, SB1. CCJPA has also been awarded $42.51M through federal Consolidated Rail Infrastructure and Safety Improvements (CRISI) funds.
Project timeline
This project will construct approximately 10 miles of third main track and a new layover/servicing facility for Capitol Corridor trains in Roseville. Phase One of the project is scheduled to be complete in late 2029, adding an additional two daily round trips between Sacramento and Roseville.
For more project history, visit  sactoroseville3rdtrack.com.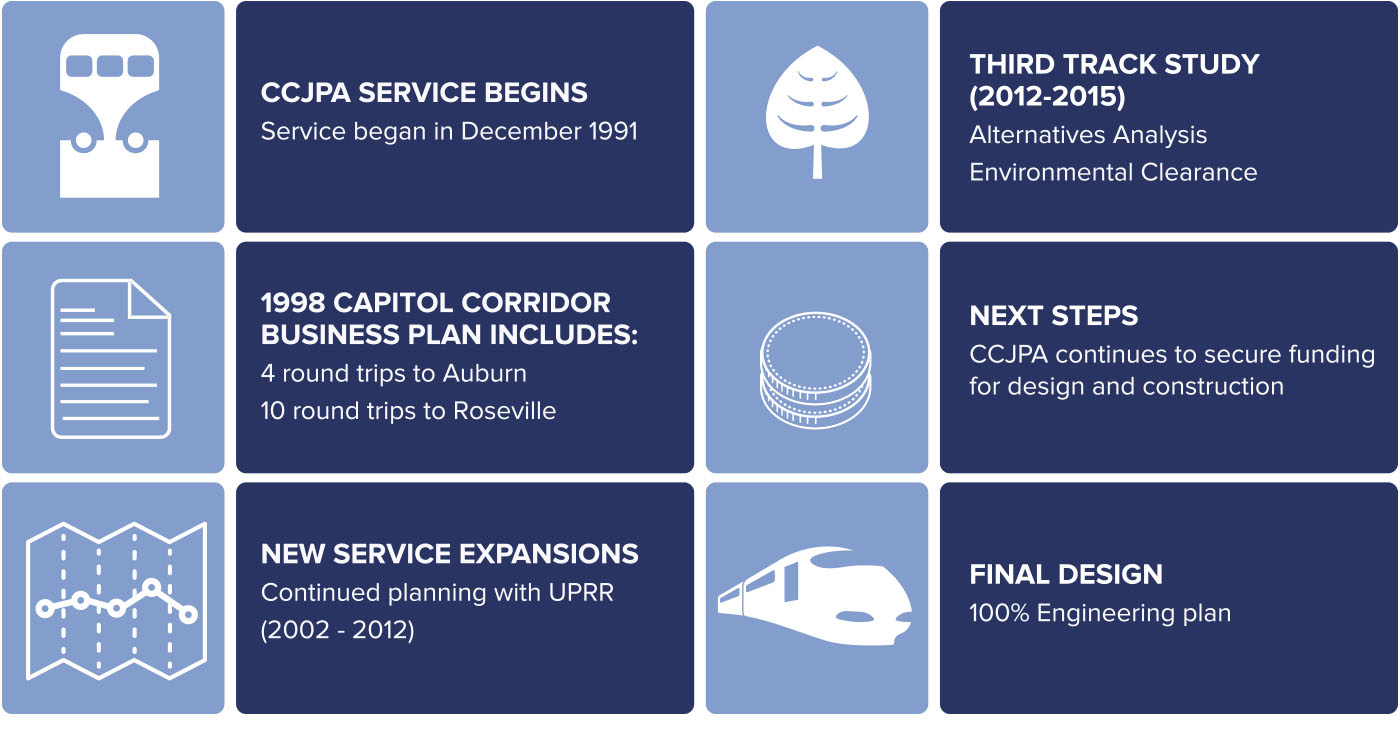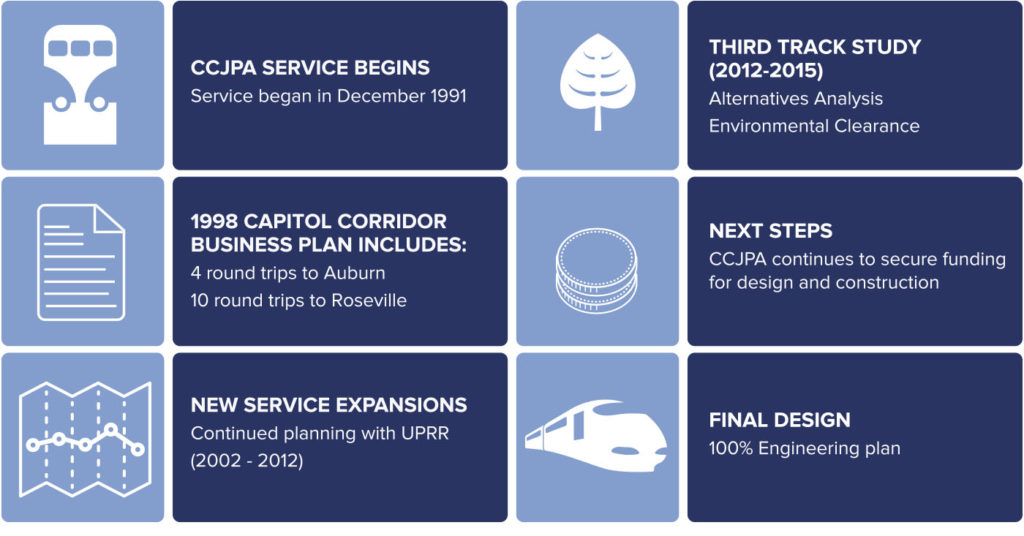 Get on Board: We need your support!
In order for the Third Track Project to become a reality, CCJPA needs the support of the communities it will connect and serve. Get on board and voice your support to your local and state representatives!

Placer County Board of Supervisors
Sacramento County Board of Supervisors
Sacramento to Roseville Third Track Final Engineering Design RFSOQ
The CCJPA has released its Request for Statement of Qualifications for the Final Engineering Design of Phase I of the Sacramento to Roseville Third Track Project. Download RFSOQ and related documents.
Read Questions & Answers for Phase 1 Final Engineering Design RFSOQ.
Section Approved and Final EIR Certified
On November 18, 2015, the CCJPA Board of Directors approved the project and certified the Final Environmental Impact Report (EIR)
Did You Know?
Third track project improvements are projected to reduce vehicle miles traveled by nearly 12 million throughout Northern California.
Peak-hour Capitol Corridor trains can carry upwards of 600 people which can take 500 cars off the road during peak congestion periods. That's about 25% congestion reduction in one lane of traffic.