Books Your Travel on the Capitol Corridor to Save
Attention Raiders fans — looking for an easier way to get to the game? Ditch the traffic and hop aboard the Capitol Corridor for a comfortable and convenient ride to the Oakland Alameda Coliseum. You can grab a snack in our Café Car, or just sit back and enjoy the ride. Book now through December 15, 2019, for travel on home game days only.
The train will drop you off at the Oakland Coliseum station, just minutes from the entrance gates of Oakland Alameda Coliseum. And with up to 30 trains a day between Sacramento and the Bay Area, it's easy to find one that fits your schedule.
How to Purchase Your Discount Fare
Booking your trip to an Oakland Raider's game couldn't be easier. Here are your booking options:
Online by clicking the "Buy Tickets Now" button below,
From an agent at a STAFFED STATION,
From a QUIK-TRAK ticket vending machine located at stations (enter PROMO CODE V458),
Onboard the train from an UNSTAFFED station.
BUY TICKETS NOW!

---
Terms and Conditions:
This offer is valid for 25pct off the regular (full) adult rail fare, and up to five (5) additional companions.
This offer is valid for sale through 15dec19 and valid for travel on the following dates only: 09sep19, 15sep19, 03nov19, 07nov19, 17nov19, 08dec19, 15dec19.
Blackouts apply on all other dates except the dates listed above.
Up to 1 child ages 2-12 may accompany each adult at half the regular (full) adult rail fare.
Seating is limited; seats may not be available on all trains on all days.
Fares are subject to availability.
This offer is valid for travel on the Capitol Corridor and associated thruways; except not valid on the 7000-8999 thruway series.
This offer is valid for travel to Oakland, California (Oakland Coliseum Station stop) and return only.
This offer is valid for coach seats. In addition to the discount restrictions; this offer is also subject to any restrictions, blackouts and refund rules that apply to the type of fare purchased.
Fares, routes and schedules are subject to change without notice. Once travel has begun; no changes to the itinerary are permitted.
This offer is not combinable with any other discount offer. Other restrictions may apply.
Please refer to discount code v458.
Amtrak is a registered service mark of the National Railroad Passenger Corporation. Capitol corridor is a registered service mark of the Capitol Corridor Joint Powers Authority.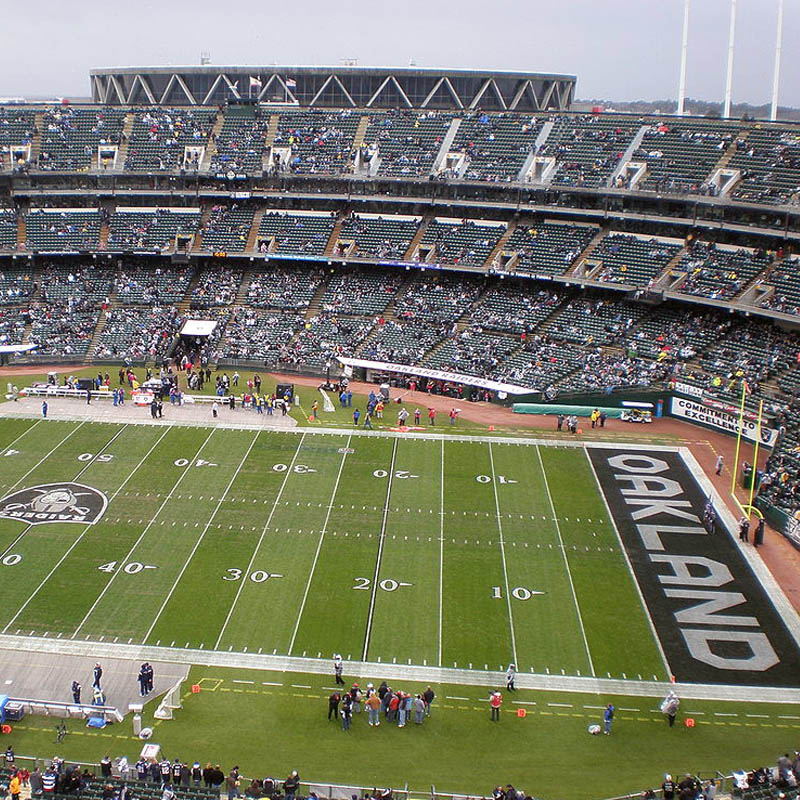 Join us and save 25% on your train tickets to Raiders home games this season:
Monday, September 09 vs. Broncos
Sunday, September 15 vs. Chiefs
Sunday, November 3 vs. Lions
Thursday, November 7 vs. Chargers
Sunday, November 17 vs. Bengals
Sunday, December 8 vs. Titans
Sunday, December 15 vs. Jaguars