Access real-time arrival times on your mobile device!
Follow these three easy steps
Step 1: Find your stop code from the list at right.
Step 2: Text CCGO [3-letter stop code] to 41411
For example, if you are at the Emeryville station, Text CCGO EMY to 41411 to receive real-time arrival times.
Be sure to text the word CCGO, a space, and then the actual stop code number. 
Without a stop code you will be presented a list of routes to choose from.
Step 3: Receive real-time arrival times
Message and data rates may apply. To Opt-out text STOP to 41411. For more information text HELP to 41411. Users without a text messaging plan may consider using the Mobile Web site as a more cost effective option on many carriers.
How do you find your stop code?
To find your stop's code you can:
1) View the list at the right
2) Or you can access the live map on your mobile device. Go to the main map and click on your desired stop. Below the stop's name you will see the "stop code" listed.
The stop code can also be found when looking at individual routes.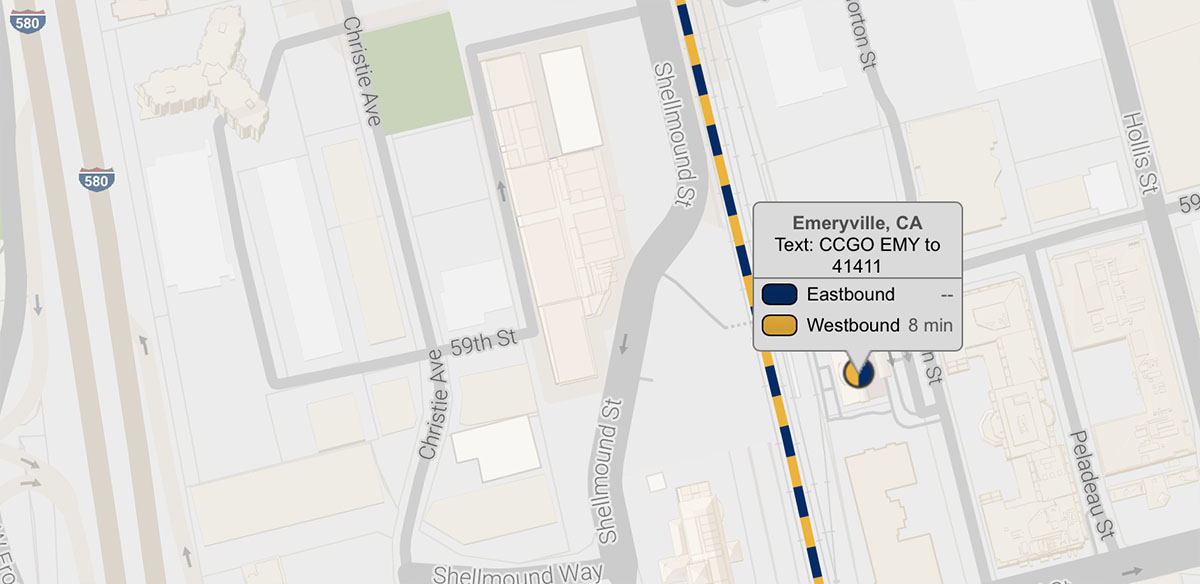 Advanced Features
The SMS system supports powerful search capabilities to allow you to narrow down your results. You can also mark stops as favorites.
• Text CCGO r [route number or name] to 41411, to search for a route. Be sure to text the word CCGO, a space, the letter r, a space, and then the route number or name
• Text CCGO s [stop code or name] to 41411, to search for a stop. Be sure to text the word CCGO, a space, the letter s, a space and then the stop code or name.
• You can combine these two searches to further narrow your results. Example: CCGO r Rex Hospital s Moore Square
• Text CCGO h to 41411 to reach the home screen with details on searching and favorites
Capitol Corridor Station Codes
Find your three-letter code from the list below:
Auburn – ARN
Rocklin – RLN
Roseville – RSV
Sacramento – SAC
Davis – DAV
Suisun/Fairfield – SUI
Fairfield-Vacaville – FFV
Martinez – MTZ
Richmond – RIC
Berkeley – BKY
Emeryville – EMY
San Francisco – SF
Oakland Jack London – OKJ
Oakland Coliseum – OAC
Hayward – HAY
Fremont/Centerville – FMT
Santa Clara Great America – GAC
Santa Clara University – SCC
San Jose/Diridon – SJC