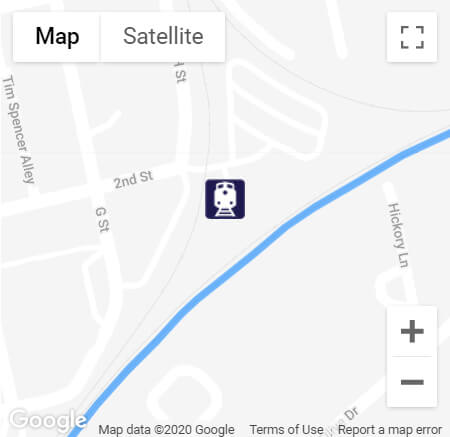 Locate a Station
Enter your zip code to find the three stations nearest to you.


Davis (DAV)
Station Location
840 2nd Street, Davis, CA 95616
Map and directions
Staffed Station
| | |
| --- | --- |
| Hours: | 6:00 a.m. – 4:00 p.m. Daily |
| Tickets: | Station agent available, 2 Ticket Kiosk machines |
Station Connections
Public transit at or nearby station:
Other transportation services:
Taxis are available at the loading zone in the station parking lot. For a list of taxi services, visit the Davis Downtown site.
Hertz Rent-a-Car (pick-up only): 530-792-1368
Bicycle Access
Bikes are welcome on board, and most stations have spaces to lock or secure your bike if you don't want to bring it on the train. Please note that the number of bike spaces available is subject to change.
| | |
| --- | --- |
| Bike Rack Spaces: | 199 |
| Bike Lockers: | 36 BikeLink eLockers |
Automobile Parking
Parking is owned by the City of Davis. For more information about street parking and available lots, visit the Davis Downtown site. Please note that prices, hours, and available spaces are subject to change.
Capitol Corridor Amtrak Lot
Regular Spaces:
135
Accessible Spaces:
5
EV Spaces:
2
Lot Hours:
5 a.m. – 5 p.m.
Cost:

Free validated parking permit. Show your Capitol Corridor ticket to the station agent for a free permit to put in your car. Arrive early to allow time for parking and getting the permit.

The parking lot fills up around 6am.
Amenities
ATM
Bathrooms
Bottles and cans recycling
Indoor and outdoor seating available
Vending machines
Destinations
Attractions and Places of Interest
Downtown Davis → 2 min walk, 300 ft
Central Park → 10 min walk, 0.5 mi
UC Davis → 10 min walk, 0.5 mi
Mondavi Center → 15 min bus or 20 min walk, 1 mi
Trails and Recreation
UC Davis Arboretum → 10 min walk, 0.5 mi