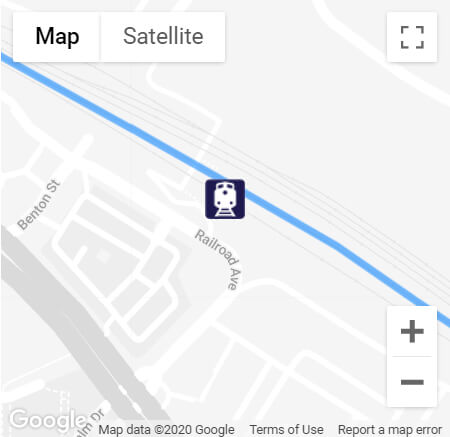 Locate a Station
Enter your zip code to find the three stations nearest to you.


Santa Clara University (SCC)
Station Location
1001 Railroad Avenue, Santa Clara, CA 95050
Map and directions
Unstaffed Station
| | |
| --- | --- |
| Tickets: | 1 Ticket Kiosk machine available |
Station Connections
Public transit at or nearby station:
VTA (accepts Capitol Corridor Transit Transfers)

10 > Free Airport Flyer to San Jose International Airport

22 > Westbound to Palo Alto Transit Center, Eastbound to Eastridge

32 > Westbound to San Antonio Shopping Center

60 > Northbound to Great America, Southbound to Winchester Station

81 > Westbound to Moffett Field/Ames Center, Eastbound to San Jose State

522 > Westbound to Palo Alto Transit Center, Eastbound to Eastridge

Altamont Corridor Express (ACE)

North > Stockton

South > San Jose

Caltrain

North to San Francisco

South to San Jose Diridon
Other transportation services:
Bicycle Access
Bikes are welcome on board, and most stations have spaces to lock or secure your bike if you don't want to bring it on the train. Please note that the number of bike spaces available is subject to change.
Bike Rack Spaces:
13
Bike Lockers:

48 owned by VTA, call for more info: 408-321-7520;

12 BikeLink e-lockers
Automobile Parking
Parking is owned by the Caltrain. For more information, visit Caltrain's site or VTA's Park and Ridesite. Please note that prices, hours, and available spaces are subject to change.
Capitol Corridor Amtrak and Caltrain Lot
| | |
| --- | --- |
| Regular Spaces: | 245 Pay-By-Space |
| Accessible Spaces: | 11 |
| Lot Hours: | 24 hours |
| Cost: | No validated parking. $5 all-day. Remember your number and pay for parking at the Caltrain ticket machine on the platform. |
Amenities
Outside seating available
Destinations
Attractions and Places of Interest
South Bay Historical Railroad Society → 2 min walk, 200 ft
Santa Clara University → 5 min walk, 0.3 mi
Mission Santa Clara de Asis → 10 min walk, 0.5 mi
Triton Museum of Art → 20 min bus, 1.2 mi