Thank you for joining Capitol Corridor Rewards! We have a gift for you.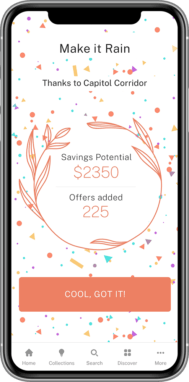 Our friends at Chinook Book partner with some of the best local & sustainable businesses along our routes to offer discounts you can use today on essential services like organic groceries, take-out dining, and outdoor experiences, plus online offers for gifts, clothes, crafts, and more.
Tap here from your phone to activate a 12-month gift subscription to the app, including an exclusive offer for the official Capitol Corridor Company Store.
Not reading this on your phone?
No problem. Simply download the app from Google Play or the App Store the next time you are on your phone. Then enter the following activation code when prompted:
Activation code: 11434-4364-2894-9485
Enjoy your rewards!