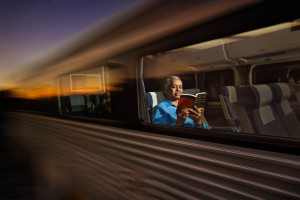 Based on results from Capitol Corridor's latest on board passenger survey, satisfaction with the intercity rail service remains strong, with 86% of customers indicating they are "Satisfied" or "Very Satisfied" with the service. While down 3% from last year's record-breaking results, the 2015 numbers are impressive and place the Capitol Corridor as #3 in the nation for customer satisfaction among all Amtrak routes.
The survey was conducted in May and June of 2015 by the independent firm of Corey, Canapary & Galanis Research. In total, 1,921 passengers on board 21 different weekday and weekend trains completed the self-administered survey, which was available in English, Spanish, and Chinese.
The purpose of the annual study was to learn more about Capitol Corridor customers, including service usage, demographics, and overall satisfaction. This survey differed from previous ones in that it placed less emphasis on rating questions and had greater focus on rider characteristics.
Following are highlights of the survey results:
The average age of passengers is 44, with 54.9% male and 45.1%female.
Just over a quarter of riders, 26%, live in Sacramento, with Alameda residents coming in a close second at 21%.
Sacramento is the most popular station of origin, with 27% of riders starting their train travel in the State's capital.
The top three destination stations are Sacramento (28%), Emeryville (12%), and Davis (10%).
Half of riders take the Capitol Corridor to avoid traffic.
Three quarters of weekday trips on the Capitol Corridor are taken for commuting/work-related business travel, and weekend riders are most likely to be travelling to visit family and friends or making a trip to a leisure/entertainment destination.
Three quarters of passengers use Capitol Corridor's discounted monthly pass.
Half of all ticket purchases are made through a mobile app or the Internet.
Over a quarter of passengers, 26.5%, walked or rode their bicycle to the train station, while 20.3% took public transit. Less than a third of riders, 28.9%, drove alone in their car to the station.