Critical Safety System Will be Enabled on Trains Ahead of Federal Deadline
The Capitol Corridor Joint Powers Authority (CCJPA), in coordination with its operating partners, Amtrak and Union Pacific, has completed the installation and testing of Positive Train Control (PTC) along the 170-mile Capitol Corridor route. On October 24, 2018, PTC implementation was launched on all Capitol Corridor trains, two months ahead of the federally mandated implementation deadline of December 31, 2018.
"Safety is and always will be the Capitol Corridor's number one priority," said CCJPA Board Chair, Lucas Frerichs. "PTC is the gold standard of rail safety, and its implementation on the Northern California Intercity Passenger Rail fleet that carried a record-1.7 million passengers last year is a huge milestone. As ridership grows throughout the Northern California megaregion, the Capitol Corridor is poised to meet this demand with additional capacity, all while standing firm in our commitment to maximizing safety through PTC."
What is PTC?
PTC is a complex signaling and cutting-edge communications technology that is designed to provide a critical safety overlay on top of an already safe commuter rail industry.
Through an onboard computer system that receives and analyzes data from remote locations along the route, the PTC system is able to accurately determine a train's location, direction, and speed. This provides the locomotive engineer with advance warning of movement restrictions, speed limits, and track conditions ahead, giving the engineer time to bring the train to a safe speed or controlled stop. If the PTC system does not detect corrective action by the engineer within a certain warning period, it will automatically apply the train brakes and bring it to a controlled stop without the engineer's assistance.
What Type of Incidents Can PTC Prevent?
PTC is designed to prevent train-to-train collisions, derailments caused by excessive train speed, train movements through misaligned track switches, and unauthorized train entry into work zones. PTC will not prevent vehicle-train accidents at railroad crossings or those due to track and equipment failures.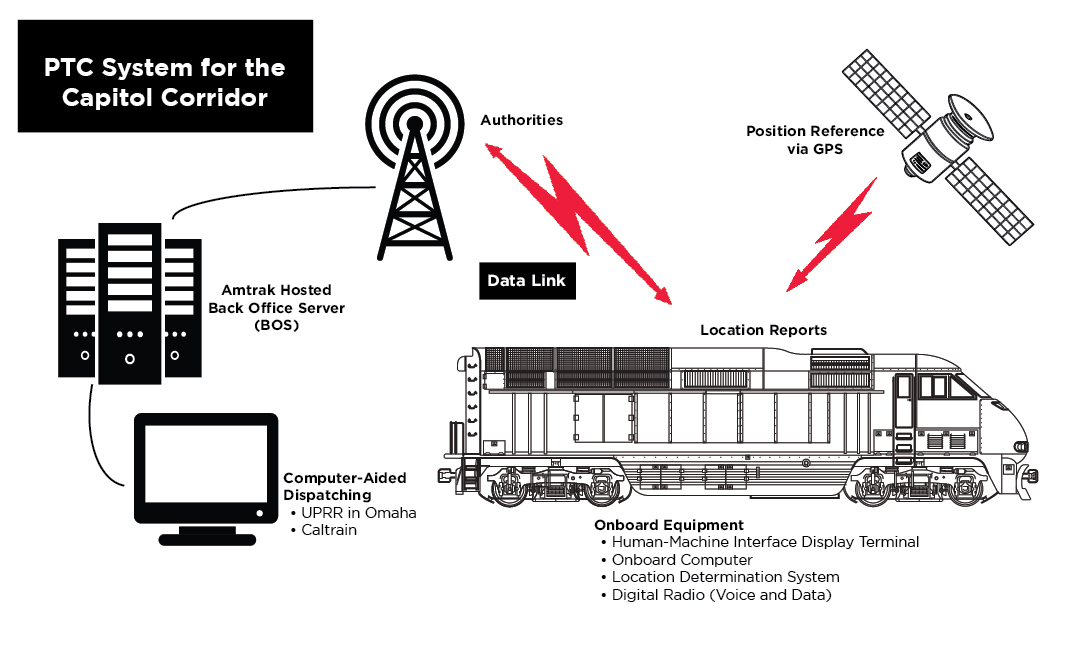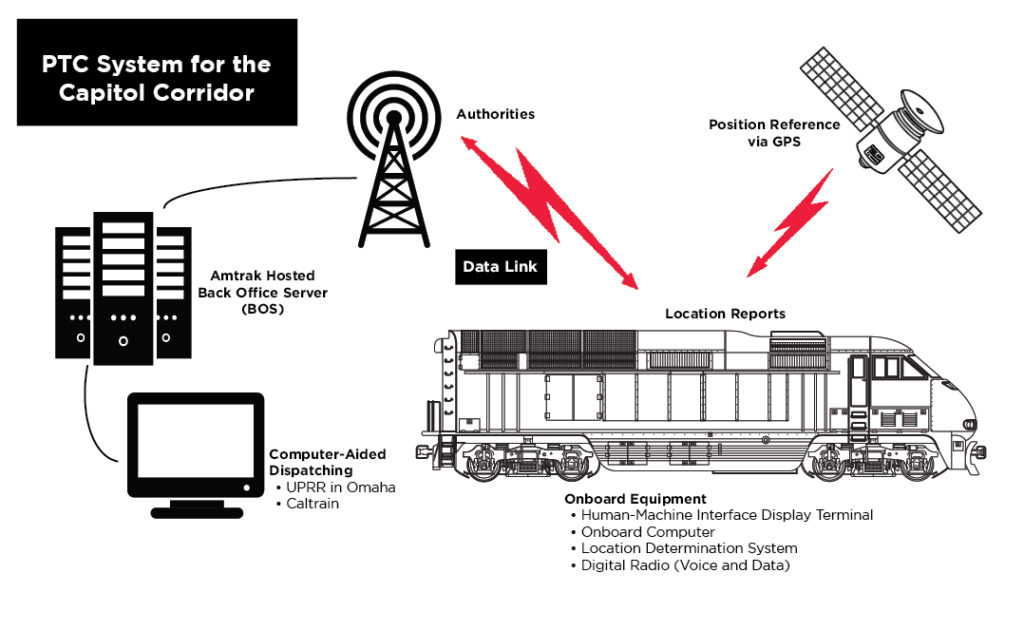 PTC Testing Along the Capitol Corridor Route
In coordination with Amtrak and Union Pacific, initial testing of the system started in July 2018 by enabling PTC on a limited number of trains that were rotated throughout the shared fleets of the Capitol Corridor, as well as the San Joaquins, which serves California's Central Valley.
During the week of October 8, 2018, Amtrak deployed PTC on four weekday trains to test its application on the service. After successful operation of the system, with only one 15-minute delay, the Capitol Corridor began implementing PTC across the fleet on October 24. The deadline set by Congress for PTC implementation is December 31, 2018.
Will Passengers Notice a Difference on a PTC-Enabled Train?
Capitol Corridor passengers should not notice any significant changes or disruptions because of PTC. If anything, passengers could experience minor delays if the crew has issues initializing the system at the start of the route. Train crews have received extensive PTC training and have become increasingly familiar with its operation since testing began in July.
The installation, testing, and implementation of PTC is a team effort by the Capitol Corridor Joint Powers Authority, Caltrans, Amtrak, Union Pacific, Burlington Northern Santa Fe, and the San Joaquins Joint Powers Authority.