Following is an update on the renovation of the Sacramento Amtrak Station provided by the project's supervising architect and project manager:
On Saturday, March 19, 2016, the new Amtrak Ticket Room will open to the public at the west end of the main waiting room. Passengers will continue to enter the main waiting room through the center and east doors, however the ticket counter will no longer be on the north wall. Passengers will see the new ticket room at the west end through the newly-reconditioned portal openings and rehabilitated wall finishes.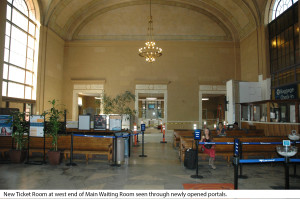 The northeast door leading to the tracks will remain the singular point of entry and exit while work in the former Amtrak ticket and baggage office proceeds to reopen that area to its original 160-foot concourse to open on a new north plaza for passengers and the general public. This area is schedule to open in June 2016.
Baggage check in will now be handled in the new Ticket Room. Amtrak Ticket Kiosk machines will be located at the north end of the new ticket counter. The new ticket counter will have six agent stations, with three baggage check stations with weigh scales.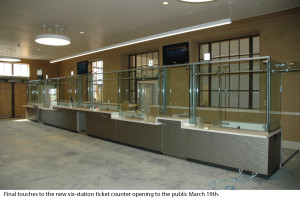 The Baggage Receiving Room will not be in service until June when the concourse opens. Baggage pickup will be handled at the new Amtrak gates next to the bus bays for this interim period.
Additional parking stalls will also be in service this coming week with new accessible stalls on the west side of the building near the new warehouse.
Work will continue in the Main Waiting Room and east portions of the building for the new retail and office tenant spaces.