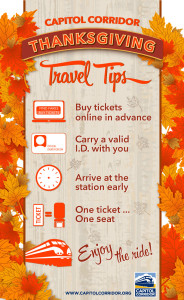 Taking the Capitol Corridor is a great way to visit family and friends during the Thanksgiving holiday week. Keep in mind this is also our busiest period, so you'll want to plan your travel in advance, and read our Holiday Travel Tips from the Get on Board blog, to ensure a smooth and enjoyable experience. Following is important information about Capitol Corridor's Thanksgiving week service.
Train and bus service on Thanksgiving Day, Thursday, November 26, and on Friday, November 27, will operate according to the Weekend/Holiday schedule.
To accommodate the higher-than-normal ridership, particularly on the Wednesday before Thanksgiving and the Sunday after, we'll have extra seats available on scheduled trains.
We will be adding extra capacity on some of our busiest regularly-scheduled connecting bus routes, including those that serve Humboldt State and Chico State.
For travel between Cal Poly and the San Jose Amtrak station, we've added two extra trips to and from the station on Wednesday, November 25 only, for a total of three possible bus-train connections in each direction on that day.
The two additional trips to San Jose (stops at Grover Beach, San Luis Obispo, and Cal Poly) are:
Bus 6232 connecting to Train 532 which departs San Jose at 12:20pm
Bus 6242 connecting to Train 542 which departs San Jose at 4:20pm
The two additional trips from San Jose (stops at Cal Poly, San Luis Obispo, and Grover Beach) are:
Bus 6235 connecting from Train 535 which arrives in San Jose at 1:18pm
Bus 6243 connecting from Train 543 which arrives in San Jose at 6:48pm
Keep in mind that many connecting bus routes require reservations and are filling up fast. We encourage you to book early, and if possible, avoid travel on the busiest days — the day before and the Sunday after Thanksgiving.
Happy Thanksgiving and safe travels!