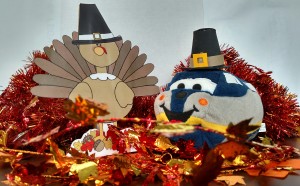 Here at Capitol Corridor, Thanksgiving is our busiest travel period, especially the Tuesday and Wednesday before, with students heading home for hot turkey dinner and folks off visiting friends and family or getting a jump start on holiday shopping. To ensure that your travel over Thanksgiving – and during the entire holiday season – is as comfortable and stress-free as possible, please keep the following in mind:
Capitol Corridor will operate on its Weekend/Holiday schedule on Thanksgiving Day, Thursday, November 27, and on Friday, November 28.
Book tickets online in advance! November and December are the busiest travel months and trains and buses will sell out.
If you've booked online, be sure to either print out your ticket or have it pulled up on your phone so you're ready to show it to the conductor as soon as he or she comes around.
Be sure to have your ticket confirmation with you when you board the bus. Unreserved travelers may not be accommodated on their first choice bus connection.
Carry a valid, government issued photo I.D. with you at all times.
Arrive at the station early so you don't miss your train – parking will be harder to find and ticket lines (if you didn't book in advance!) will be longer.
For everyone's safety, when waiting for the train be sure to stay behind the yellow line and be patient while others board the train and bus.
Capitol Corridor does not have checked baggage service. Please store your larger bags in the baggage storage areas near the entrance doors, and keep seats clear by putting smaller, personal items either under your seat or in the overhead racks.
If you have a bicycle, be sure it is stored securely to a bike rack in the designated lower level of the train cars and that it is not blocking an aisle way.
If you move to a different seat during the trip, remember to take the seat check the conductor placed above your seat with you so the conductor knows you've already been "checked in."
Special note for passengers using the Sacramento Station during the holidays:
Due to construction at the Sacramento Station, customers are encouraged to arrive 30 minutes early, as parking will be limited in the main lot, directly adjacent to the building. In addition, any customers using the station should plan to park at the Old Sacramento Parking garage, located southeast, at 2nd and I streets. This is to avoid congestion in the main parking lot, as a construction staging area has been set up on the western side of the building. The City is also encouraging passenger drop-offs during the holidays near 4th and I streets on the south side of I Street. This is the safest drop-off point for walking across the street and will reduce traffic congestion in the parking lot under construction. Click here for more details.