A Bike Rider's Guide to Capitol Corridor
Bicycles and Trains – The Perfect Match
More and more people are discovering how well bicycle and train travel go together, whether it's for commuting to work, enjoying a weekend ride, or participating in a bicycle tour. Done safely and conscientiously, it's the perfect marriage of modes to let you experience Northern California and boost your well-being at the same time.
On Board Bicycle Storage
Each Capitol Corridor train has two "bike cars", each with large-capacity storage to hold about a dozen bicycles, as well as luggage and other large items. The "bike cars" are designated by a decal — generally the car furthest away from the locomotive and the second car away from the locomotive. In addition, each train car has three bike racks on the lower level.
Bikes on Board Guidelines
If you are taking your bike on board a Capitol Corridor train, it is your responsibility to use common sense and follow the guidelines that are listed in the side bar of this web page when securing your bicycle. Keep in mind that sometimes – especially during peak travel hours – there are a large number of bicycles on board, making safe and convenient storage more of a challenge.
If the bike racks are full, and you're not sure where to store your bike, follow the instructions of the train crew on where to place and secure your bicycle so that it won't block aisles and walkways, keeping in mind that passengers who use wheelchairs, canes, or walkers may also need clearance.
Following Capitol Corridor's bike storage guidelines and using good judgment will ensure that as many people as possible can enjoy taking their bicycle on the train.
Bike Storage at Stations
Capitol Corridor staff is continually working to improve bicycle access and storage at stations. While most stations have racks where passengers can lock up their bikes, there are also BikeLink eLockers at the following Capitol Corridor stations: Davis, Suisun/Fairfield, Martinez, Richmond (shared with BART), Berkeley, Emeryville, Oakland/Coliseum (shared with BART), and Fremont. By the end of 2017, we plan to have eLockers installed at most stations. For information about getting a BikeLink card to use the eLockers, visit the BikeLink website.
Bikes on Connecting Buses
Most connecting buses can accommodate a limited number of bicycles on a first-come, first-served basis. Storage on most buses is underneath the motor coach in the luggage compartment, and some buses (in particular, those providing service between Emeryville and San Francisco) also have front-end bike racks. As on the train, passengers are responsible for loading and unloading their bike.
Bicycle News
To stay on top of bicycle-related news and updates at Capitol Corridor, be sure to read our blog, Get On Board, and bookmark this web page for future reference.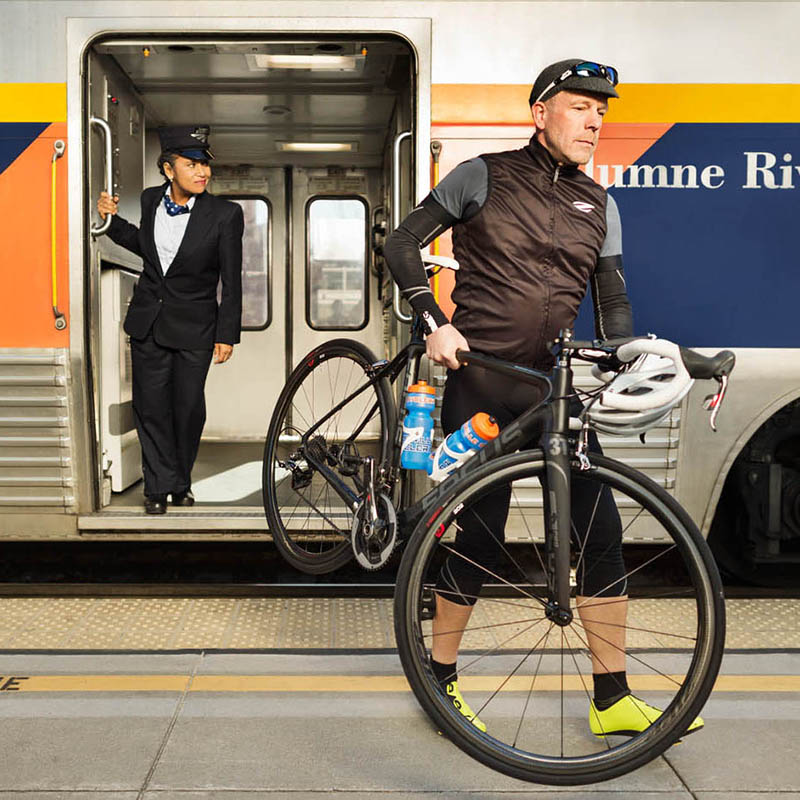 Tips and Guidelines
Look for and board the car with a visible bike decal. Most Capitol Corridor trains have two designated "bike cars" – generally the car furthest from the locomotive and the second car away from the locomotive.
If you are storing your bicycle in one of the large capacity storage areas, use the hanging Velcro strap or your own bungee cord to secure your bike as tightly as possible to the train's stabilizing bar. For extra security, you may also want to lock your bicycle to the stabilizing bar.
If you are on one of the intermediate train cars, lock your bike securely to one of the designated bike racks. There are three in each of these cars, on the lower level.
If you are not able to secure your bike either to a rack or in a storage area, find a location that does not block an aisle or walkway through which people (including people who use wheelchairs, canes, or walkers) could be moving.
Regardless of where your bike is stored, make sure it is securely attached to the train car so it does not become a dangerous, moving object in the event of a sudden stop. Bungee cords are very helpful for this type of security, and are sold at minimal cost in the Café Car if you do not have one handy.
If you need to fit your bike into a tight spot, clear of the aisle, try removing your quick-release front wheel.
If possible, use a folding bicycle. With a folding bike, you still have your bicycle to get you where you need to go after arriving at your train's destination and you can store it without taking up limited rack space. Aside from being easier to store, the advantage of a folding bike is that when you arrive at your final destination, you can usually bring it inside with you instead of having to lock it up outside.
Securing Your Bike in the Storage Area, Step-By-Step
Standing behind the bike, pull the handlebars up to stand the bike vertically.
Guide the front wheel onto the hook on the wall. You may have to lift the bike up a few inches.
For a more secure fastening, lower the stabilization bar next to the front wheel and wrap the Velcro strap around the forks. You can also lock your bicycle through the stabilization bar. If there is no velcro strap on the stabilizing bar, a bungee cord attached to the hook will also work.
If bicycle hooks are blocked by baggage, leave the bike adjacent to the baggage, not blocking an aisle, and ask for the conductor's assistance.