Happy 4th of July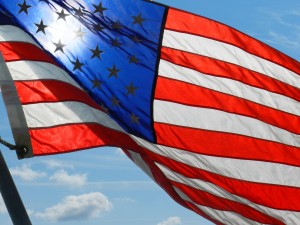 Here at Capitol Corridor, we wish you and your family a fun-filled July 4th holiday. As a reminder, service on Friday, July 4 will be operating on a weekend/holiday schedule. Additionally, some connecting bus stops will be temporarily adjusted due to holiday parades and festivities. Read our July 4th service notice for details.


New Train Schedule Coming Monday, July 28
There will be a new and improved Capitol Corridor train schedule coming soon, on Monday, July 28. The new schedule will not affect weekday trains. On weekends, we will offer later trains to accommodate San Francisco 49ers games at the new Levi's Stadium (Santa Clara/Great America Station). While the actual new schedule is not yet available, you can read more about the changes here.
Summer Savings for Train Travel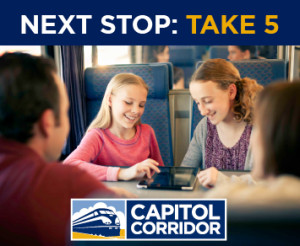 With so many fun options for summer train travel in Northern California, we want to make sure you're taking advantage of fare deals available right now!
The popular Take 5 fare started in June and allows passengers to buy up to 5 train tickets for $5 each person, each way with the purchase of one full-fare ticket. It's the perfect excuse to bring friends and family along for the ride!
Baseball fans can save 25% on travel to the Oakland Coliseum to catch the sizzling Oakland A's in action. Capitol Corridor is the most convenient way to get to the Coliseum, and this special fare is available through November 1, 2014. Buy your train ticket to see the A's today!

Important Safety Reminder for Passengers Parking at Stations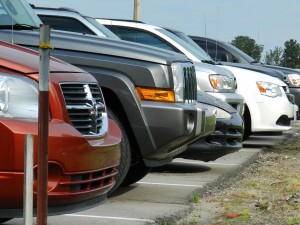 For many of you, secure parking is an important part of your Capitol Corridor experience. While on-site security and cameras are an important part of ensuring the safety of parking lots, please also take extra pre-caution to make sure your car is not a target for would-be vandals. This means removing anything from your car that could entice a vandal – money, bags, purses, packages, sporting equipment, clothing, anything at all. Keep in mind that thieves can't see what's inside a bag or a box, so even if it doesn't contain anything of value, it should be removed from your car, or at least removed from sight. Thank you!