1. New Timetable – May 21, 2007
2. School Groups on Board
3. Record Ridership
4. Friendly Reminder: Boarding Policy for Connecting Motorcoach Buses
5. Rider Appreciation Events
6. Recycling On Board
1. New Timetable- May 21, 2007
New Capitol Corridor schedules go into effect on Monday, May 21. There are no changes to train times, but several adjustments and changes have been made to the connecting bus schedules. The new printed schedules will be available at stations beginning Friday, May 18. May 21 Timetable [PDF].
2. School Groups on Board
May and June are the busiest months for school groups on Capitol Corridor, as teachers take their students on end-of-the-year field trips. Please welcome these groups onboard, as many of the students are riding the train for the first time. In some instances, cars may be reserved for large groups. Please be courteous to your fellow riders and store your personal items in the overhead bins to ensure there are enough seats for all of our passengers.
3. Record Ridership
We received the April 2007 results for ridership and revenue. Once again, a new record has been set. While California train ridership remains strong overall, the Capitol Corridor is going through the roof!
April 2007 Capitol Corridor ridership: 127,572 passengers–the highest monthly ridership in the history of the service! (+16.7% vs. FY06). This achievement would not have been possible without you–our passengers. Thanks for your patronage.
4. Friendly Reminder: Boarding Policy for Connecting Motorcoach Buses
A valid government-issued photo-ID is required to purchase Amtrak train and connecting motorcoach tickets. If you board a motorcoach bus without a ticket, the driver will hold your ID and present it to the Amtrak ticket agent at the next staffed station. Your ID will be returned to you at the time of ticket purchase.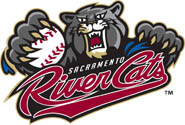 5. Rider Appreciation Events
Many thanks to both Chronicle Books and the Sacramento River Cats for sponsoring our Rider Appreciation Events on board trains 545 and 540 late last month. We hope you enjoyed the complimentary snacks, penny winetasting, and fun giveaways from our sponsors. Next Rider Appreciation Events will be sometime this summer–be on the lookout!
6. Recycling On Board!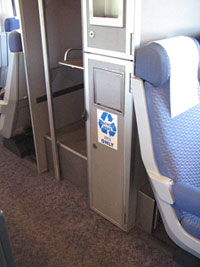 Amtrak recently installed recycling decals to designate receptacles for recyclable items. In most cars, they are located across the aisle from the top of the stairwell, next to the luggage compartments. "Recycle Here" receptacles are also located in the café car along with large, labeled boxes on the lower level for collecting newspapers.
Next time you're on board, drop your cans, bottles and papers in the bins–thank you!