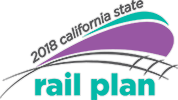 Caltrans has just released its draft 2018 California State Rail Plan that presents a refreshing and ambitious statewide vision for integrating intercity rail, high speed rail, and commuter passenger rail systems with reliable timed connections and multimodal transportation options. As the managing agency for Northern California's network of premier passenger rail services, the Capitol Corridor Joint Powers Authority (CCJPA) has been an active partner in the development of this plan and is excited to embrace such a bold and transformational long-term vision for California's passenger rail network. The plan, which will provide for faster and more seamless travel options within California, aligns with the CCJPA's Vision Implementation Plan adopted by the CCJPA Board of Directors in November 2016. Specific 10-year initiatives for the Capitol Corridor intercity passenger rail route (Auburn-Sacramento-Oakland/San Francisco-San Jose) that are supported by the 2018 Rail Plan include:
1. Sacramento to Roseville Third Track Project: This project will increase the service frequencies to Roseville, reflecting an economic shift that is seeing more workers relocating to relatively more affordable communities east of Sacramento. It also meets the increasing demand for transportation solutions that connect the Northern California megaregion's most economically, culturally, and politically vibrant urban centers.
2. Increased Service and Travel Time Reductions between Oakland and San Jose: As the San Francisco Bay Area and Silicon Valley continue to experience robust job growth, traffic along the I-880 corridor is worsening and the need for faster and more efficient transportation options like the Capitol Corridor is increasing. The Capitol Corridor is already working with our partners to decrease travel times between Oakland and San Jose, and we are exploring opportunities to meet the demand for even more service along this segment of the corridor.
"The CCJPA is proud to be part of the development of this comprehensive state rail plan, and we encourage the Capitol Corridor passengers to participate as well by offering feedback during the public comment period," said CCJPA Board Chair, Lucas Frerichs. "This plan offers a bold statewide vision of rail in which systems are integrated for faster, more reliable, and cleaner travel. The Capitol Corridor service is already connecting communities in the Northern California, and we're excited to be part of an even more expansive travel network that enhances quality of life and boosts economic growth."
Public Comment Invited
The release of the draft State Rail Plan kicks off a 60-day public comment period ending on December 11, 2017. Public feedback is critical to ensuring that the strategies identified in the draft plan reflect the diverse needs of communities across the state.
During the public comment period, Caltrans will be holding a number of Open Houses across the state to present the draft vision and findings, including the following locations along the Capitol Corridor train and connecting bus routes:
Oakland: Wednesday, November 1, 2017, 4:30-7:30pm, Oakstop Event Space, 1721 Broadway, Oakland, CA 94612 – MAP
Sacramento: Tuesday, November 7, 2017, 4:30-7:30pm, Tsakopoulos Library, Galleria West Room, 828 I Street, Sacramento, CA 95814 – MAP
For those unable to attend any of the public meetings, there will also be an online webinar on Wednesday, December 6, 2017 from 12 to 1:30pm. Join the webinar by clicking HERE.
For more information about and to read the draft 2018 California State Rail Plan, visit www.californiastaterailplan.com. You may also want to review the Capitol Corridor's Vision Implementation Plan adopted by the Board of Directors in November 2016.