The San Francisco Bay Area is hosting Super Bowl 50, and Capitol Corridor is proud to be a transportation partner! While the game itself is on Sunday, February 7, at Levi's® Stadium in Santa Clara, there will be events and preparations taking place in the weeks leading up to the game, and they will be happening throughout the region, including downtown San Francisco, Santa Clara, and San Jose. Transportation throughout the Bay Area will be impacted, and that includes Capitol Corridor. Here's how our service will be affected:
1. Special Gameday Service, Sunday, February 7
To accommodate the large number of football fans who are likely to use the Capitol Corridor for service to the game, the Capitol Corridor will operate a special, one-day schedule on February 7, 2016. Schedule and ticket sales for these trains are available for sale on the Capitol Corridor website at www.capitolcorridor.org/SB50.
2. Parking Lot Closures at Santa Clara/Great America Station, January 4 – February 12
From January 4 through February 15, 2016, parking at the VTA Park & Ride Lot, the VTA-owned lot at the south end of Stars & Stripes Dr., and the Levi's Stadium Yellow Lot #2 and #3, will be unavailable for parking by train passengers at the Santa Clara/Great America Amtrak Station.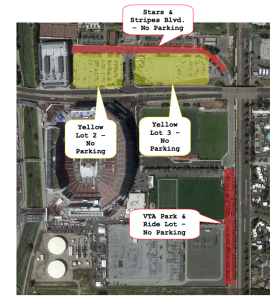 Passengers who were planning to use any of these lots during this period should park instead at the San Jose Diridon Station, or arrange to be dropped off at the temporary "Kiss n' Ride" lot located at 5151 Lafayette St. in Santa Clara. Departing and arriving passengers will need to use the signaled, pedestrian crosswalk over the railroad tracks to walk between the "Kiss n' Ride" lot and the station platform. Autos may park there for up to 10 minutes.
Those passengers who travel to the Santa Clara/Great America Station on Capitol Corridor and keep a "commuter car" there overnight will need to park at one of two VTA light rail station Park & Ride lots: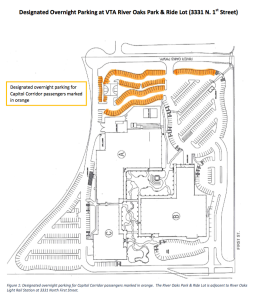 Both lots are accessible to the Santa Clara/Great America Station by VTA light rail. Capitol Corridor passengers may obtain a free transfer from a train conductor to ride in both directions on the VTA light rail connection. ACE shuttles will not service either of these two lots.
3. Phase I Relocation of ACE Shuttles at Santa Clara/Great America Station, January 4 – January 22
Starting January 4, the ACE Shuttles will be relocated a few hundred yards east down Stars & Stripes Dr. towards Centennial Blvd. The new, temporary location is between David's Restaurant and the golf course – about a two-minute walk from the current location – and will be in place through January 22.
4. Phase II Relocation & Schedule Change of ACE Shuttles at Santa Clara/Great America Station, January 25 – February 12
Starting January 25, the ACE Shuttles will move again for Phase II of their relocation. The new, temporary stop is at Lafayette & Calle de Luna. See the VTA notice for a map showing the new location. Please also note that the afternoon shuttles will operate 5 minutes earlier than the printed times in the ACE Shuttle brochures.
5. Suspension of SF Connecting Bus Stops (Except Transbay Terminal), January 23 – February 12
In January, the City of San Francisco will be closing off streets to begin construction on two temporary venues as part of the Super Bowl 50 festivities. Super Bowl City will be built from Beale St. to the foot of Market St. near the Embarcadero, and the NFL Experience will be built near the Moscone Center from 3rd St. and beyond 4th St.
Due to the construction, the ongoing street closures, anticipated traffic congestion, and the need to get Amtrak connecting buses to and from the Emeryville Amtrak station as quickly as possible, Capitol Corridor will be discontinuing all bus service to and from the downtown San Francisco bus stops – with the exception of the Transbay Temporary Terminal – from January 23 through February 12, 2016. This will include both weekday and weekend service at the following stops: Hyatt/Financial District (SFF), Moscone Center (SFM), Shopping Center (SFS), Civic Center (SFV), and Fisherman's Wharf (SFW).
Buses will run according to their regular schedule; however, they will only stop at the Transbay Temporary Terminal in San Francisco. From here passengers can walk or take San Francisco Muni to their destination. As an alternative, passengers can also take the Capitol Corridor train to either the Richmond or Oakland Coliseum station, and transfer to BART for travel to and from downtown San Francisco. BART tickets must be purchased separately and are available at a discount ($8 for a $10 ticket) in the Café Car. One $10 value ticket is sufficient for a round-trip between either Coliseum or Richmond and San Francisco.